How Did Lashana Lynch's Nomi Become 007 in 'No Time to Die'?
007 has always been James Bond's number, or at least it has until No Time to Die.
The final film of Daniel Craig's era sees his character go into retirement in Jamaica, and as a result MI6 have presumed he's dead following five years in hiding.
However, he is brought back into the fray when CIA agent Felix Leiter (Jeffrey Wright) asks for his help to track down a scientist who has stolen the top-secret Heracles project, a DNA-targeting nanobot virus.
MI6 soon realise and send in spy Nomi (Lashana Lynch) to warn him off the mission, because the CIA and British secret intelligence service are in competition to find the person responsible.
**WARNING: This article contains spoilers for No Time to Die**
Who is Nomi in No Time to Die?
At first Nomi poses as a party-goer interested in a fling with Bond, and she helps give him a ride to his home when his car inexplicably breaks down (because of her, it later turns out).
But once they return to Bond's bachelor pad, Nomi quickly reveals she is a spy just like him and she confirms she's not just any 00 agent: she's 007.
As one might expect when meeting your replacement, Nomi and Bond get off to a frosty start and the former lets her predecessor have it with her witty, cutting remarks.
Later, while on a mission, Nomi proves why she was given Bond's number because she is excellent in the field and can hold her own in a fire fight.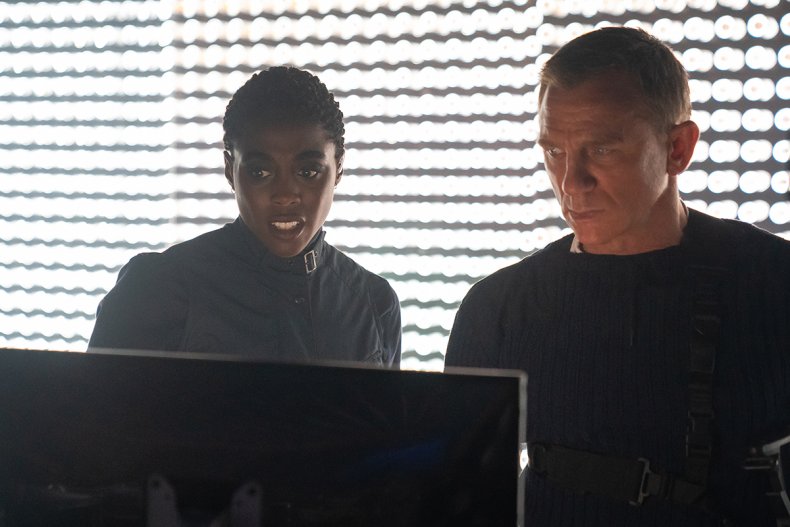 How did Nomi become 007?
When Bond returns to MI6 to meet with M (Ralph Fiennes) the head of the secret intelligence service informs him they gave Nomi his number because they'd presumed he was dead.
No Time to Die first shows Bond shortly after he left the UK to ride off into the sunset with Dr. Madeleine Swann (Léa Seydoux) in Spectre, but their romance is short-lived because of a presumed betrayal and he leaves her on a train, never to see him again.
It then fast-forwards five years, and with no contact between him and MI6 it's no wonder the intelligence service thought he was deceased.
MI6 did, at the very least, hold off on giving away Bond's number as Nomi tells him she has only been a 00 agent for two years.
Even if she is a relatively new 007, Nomi is clearly a star of the 00 program as she is respected by her co-workers in the MI6 office and she jokes with Bond that it "must be strange" for them to refer to her by his codename when he's standing right there.
However, during their mission to stop villain Safin (Rami Malek), Nomi asks M to return the 007 moniker to Bond.
Why is Nomi 007?
Before making her debut in the Bond franchise Lynch appeared in the Marvel Cinematic Universe as Maria Rambeau in Captain Marvel.
Rumors about Lynch's character being Bond's successor first began in April 2019, shortly after her casting was announced.
Lynch was subjected to a barrage of online abuse by trolls because of the rumors, and it got so bad she deleted her social media accounts for a week before deciding to return.
Speaking to Harper's Bazaar in November 2020 about the reaction, she said: "I am one Black woman – if it were another Black woman cast in the role, it would have been the same conversation, she would have got the same attacks, the same abuse.
"I just have to remind myself that the conversation is happening and that I'm a part of something that will be very, very revolutionary."
Phoebe Waller-Bridge was brought in during No Time to Die's script-writing process in April 2019 at the request of Craig to help bring a fresh, female perspective and improve the dialogue.
In November of the same year, the Fleabag writer said: "They were just looking for tweaks across a few of the characters and a few of the storylines."
Of Waller-Bridge's involvement, Lynch told The Hollywood Reporter: "I very literally squealed when I first heard her name. I thought, 'Oh my gosh, British girl just like me. She's going to know how to actually take care of women onscreen'."
No Time to Die is out in theaters across the US on October 8.