'No Time to Die' Reviews: What Critics Are Saying About Daniel Craig's Last James Bond Film
Daniel Craig's final outing as James Bond proved to be worth the wait for movie critics, as they've proclaimed No Time To Die is "audacious," "relentless," "satisfying," and "emotional."
The latest and highly-anticipated installment of the beloved spy franchise was finally showcased last night, accompanied by a huge spectacle of a premiere in London's Albert Hall with royalty in attendance.
While American audiences must wait until Friday, October 8 to watch the movie, those lucky enough to have seen it already are giving everyone reason to get excited for No Time To Die, after a barrage of four and five-star reviews.
Craig's understated vulnerable performance, Cary Joji Fukunaga's complex direction and Phoebe Waller-Bridge's unmistakable writing have all been singled out for praise.
Here's what the critics have said about No Time To Die:
Variety
Variety calls No Time To Die Craig's best Bond movie since his debut in 2006, Casino Royale. Reviewer Owen Gleiberman praises Craig's performance, calling him an "invincible force who is also a human being with hidden vulnerabilities," while Rami Malek also gets praise for his role as villain Lyutsifer Safin.
Glieberman calls the movie a fitting end to Craig's time in the role and "the send-off he deserves."
The Hollywood Reporter
"There's plenty here for die-hard Bond fans to savor," according to David Rooney of The Hollywood Reporter. He says the addition of Phoebe Waller-Bridge to the writing team is done with "sufficient class and subtlety that only those who remain nostalgic for the serial bed-hopping and unapologetic sexual objectification of the Sean Connery years are likely to feel cheated."
Deadline
Deadline, meanwhile, proclaims that "Bond is back with a vengeance" in their review of No Time To Die. Pete Hammond writes that Craig's performance invests "emotion, power and style" onto the screen.
He also comments that women serve as much more than eye candy in the movie, singling out Naomie Harris and Lashana Lynch's characters for their importance.
Empire
British movie magazine Empire gives No Time To Die a positive but not perfect four-star review. John Nugent writes that while there are many serious moments and a grounded feel to the movie, there's still room for "Bondian silliness" like bionic eyes, nanobots and magnets.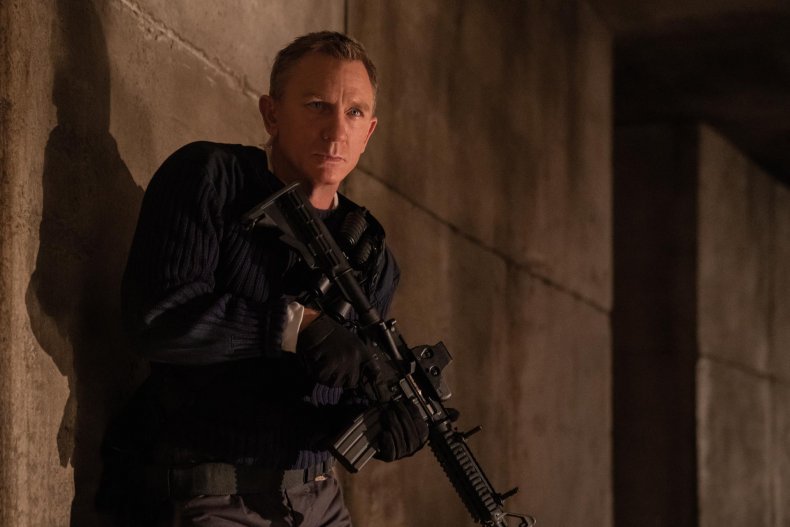 Fukunaga manages to "find vulnerability in this most invulnerable of heroes" and creates a stunning, surprising finale to give Craig the send off he deserves, according to Empire.
The Independent
On the other hand, The Independent offers a more middle-of-the-road, three-star review, which calls No Time To Die "anti-climactic." Clarisse Loughrey writes that it's a shame Fukunaga's smashing action movie had to be a Bond film.
In her opinion, while Craig is brilliant as Bond, there's a "rotating slideshow of old characters and plot points." She's scathing of Malek's performance, stating he "gives almost nothing to the role beyond his accent and stereotyped disfigurement makeup."
CNN
CNN's Brian Lowry calls it a "slightly bloated Bond film," but does compliment Ana de Armas' added dose of female empowerment in one memorable portion of the movie. Lowry's biggest issue seems to be the two-hour, 43-minute run time of the film, summarizing that No Time To Die simply takes "too much time to reach the finish."
The Guardian
The Guardian's Peter Bradshaw awarded the film five stars and complimented it for delivering delivering "pathos, action, drama, camp comedy," with its zinger of a script from Neal Purvis, Robert Wade, and Phoebe Waller-Bridge.
He describes the movie as an "epic barnstormer," and "a weird and self-aware epic with audacious surprises up its sleeve."
The Telegraph
The Telegraph also awarded top marks, with the newspaper fawning over an "extravagant, satisfying and moving" result for Craig and Fukunaga.
"And return he finally has, with Cary Joji Fukunaga's extravagantly satisfying, bulgingly proportioned last chapter to the Craig era, which throws almost everything there is left to throw at 007 the series can come up with," writes critic Robbie Collin.
NME
Over at NME, Alex Flood, was ever-so-slightly less complimentary, with four stars and praise for the "freshening up the tired format," with Waller-Bridge's script adding dimension to a new era of Bond Girls.
Flood also writes that this "self-aware comedy makes this Craig's funniest adventure by far."
Sky News
Meanwhile, Sky News was complimentary but added that No Time To Die was "relentless."
"Fukunaga lets action scenes run and run, but it's impossible to say how you would cut them down," writes Katie Spencer.
No Time To Die will be released in the U.S. on October 8.