James Caan Tributes Pour in After 'The Godfather' Star's Death
Celebrities and fans posted numerous tributes following Thursday's announcement of the death of legendary actor James Caan, best known for his famous role as Sonny Corleone in 1972's The Godfather.
"It is with great sadness that we inform you of the passing of Jimmy on the evening of July 6," a post on Caan's official Twitter account said. "The family appreciates the outpouring of love and heartfelt condolences and asks that you continue to respect their privacy during this difficult time. End of tweet."
Reacting to the news of Caan's passing at the age of 82, Twitter users shared their condolences and posted some of their favorite moments from the late actor's storied career. In addition to The Godfather, Caan has starred in many movies such as Brian's Song, Misery, The Gambler, Cinderella Liberty, Elf and El Dorado.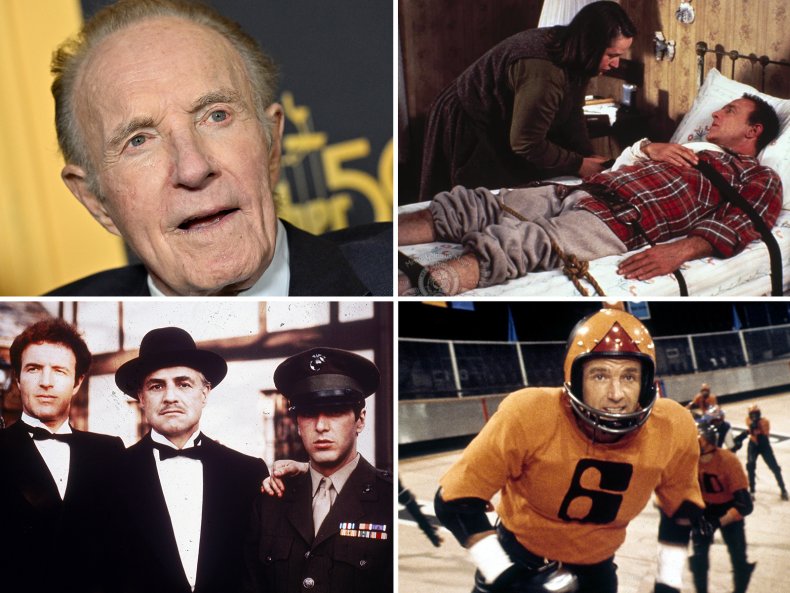 "James Caan. Loved him very much. Always wanted to be like him. So happy I got to know him. Never ever stopped laughing when I was around that man. His movies were best of the best. We all will miss him terribly. Thinking of his family and sending my love," tweeted Adam Sandler.
"I'm so sorry to hear about Jimmy. He was so talented," said Barbra Streisand.
Actress Jill Hennessy wrote: "I will always remember him not only as a brilliant actor but as a man of humor & warmth playing with my 1 year old son on set..#ripjamescaan."
Popular British television personality Piers Morgan also responded to the news, writing: "RIP James Caan, 82. Brilliant actor - loved him as Sonny Corleone in The Godfather, such a ferocious, menacing, magnificent performance. Met him once at a party in LA and he was a very funny & highly entertaining man. Sad news."
Other notable persons such as Rob Reiner, Brent Spiner, Michael McKean and Cary Elwes also posted tributes to Caan.
"I once passed James Caan in the commissary at Paramount Pictures. He looked me over in my Data makeup and uniform and uttered just one word, "Working?" Honored. RIP," Spiner wrote.
Matt Reeves, director of The Batman and Cloverfield, tweeted: "So sad. Such an incredible, towering actor. RIP."
CNN host Jake Tapper also responded to the news of Caan's passing as he wrote: Rest In Peace to one of the great actors of his generation. May his memory be a blessing."
"Very sad to hear the news that James Caan has died. Heartbroken for his family & his friends. Wonderful to know him & call him a pal. Jimmy was so supportive of Gary Sinise Foundation & my work w/ our veterans. He will be missed. Thank you my friend. Rest In Peace. God bless you," posted Gary Sinise.
Journalist Damien Barling tweeted: "The Michael Corleone character never develops without fully understanding Sonny. James Caan only appeared in the first one but his character helped shape the entire trilogy."
Alisha Grause of Screenrant wrote: "Another living legend passes into myth. The Godfather. Misery. Funny Lady. Rollerball. A Bridge Too Far. Bottle Rocket. James Caan was always one of the quiet greats."
Writer Ethan Sacks also posted a tribute to Caan sharing a GIF of the actor in The Godfather.
"What a gift he was to watch," Sacks' tweet read.
While many posted tributes to Caan for his role in The Godfather, some other social media users shared photos and gifs of the actor in Elf, where he starred as the character Walter Hobbs.
"RIP to Walter Hobbs," wrote Evan Schreiber of KATU News in Oregon.
Over the course of his long career, Caan was nominated for several movie and television awards, including an Academy Award nomination for Best Actor in a Supporting Role for The Godfather.
Update 7/7/22, 2:46 PM: This story has been updated with additional information.