James Charles Is Being Accused of Stealing Merch Ideas From Another YouTuber—and It's Not the First Scandal He's Faced
James Charles is at the epicenter of controversy yet again—this time over an upcoming merch collection under his Sisters Apparel brand.
In a video released on Tuesday, the YouTube sensation and makeup guru teased his new color-blocked hoodies that are stamped with the "Sisters" logo across the front. The hoodie is a part of Charles' new collection that's set to launch on the Sisters Apparel website in the forthcoming days. However, the hoodie's design closely resembles those created by fellow YouTuber and podcaster Ethan Klein, for his Teddy Fresh brand.
Klein, who runs the h3h3Productions YouTube channel with his wife Hila Klein, has accused Charles of copying the color palette and style of items that have long been available for purchase on the couple's Teddy Fresh clothing site.
"I know we didn't invent colorblocking but I'm having a hard time w the new James Charles merch, it's the same exact design as Hila's. Combined with the fact that his audience is so huge, many people will assume he designed it and start accusing us of plagarism. What do you think?" Ethan Klein wrote on Twitter on Thursday.
He followed the tweet up with side-by-side screenshots of Teddy Fresh's color-blocked merch and Charles' new pastel hoodie. "It's possible it's all a totally cosmic coincidence but he used pretty much the identical colors here too, he at least moved em around a little bit."
Hila Klein also commented on the similarity of the merchandise, sharing behind-the-scenes photos of when she apparently first began designing the color-blocked hoodie in 2017. "This is my first sketch of the color block hoodie from 2017 before we had a logo for TF, and in the other pic is the pink one, this is usually how I work on our color pallets," she tweeted.
According to Charles, he wasn't aware of the Teddy Fresh brand.
"When you DM'd me yesterday, I sent you the original photo that inspired my collection, explained I've never seen your brand, but also asked what you wanted me to do... You didn't reply. After last year, I vowed to keep conversations private and create solutions, not drama," Charles wrote in a response tweet on Thursday, adding, "If you'd like to continue our conversation and find a solution, my DMs are still open!"
The debacle is hardly a first for Charles. In the four years since Charles made his big debut on YouTube, the makeup artist, who was the first male face of CoverGirl, has found himself entangled in plenty of scandals—mostly notably his 2019 fallout with fellow YouTuber and former friend Tati Westbrook.
Westbrook was an avid collaborator of Charles' and the pair often appeared in each other's makeup tutorial videos on their respective YouTube channels. However, their relationship began to sour in April 2019 after Charles promoted Sugar Bear Hair products—a direct competitor of Westbrook's hair and skin supplement brand, Halo Beauty—on his Instagram. Although Charles did issue an apology on his social media, in May 2019, Westbrook released a now-deleted 40-minute video blasting Charles and citing a number of reasons for their ruined friendship, including claims that Charles was coercing men into sexual acts and that Charles used his YouTube popularity to manipulate people.
Charles denied the accusations in his own response video, which has also since been deleted, but Westbrook's revelations still caused the internet personality to lose nearly 3 million followers almost overnight.
A year before all of Charles's drama with Westbrook, he was catching heat from singer Ariana Grande, after dubbing her "the rudest celebrity he's ever met." In March 2018, Charles appeared in a YouTube video with vloggers Shane Dawson and Ryland Adams, and played a game in which the trio revealed some of their best and worst interactions with famous people. After claiming that Grande was rude to him in direct messages they exchanged over social media, Charles was almost immediately targeted and harassed online by the pop singer's fans.
"I haven't really talked about it because I really like Ariana, I guess I just had a really crappy experience with her," Charles said in the video.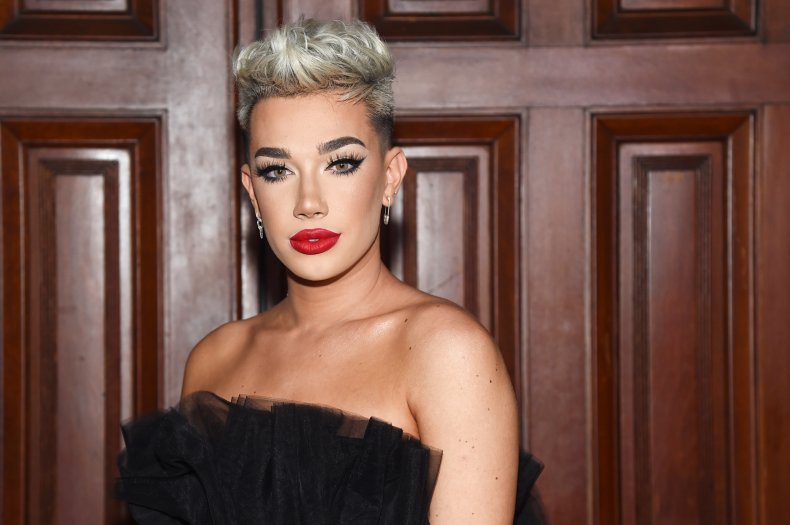 Then, later in 2018, Charles felt the wrath of an angry fan who claimed the beauty influencer's James Charles x Morphe eye-shadow palette stained their eyelids and caused hives. Charles defended his brand as a high-quality product.
"Most pinks, purples, & reds all stain certain skin types. this is common knowledge to all makeup lovers. you accusing me of lying to fans & not caring about people is a ridiculous cry for attention. if you have hives, consult your dermatologist, not me for likes on twitter," Charles wrote on Twitter.
Perhaps Charles' first big controversy came in 2017, though, when the YouTube star shared an off-color joke about Ebola in Africa, which he tweeted shortly after being named CoverGirl's first CoverBoy.
"'I can't believe we're going to Africa today omg what if we get Ebola.' 'James we're fine we could've gotten it at chipotle last year'...." he wrote in a tweet that has since been deleted.
The backlash was immediate, as a number of fans criticized Charles for stereotyping an entire continent. James issued a lengthy open-letter apologizing for his comments. "I am aware that the tweet was extremely offensive and degrading," he wrote.
"I posted it to make fun of my friend's mistake, but did not think about what the tweet as a whole was implying. It was never my intention to offend anyone and I am sorry. As a white cis male, I recognize my privilege and would never want to take that for granted, but I f**ked up," he continued.
Newsweek has reached out to Charles' representatives for comment.