A number of prominent YouTubers have apologized after attending parties without masks amid the coronavirus pandemic.
James Charles, Erika Costell, Tana Mongeau, and others are facing backlash after appearing in videos on social media at a crowded party. The party at a Los Angeles home was held while California has seen a resurgence in COVID-19 cases.
A party was reportedly held at what is known as the 'Hype House,' an L.A.-based home that many influencers, TikTok stars, and YouTubers frequent.
Nikita Dragun, a beauty YouTuber, and influencer who has 7.7 million followers threw a party on Tuesday night for her friend and TikTok star Larray's, real name Larri Merritt, birthday, according to her posts.
Video footage of the party was posted to social media from a number of different guests' social media accounts. Revelers appear to be in an enclosed space and not wearing masks—contrary to the current Centers for Disease Control and Prevention advice.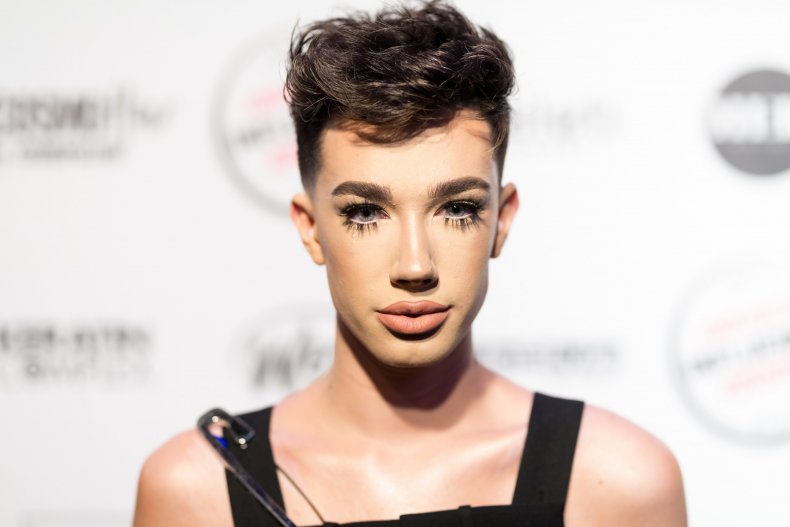 On Tuesday, when the party took place, more than 12,000 new COVID-19 cases were reported in the state of California.
Many fans were outraged when Mongeau and her friend and fellow influencer Costell filmed themselves saying: "Listen, we don't f**ing care" while they appeared to be at the crowded event.
Mongeau, Charles, and Costell have all since apologized for flaunting coronavirus rules by attending the party.
"Partying/going to any social gatherings during a global pandemic was such a careless and irresponsible action on my behalf. I fully hold myself accountable for this + will be staying inside," 22-year-old Mongeau wrote on her Instagram stories.
"Actions like that don't deserve a platform and I want to fully apologize and be better than this. I'm sorry. While Erika and I were referring to past drama in our video the topic no longer matters—I need to be a better example and person."
Charles decried himself for his "stupid and selfish" behavior in a video posted to YouTube.
A written statement included in his latest Day in the Life video reads: "People's safety and keeping COVID-19 contained is FAR more important than celebrating a friend's birthday and unsafe partying is not something I want to promote to my audience."
The 21-year-old added: "I recognize that with my platform comes responsibility, and I encourage you guys to be smarter than I was—Wear your masks and continue to social distance. Love you."
Costell apologized for upsetting fans for posting about being at the party in a statement on Twitter.
"Hey guys—I just want to apologize for the video that was posted last night on Tanas Instagram story," the 27-year-old 'Conscience' singer said. "The comment we made was NOT intended as it was perceived. Saying 'we don't care' was about our previous 'beef'. It was in no way related to the COVID-19 pandemic we are in.
"However I understand that this came off offensive during this time. It was insensitive, careless, and stupid for me to even be at a party during this pandemic," she added, before concluding with, "I am truly sorry to anyone I let down or upset in any way & I fully take accountability for my actions. Xx."
On July 22, YouTuber Tyler Oakley called out several influencers for failing to social distance at large gatherings.
He tweeted: "hi @jamescharles @NikitaDragun @tanamongeau @larrayxo @charlidamelio @dixiedamelio & any others who have been partying in large groups - please consider social distancing, mask wearing, & using your huge platforms to encourage responsibility during a worldwide pandemic."
Larray responded, tweeting: "i understand 100 percent where ur coming from & it was a dumb thing to do. I will do better & will actually take this shit seriously. appreciate you tyler much love."