James Clyburn Accuses GOP of Staying Silent on Gosar Video: 'What Is That About?'
House Majority Whip James Clyburn slammed the Republican Party ahead of a censure vote on Representative Paul Gosar, accusing his GOP counterparts of staying silent on the anime video Gosar posted of him killing Representative Alexandria Ocasio-Cortez and attacking President Joe Biden.
"Quite frankly, the Republican conference has some responsibility here. They have been totally silent on this. What is that about?" Clyburn said Wednesday on CNN's New Day. "I just don't understand how we can, as members of Congress, expect for the public to respect us when we don't demonstrate that respect ourselves."
While he told Politico that he spoke with Gosar in private after learning of the video, House Minority Leader Kevin McCarthy has yet to make any public statement condemning the congressman's post.
McCarthy did not specify whether or not he instructed Gosar to take down the video but said: "He took the video down and made a statement that he doesn't support violence to anybody."
House Republicans seem to be following McCarthy's lead with the majority of the conference has remained largely silent on the matter.
Aside from Representatives Liz Cheney and Adam Kinzinger who are known to fiercely oppose GOP leadership, the other 211 Republican members have not publicly criticized Gosar for the video.
Cheney called McCarthy's silence "a real symbol of his lack of strength, the lack of leadership in our conference right now," while Kinzinger warned that misconduct like Gosar's will continue if Republican leadership refuses to discipline their members.
"In a moment where you've got an avowed white nationalist in Rep. Gosar who has posted a video advocating the killing of another member, the idea that our leader will not stand against that but that he's somehow going after and allowing attacks against 13 members who are conducting themselves in a serious and substantive way is really outrageous," Cheney told the Associated Press.
"Of course @gop and@GOPLeader can condemn this proactively (not some sidestepping comment when asked about it.). They won't," Kinzinger tweeted on November 8. "The 'arm-pit farting' of our politics is why we are failing the people."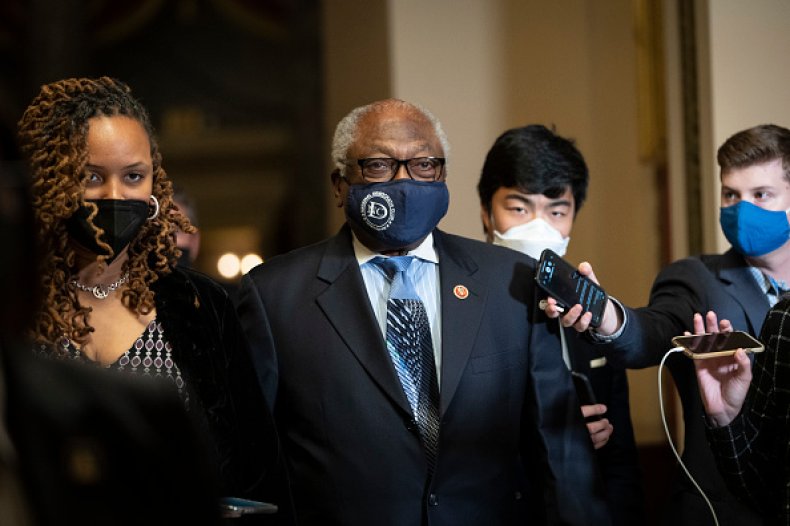 On Wednesday, the House will vote on censuring Gosar over last week's post. A censure would strip the Arizona Republican of his committee assignments on the House Natural Resources Committee and the House Oversight Committee, which he serves along with Ocasio-Cortez.
"When someone sends out a tweet, or any other illustration, of him or her murdering somebody on the House floor, that, to me, goes far beyond the pale," Clyburn said on Wednesday. "That person should not even be a member of his body."
Clyburn also pointed out that several of Gosar's siblings have spoken out against their brother, both during his re-election campaign and in the days after he posted the violent video.
Gosar's sister Jennifer called the video "despicable" and told MSNBC: "I am absolutely beyond aghast at how much this man has gotten away with. I don't know what he would need to do for any one of those people in quote 'a leadership position' to hold him accountable."