James Comey Calls Upcoming Memoir 'A Higher Loyalty,' An Apparent Jab At Trump
Former FBI Director James Comey takes an apparent stab at President Donald Trump with the title of his upcoming book: "A Higher Loyalty: Truth, Lies, and Leadership."
Comey — who is now enjoying his forced retirement with subtweets and trips to Iowa — seems to be referencing Trump's alleged demands for his "loyalty" before the president abruptly fired him in May.
The newly unveiled title is the latest hint that Comey plans to open up in the book about his contentious time with Trump. The memoir has been previewed as a chronicle of "never-before-told experiences from some of the highest-stakes situations" of Comey's career, along with his views on "what good, ethical leadership looks like."
"It's a book about leadership and his search for truth, informed by lessons and experiences he's had throughout his career, including his recent experiences in the Trump administration," Matt Latimer, a partner with Javelin publishing company, told The New York Times. "It will speak to a broader desire in our country for more ethical leadership."
In a Senate testimony after his firing, Comey said Trump demanded a loyalty pledge during a private dinner and asked him to drop an investigation into former national security adviser Michael Flynn's suspected Russia ties. Comey said he refused, and Trump fired him soon afterward.
Related: James Comey's Twitter Account Confirmed as Ex-FBI Director Vows to Tweet "In Useful Ways"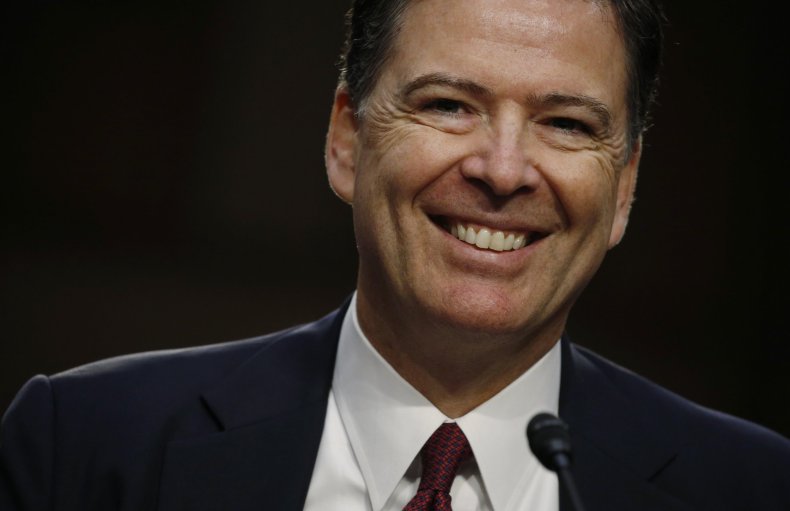 Comey testified that he kept memos of his nine conversations with Trump because he worried the president would misrepresent their talks. The former director told the Senate:
(T)he President said, "I need loyalty, I expect loyalty." I didn't move, speak, or change my facial expression in any way during the awkward silence that followed. We simply looked at each other in silence. The conversation then moved on, but he returned to the subject near the end of our dinner...

He then said, "I need loyalty." I replied, "You will always get honesty from me." He paused and then said, "That's what I want, honest loyalty." I paused, and then said, "You will get that from me." As I wrote in the memo I created immediately after the dinner, it is possible we understood the phrase "honest loyalty" differently, but I decided it wouldn't be productive to push it further. The term – honest loyalty – had helped end a very awkward conversation and my explanations had made clear what he should expect.
Special Counsel Robert Mueller took over Comey's federal investigation into whether the Trump campaign colluded with the Kremlin, and Mueller unveiled his first indictment this week, which accused former Trump campaign manager Paul Manafort of worldwide money laundering.
Comey angered many Democrats over his decision to reveal the re-opening of the Hillary Clinton emails investigation only days before the presidential election, and he drew ire from Republicans when the FBI confirmed Comey drafted a statement clearing Clinton of charges months before interviewing her. Clinton has blamed Comey's last-minute intervention as a major factor in her defeat.
Comey is anticipated to earn as much as $10 million for the book, which will hit shelves May 2018, nearly a year after he lost his job.