Comey's Book Angers Clinton Allies Just as Much as It Infuriates Trump
Former FBI Director James Comey has managed to unite allies of President Donald Trump and Hillary Clinton—in opposition to his new book.
Supporters of Clinton don't appear to have gone as far as Republicans to criticize Comey's new book, A Higher Loyalty: Truth, Lies and Leadership, out Tuesday. (The Republican National Committee launched a website about Comey that Trump has promoted, and Trump has called Comey a "slimeball.") But those Clinton allies who still blame Comey for costing her the 2016 presidential election election are speaking up.
Related: Comey Writes Mueller Supposedly Once Chose 'Leather Belt' Over Anesthesia
Clinton has on multiple occasions blamed her election loss on Comey's announcing, 11 days before the election, new evidence in the then-completed FBI investigation into her use of a personal email server while secretary of state. Days later, he said the new evidence did not affect the previously announced outcome.
"He does believe in the rule of law and I think he's committed to the truth," John Podesta, who was chairman of Clinton's 2016 campaign, told CNN about Comey on Tuesday. "But that doesn't mean he can't make terrible errors of judgment." Asked by CNN's Wolf Blitzer if he planned to read Comey's book, Podesta responded, "Eh, I don't think so." And if he expected Clinton to read the book, he said, "I doubt it."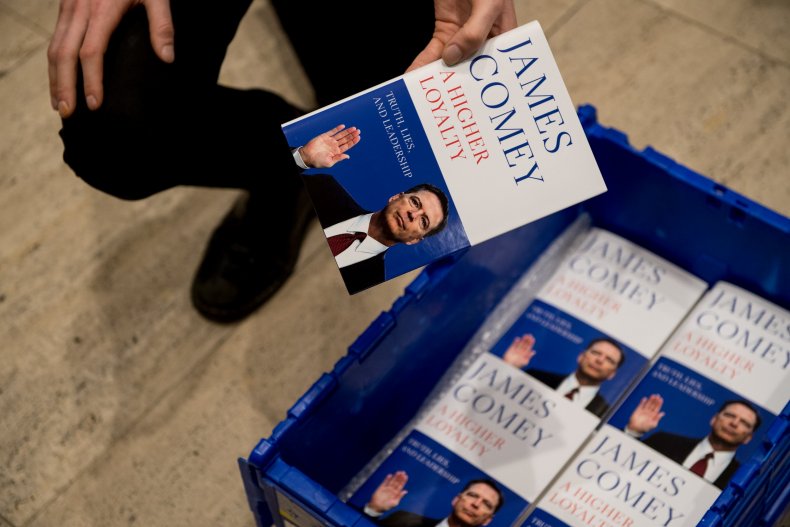 Ronald Klain, who was a senior adviser to the Clinton campaign and rumored to be in consideration for a high-level White House job if she won, tweeted about Comey's pre-book release interview with ABC News. "I worked for an AG (Janet Reno) who lived by, 'Let the facts and law' decide. Comey isn't that. He was 'Let the facts and law .... and my image and how I am perceived' decide," he wrote. In another tweet about the interview, Klain wrote, "Comey's observations about Trump seem candid and direct—but his justifications of his own actions seem tortured and inconsistent."
And Lanny Davis, a longtime ally of Hillary and Bill Clinton who authored a recent book about Comey's involvement in the last presidential election, attacked Comey in an opinion piece for The Hill on Sunday. "It is time—accurately—to call Comey a liar for this crucial, self-serving rationalization for his action that made Donald Trump president," he wrote.
But some of Clinton's former aides believe that Comey is still a reliable witness to the Trump administration, despite his handling of the Clinton case. "As important as learning from 2016 is, it's more important to learn that the former FBI director thinks the president is like a mob boss and lawless," Jesse Ferguson, who was deputy national press secretary and senior spokesperson for the Clinton campaign, said in an email to Newsweek. "To have someone whose actions led to electing Trump now tell us that Trump is unfit and immoral should be a wake-up call to everyone. Whether you were on my side or Comey's side of Hillary Clinton, we all now agree that Donald Trump is a clear and present danger."
Philippe Reines, who was a top aide to Clinton in the Senate and at the Department of State, agreed. "We take real issue with his judgment, which seems to be at every turn terrible and against all DOJ and FBI regulations and protocols," he told Newsweek. "But what's relevant now with Comey is his personal experience and what he was witness to.
"It's not a forgiveness," Reines added. "He's not a hero. He's a witness to history."
In his Sunday night interview with ABC News, Comey said that his decisions in the Clinton email investigation stemmed from his thinking she would win the election. "I was operating in a world where Hillary Clinton was going to beat Donald Trump and so I'm sure that it was a factor," he said. "That she's going to be elected president and if I hide this from the American people, she'll be illegitimate the moment she's elected."
But he also said in the interview, "I really wasn't making decisions based on political fortunes."
Comey told USA Today that he hopes Clinton will at least read parts of his book. "I think she will walk away saying, 'You know what, I still think that guy is an idiot, but, you know, he's kind of an honest idiot.'"
Reines said he has spoken in recent days with Clinton about topics including Comey, and that he doesnt think the recent publicity "changes much" about how she feels about the former director. A spokesperson for Clinton was not available to comment.