In an opinion piece published by The Washington Post Monday, former director of the Federal Bureau of Investigation compared President Donald Trump to a "strange and slightly sad old guy [who] is yelling at you to get off his lawn."
Comey also referred to Trump as a "shrunken, withered figure" in the article which describes Comey's experiences with being on the receiving end of the president's attacks.
Comey wrote that after the initial shock of the attack wears off, "the impact diminishes, the power of it shrinks."
"It no longer feels as though the most powerful human on the planet is after you," Comey said. "It feels as though a strange and slightly sad old guy is yelling at you to get off his lawn, echoed by younger but no less sad people in red hats shouting, 'Yeah, get off his lawn!'"
While he feels that Trump still poses a threat, Comey wrote that Trump is "diminished, much as he has diminished the presidency itself."
"The president's 'trusted' advisers all appear to talk about him behind his back and treat him like a child," Comey continued. "Principled public servants defy his orders not to cooperate with the impeachment inquiry."
Comey also said that people are no longer that interested in what Trump tweets and that his readership on Twitter has been decreasing.
"Americans have grown tired of the show," Comey wrote. "They are channel-surfing on him."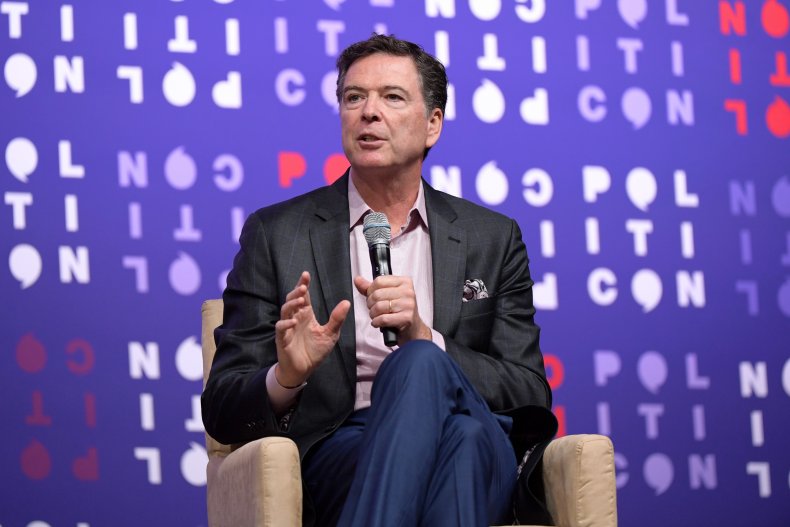 However, Americans must not ignore Trump and the danger he presents to democracy, Comey said.
"We need to fight through our fatigue and contempt for this shrunken, withered figure," Comey wrote. "We must not look away."
Newsweek reached out to the White House for comment but did not receive a response in time for publication.
Comey was fired by Trump while the FBI's investigation into whether Russia meddled in the 2016 elections in a way that would prevent Hillary Clinton from getting elected.
Comey also testified in 2017 to the Senate Select Committee on Intelligence during the investigation into possible Russian interference involving Trump's campaign. He also believed he was fired because of his involvement in that investigation.
"Something about the was I was conducting it," Comey testified, "the president felt created pressure on him that he wanted to relieve."
"Slippery James Comey," tweeted Trump in 2018, "a man who always ends up badly and out of whack (he is not smart!), will go down as the WORST FBI Director in history, by far!"
Trump has still been insulting Comey in public as recently as December when he told a rally crowd in Michigan that firing Comey was indicative of the success he has had as president.
"Did I do a great job when I fired his ass?" Trump asked. "That was like throwing a rock at a hornet's nest. Did that place explode."