James Comey Says He Doesn't 'Dislike' Trump, Despite Calling Him an Unethical Liar
Former FBI Director James Comey made a surprising comment about the man who fired him in an interview Monday.
"I don't hate Donald Trump. I don't even dislike Donald Trump," Comey told CNN's Jake Tapper. The interview came two days after the release of Comey's book A Higher Loyalty: Truth, Lies and Leadership.
The statement may come as a surprise to people who have read his book or seen other interviews with the former director in recent days, given that the book is full of unflattering and critical comments about the president.
Related: Comey faces public and hecklers in New York City
"His suit jacket was open and his tie was too long, as usual," Comey writes about meeting Trump, then the president-elect, for the first time. "His face appeared slightly orange, with bright white half-moons under his eyes where I assumed he placed small tanning goggles..."
In the book, Comey also compares Trump to a mob boss and describes him as a liar who demanded "loyalty" from him and who seemed to lack "emotional intelligence."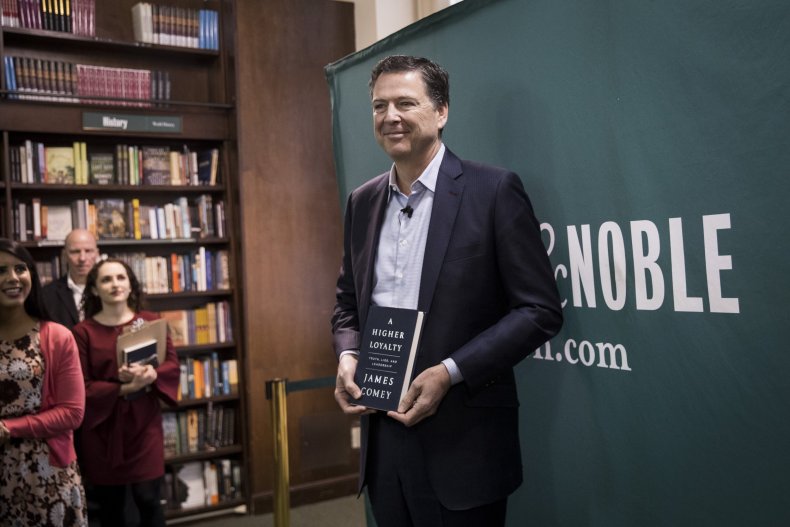 In one section, Comey writes how he has seen almost no footage of Trump laughing. "I suspect his apparent inability to do so is rooted in deep insecurity, his inability to be vulnerable or to risk himself by appreciating the humor of others, which, on reflection, is really very sad in a leader, and a little scary in a president," he writes.
He also describes a scene with then-President Barack Obama following Trump's election, during which Comey recalls telling the outgoing president, "I dread the next four years."
"Donald Trump's presidency threatens much of what is good in this nation," the former FBI chief writes in the epilogue. "This president is unethical, and unthethered to the truth and institutional values. His leadership is transactional, ego driven and about personal loyalty."
Those statements and others earned Comey scorn from Meghan McCain on ABC's The View on Wednesday. "You have to understand how this looks to Republicans," said McCain, the daughter of Republican Senator John McCain. "You sound like a political commentator to me."