James Comey Says Lynching Is 'Our Country's National Crime' in Dig at Trump
James Comey, the former FBI head who was fired by President Donald Trump, has taken aim at the president's comments that an inquiry into his possible impeachment is a "lynching."
There was widespread outrage at Trump's comparison of racist murders of African-Americans to a congressional inquiry into claims he pressured Ukrainian President Volodymyr Zelenskiy into digging up dirt on 2020 contender Joe Biden and his son, Hunter.
Black members of Congress demanded Trump apologize for the comments, with Rep. Barbara Lee of California suggesting that the president "has no understanding of this horrific history."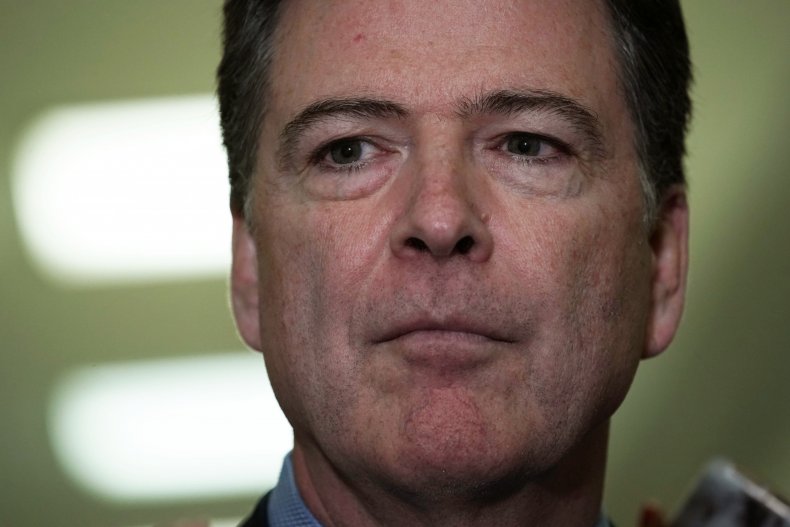 Comey has now joined the chorus of disapproval. tweeting that he had visited a monument commemorating the racist attacks of the past and making an apparent dig at the president.
He tweeted: "Profoundly emotional visit today to the National Memorial for Peace and Justice in Montgomery, Alabama, remembering thousands of African Americans murdered by lynching."
He finished his tweet with a quote by a prominent early civil rights campaigner, adding, "Our country's national crime is lynching" — Ida B. Wells."
Comey served under President Barack Obama but was dismissed by Trump in May 2017. Many criticized the move as an attempt to undermine an investigation into claims of collusion with Russian interference in the U.S. presidential election.
Trump also attacked Comey publicly, accusing him last December on Twitter of lying to the House Judiciary Committee.
Comey has not been backward in his criticism of Trump either, comparing him to a mob boss in his book A Higher Loyalty and describing how he watched him build "with his words an alternative reality."
On Twitter he has been more subtle, and left his comments open to interpretation. Earlier this month, he tweeted a paragraph from the farewell address by George Washington in which the first president warned foreign interference could disrupt the union.
In a rather lettered comment, Comey warned against the "against the insidious wiles of foreign influence" which is "one of the most baneful foes of republican government."
Meanwhile, Trump's "lynching" comment has offended many, with Princeton University's chair of African American studies Eddie Glaude Jr. telling MSNBC: "Out of the tradition I come, lynching represents a particular kind of horror."
"Whether it's Democrats or whether it's Republicans, to reference lynching is to play fast and loose with our dead."
Texas Democratic Rep. Al Green accused Trump of weaponizing "racism and bigotry," in a speech on the House floor on Tuesday, in which he said the president was"no better" than the Nazis or members of the Ku Klux Klan.
"I rise today with a heavy heart and tears welling in my eyes, I rise. I rise because how dare the president compare lynching to impeachment," Green said.