James Comey Slams Trump's 'Rat' Comment, Tells Republicans, Democrats to 'Overcome Your Shame and Say Something'
Former FBI Director James Comey said Monday that Donald Trump's continual attacks on his former "fixer" Michael Cohen amid special counsel Robert Mueller's investigation into Russian election meddling "undermines the rule of law."
"This is the president of the United States calling a witness who is cooperating with his own Justice Department a 'rat,'" Comey told reporters after he testified before the House Judiciary and Oversight Committees behind closed doors on Monday afternoon.
"Say that again to yourself at home and remind yourself where we have ended up," Comey added. "This is not about Republicans and Democrats, this is about what does it mean to be an American. What are the things that we care about beyond our policy disputes, which are important. There's a set of values that represent the glue of this country and they are under attack by things just like that."
The former FBI director, who was forced out of the Trump administration in the spring of 2017, was referring to Trump's comment calling Cohen a "rat" in a Twitter post early Monday morning.
"Remember, Michael Cohen only became a "Rat" after the FBI did something which was absolutely unthinkable & unheard of until the Witch Hunt was illegally started. They BROKE INTO AN ATTORNEY'S OFFICE! Why didn't they break into the DNC to get the Server, or Crooked's office?" the president wrote.
In response to the Trump's attacks on the investigation, Comey told the press that "we have to stop being numb to it. Whether you're Republican or Democrat you need to stand on your feet, overcome your shame and say something."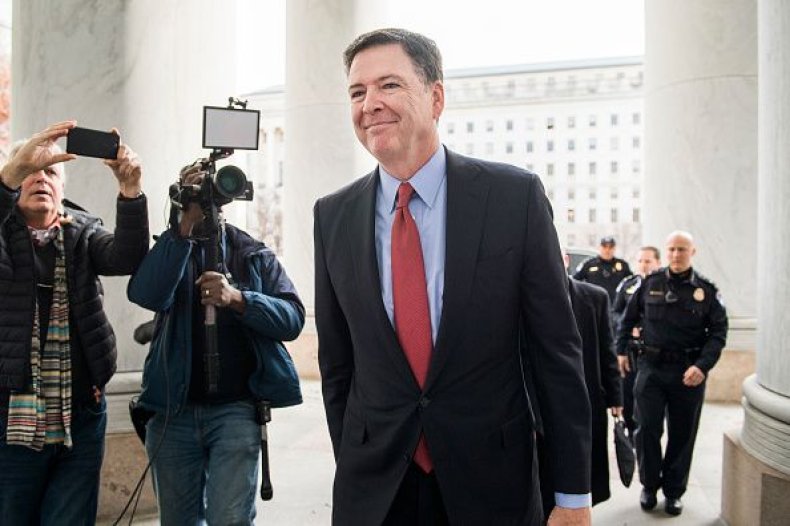 Trump's criticism came after Cohen cooperated extensively with Mueller's investigation and told federal prosecutors in New York that he committed campaign finance violations "at the direction" of Trump during the 2016 election. Prosecutors have since signaled that they have evidence to corroborate Cohen's statement. During his sentencing hearing last week, Cohen said that he had covered up the president's "dirty deeds" out of "blind loyalty."
Comey was on Capitol Hill on Monday to testify before a House panel about the 2016 FBI investigation into Hillary Clinton's use of a private email server for official business. It was his second time appearing before lawmakers this month.
"Another day of Hillary Clinton's emails and the Steele Dossier," Comey told reporters when he exited the meeting. The former FBI director added that while he would rather not speak to the press "somebody has to stand up for the rule of law. I hope there's a whole lot more somebodies out there than just me."