James Comey Compares Trump to a Mob Boss, Suggests He Could Be an 'Unindicted Co-Conspirator' in Russia Investigation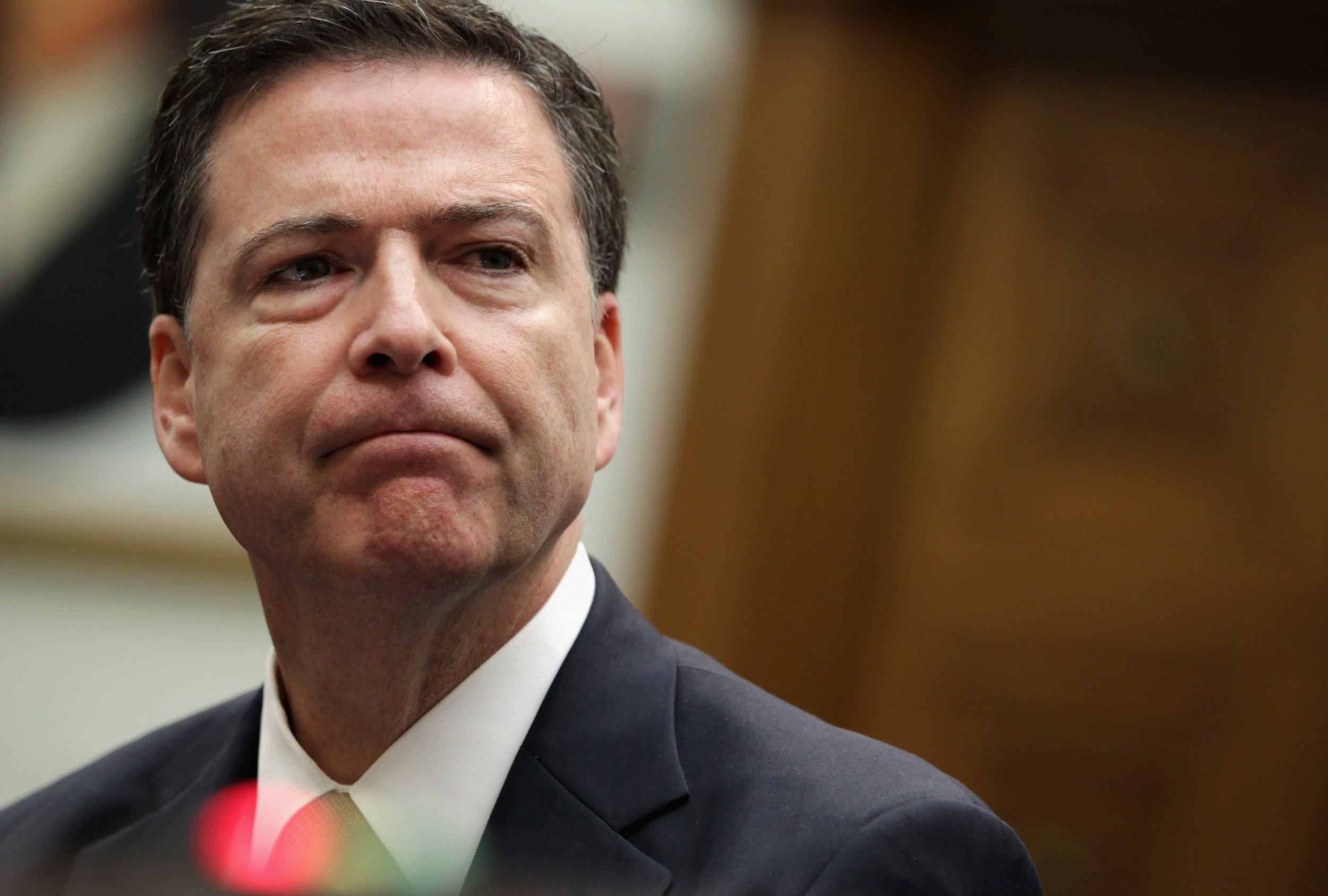 Former FBI director James Comey said Sunday night that he felt "numb" to a series of tweets President Donald Trump wrote attacking his character earlier that day.
"My reaction to President Trump's tweets was 'eh, there he goes again' I thought I was 'lying' and now I'm 'leaking'" Comey told an audience at the 92nd Street Y in New York City Sunday evening. He explained that his initial reaction to the tweets scared him, because he did not want the American people to become used to the shattering of norms by the president.
"There is a danger of numbness," he said. "The touchstone of truth that we grade our leaders against is washing away in a tidal wave of the president's lies."
President Trump asserted on Twitter without evidence Sunday morning that Comey had lied and leaked information regularly.
"On 245 occasions, former FBI Director James Comey told House investigators he didn't know, didn't recall, or couldn't remember things when asked. Opened investigations on 4 Americans (not 2) - didn't know who signed off and didn't know Christopher Steele. All lies!" the president wrote. "Leakin' James Comey must have set a record for who lied the most to Congress in one day. His Friday testimony was so untruthful! This whole deal is a Rigged Fraud headed up by dishonest people who would do anything so that I could not become President. They are now exposed!"
Comey had much to say about Trump on Sunday night, none of it flattering. He compared Trump to a mafia boss, and said he could not shake away the feeling that he was dealing with the Cosa Nostra when he met with the president. In the mafia, much like in the Trump administration, he said, "It's not about anything else except the boss," he said. And when that's the culture people don't tell the boss the truth. It's a fear based leadership."
He also told the New York audience that while former presidents Barack Obama and George W. Bush has the ability to use humor to lighten certain situations, the current president does not.
Comey, who served as the United States Deputy Attorney General under former President Bush and as FBI director under Presidents Obama and Trump said on Sunday that Trump was the worst listener he had ever encountered and that his inability to listen came from a place of deep insecurity. "I see insecurity as a root cause," he said. "He has a deep flaw in that he has no external reference points, only internal ones. Whether that root cause has led to a situation where he was compromised [by relations with Russia], I don't know."
Comey testified Friday before the House Judiciary Committee in a six-hour closed-door meeting, which prompted the president's twitter storm this weekend. During the meeting with Democrats and Republicans, Comey answered questions relating to his investigation of Hillary Clinton's emails, Russian interference in the 2016 election and the possibility of Trump ending that investigation by firing special counsel Robert Mueller.
A heavily redacted 250-page transcript of the meeting was released on Saturday, which showed Comey explaining that he did not launch an investigation on the Trump campaign, but instead "The FBI, in late July, opened counterintelligence investigations of four Americans to see if they were working in any way with the Russians to influence our elections."
On Sunday evening, Comey called the meeting a waste of time and said that Republicans chose to focus solely on Hillary Clinton's emails and Democrats on the Russia investigation. "It was nothing you shouldn't have been able to see live," he said Sunday night.
Still, he had much to say about the possibility of Trump being compromised by Russia. If the president was not an unindicted co-conspirator in Mueller's investigation, he said, "he's certainly close."
He expressed concern that Trump "would not even criticize [Russian president Vladimir] Putin in private," and suggested that tapes of the president with prostitutes in Moscow could be real.
In May of 2017, Trump fired Comey as FBI director because of the way he handled election-related investigations. "I was going to fire Comey knowing there was no good time to do it And in fact, when I decided to just do it, I said to myself—I said, you know, this Russia thing with Trump and Russia is a made-up story. It's an excuse by the Democrats for having lost an election that they should've won," he told NBC News' Lester Holt immediately after the firing.
Trump's personal lawyer, former New York City mayor Rudy Giuliani later reiterated that Comey was fired because of election-related investigations. "He fired Comey because Comey would not, among other things, say that he wasn't a target of the investigation. He's entitled to that," he told Fox News in 2017.
After Comey was fired, Mueller was appointed as special counsel to investigate potential Russian interference in the elections.
"I'm a witness, potentially," he said of the investigations into obstruction of justice Sunday night. The president's attempts to discredit him publicly on Twitter he said, would be "something that I would look at very closely," if he were a prosecutor.