Comey Drafted Statement Ending Clinton Email Investigation Months Before Interviewing Her, FBI Confirms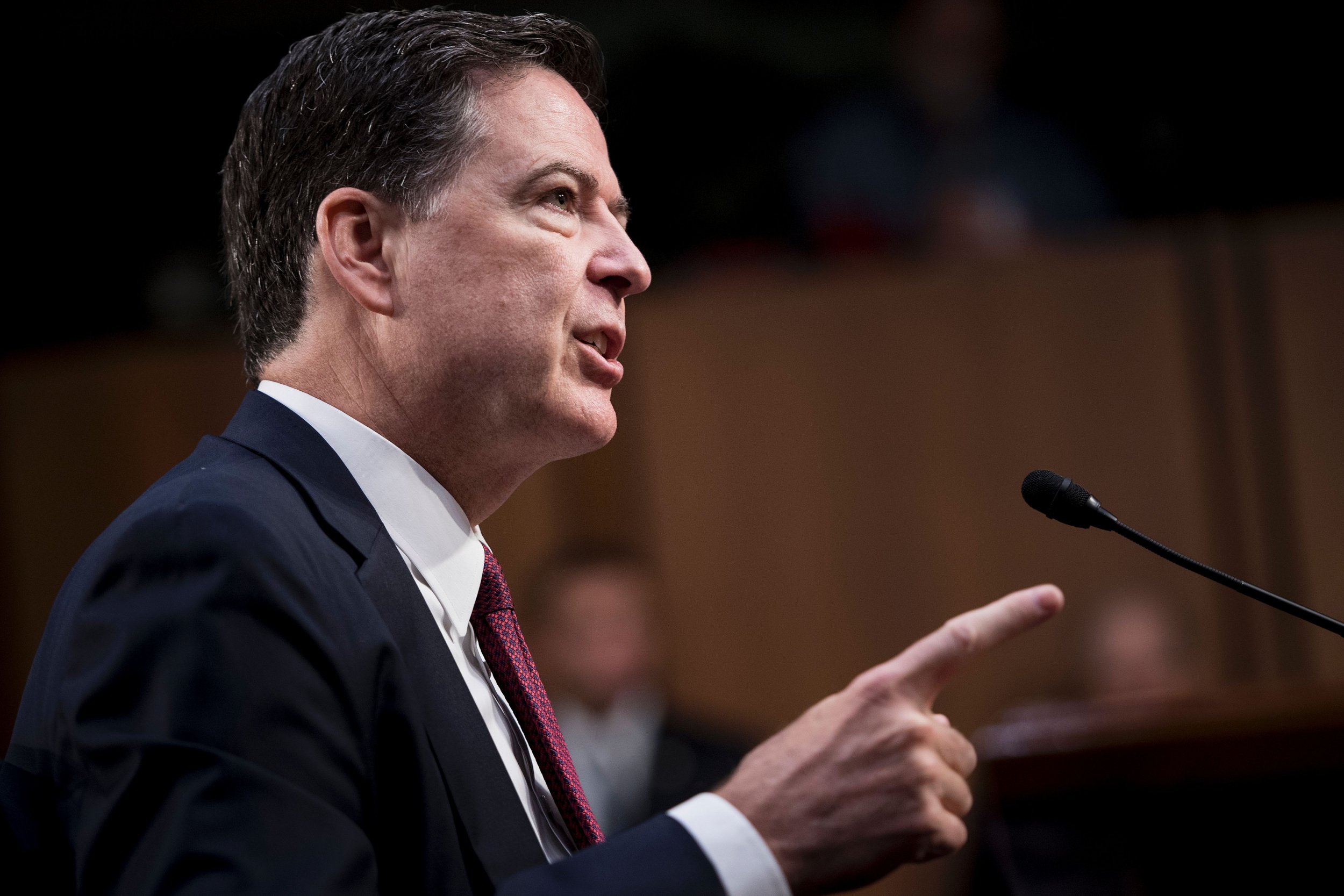 In documents it released on Monday, the FBI confirmed that former FBI Director James Comey drafted a statement about the conclusion of the Hillary Clinton email investigation months before interviewing Clinton.
The records show that on May 2, 2016, Comey emailed Deputy Director Andrew McCabe, general counsel James Baker and chief of staff and senior counselor James Rybicki. The subject of the email was "midyear exam," and though the email says its contents are unclassified, the body of the email is redacted in the release.
Related: Did Comey Break Rules by Drafting His Clinton Statement?
On Monday, the bureau also released a response to the May 2 email. Rybicki sent the response, dated May 16, 2016, to several colleagues: Peter Strzok, Jonathan Moffa, Baker, Trisha Anderson and E.W. Priestap. He copied McCabe and David Bowdich, the associate deputy director. In the email, which is marked "unclassified," Rybicki wrote, "Please send me any comments on this statement so we may roll into a master doc for discussion with the Director at a future date. Thanks, Jim."
The FBI titled the release "Drafts of Director Comey's July 5, 2016 Statement Regarding Email Server Investigation." That title refers to a press conference Comey held in which he said the bureau had completed its investigation into Clinton's use of a personal email system and that it would not be recommending that the Department of Justice pursue charges, though Clinton had been "careless." The bureau interviewed Clinton on July 2, 2016.
The release confirms information that Senator Chuck Grassley, chairman of the Senate Judiciary Committee, and Senator Lindsey Graham, a member of that committee, disclosed in a letter to new FBI Director Christopher Wray in August. The senators wrote that they had learned from interview transcripts released by the Office of the Special Counsel that Comey had drafted the statement in advance. (That office is separate from the efforts of Justice Department special counsel Robert Mueller.) The Senate Judiciary Committee is reviewing Comey's conduct as director and President Donald Trump's firing him in May.
FBI and Justice Department analysts are divided on whether Comey violated rules or broke with tradition by drafting the statement prior to interviewing Clinton and other witnesses. "To me, this is so far out of bounds it's not even in the stadium," Chris Swecker, who retired from the FBI in 2006 as assistant director for the criminal investigative division and acting executive assistant director for law enforcement services, previously told Newsweek. "That is just not how things operate.... It's built in our DNA not to prejudge investigations, particularly from the top."
Ron Hosko, who served as an assistant director at the bureau under Comey until 2014, has told Newsweek that drafting statements is not unusual, but only if the drafts remain internal and avoid coming to conclusions. "When you have a significant case that is in the public domain and certainly in the public's interest, in the public's eye, I think that it could be expected that both the FBI and the prosecutors that they're working with are beginning to draft a statement of facts that could be used later, as the case is developing," he said. "I think the content of the statement is going to be important. Did it purport to essentially acquit her actions way prematurely, or was it simply a running statement of what they knew?"
But Matthew Miller, a former spokesperson for the Justice Department, tweeted in September, "The decision is never 'made' until the end, even when there's a 99% chance it is only going to go one way."
Following the disclosure by Grassley and Graham, President Donald Trump tweeted, "Wow, looks like James Comey exonerated Hillary Clinton long before the investigation was over...and so much more. A rigged system!"
The July 2016 press conference earned Comey widespread criticism. In a memo to Trump in May, Deputy Attorney General Rod Rosenstein condemned Comey for holding the event. Trump then cited that memo in his initial reason for firing the FBI director.
Lawyers for Trump could use Monday's disclosure in their efforts to defend the president against accusations that he obstructed justice by firing Comey. The Wall Street Journal reported in August that in communications with Mueller, the lawyers had sought to portray Comey as an unreliable witness.