James Comey Blames Donald Trump for Distracting From Police Violence and Uses Howard Talk to Announce Book Tour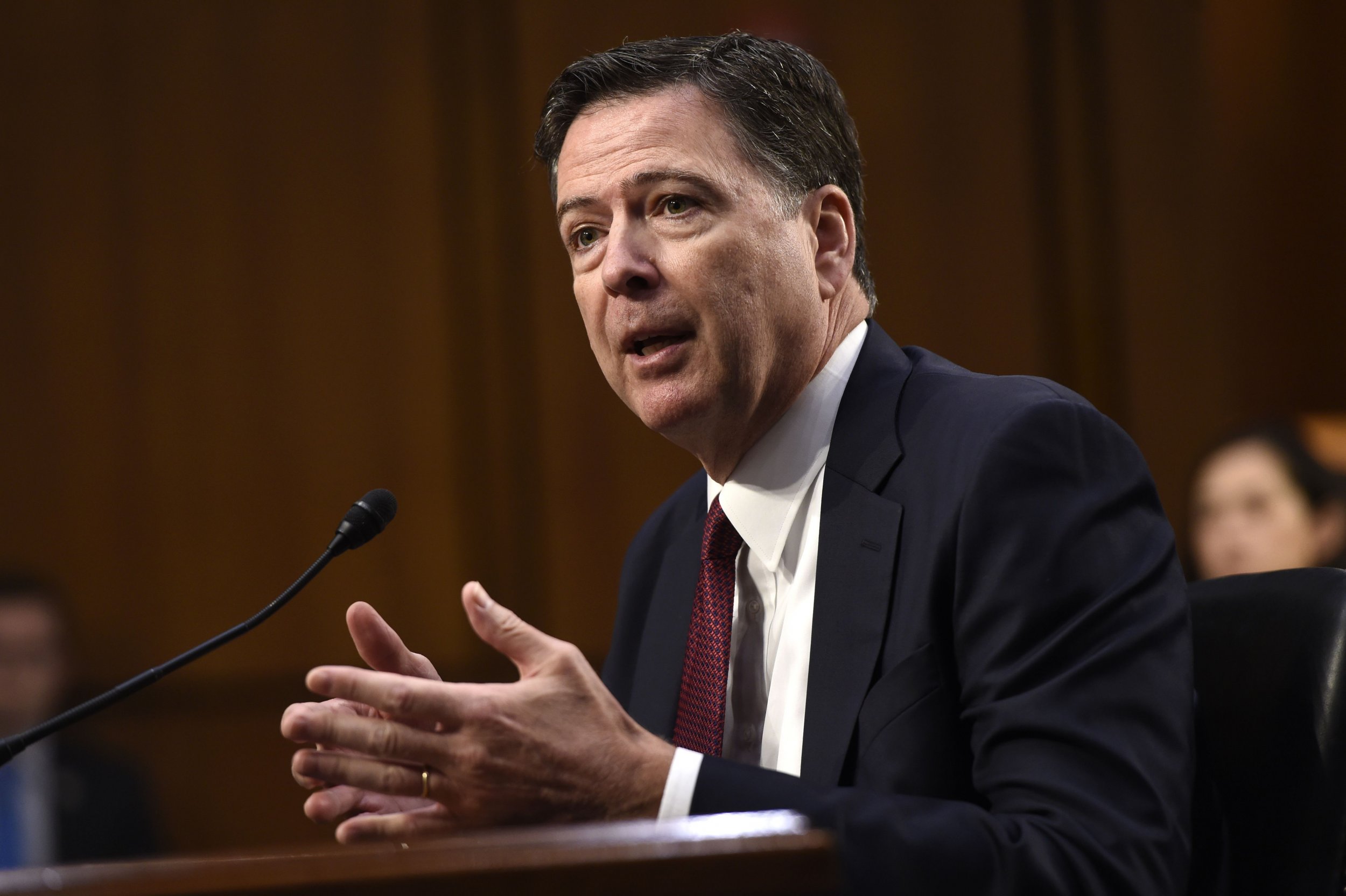 At Howard University on Wednesday evening, former FBI Director James Comey kicked off his lecture series on "law enforcement and race." He spoke about what he said is a growing divide between police and people of color, and he said the administration of President Donald Trump had diverted attention from that issue.
For his third public speech since Trump fired him in May, Comey returned to Howard, where he is an endowed chairman in public policy. When he spoke at the historically black college in Washington, D.C. in September, activists chanted for the duration of his address. For the Wednesday event, the university required attendees to register in advance.
Related: James Comey's speech at Howard University interrupted by activists
On Wednesday, Comey told the group that the United States seems less focused on the issues of law enforcement and race than it had been in previous years following the fatal officer-involved shooting of Michael Brown in Ferguson, Missouri, in 2014. He partly blamed Trump for that. "I have noticed that since the election of our current president, [the issues] have not had the place in American life that I saw in late 2014, throughout '15, throughout '16," he said. "I think the most likely explanation is that issues involving the new administration, including the emergence of appalling voices of white nationalism and racism, have crowded out the topic of law enforcement from American public life."
He continued, "Although I think it is vital that we confront racism when it comes at us in the form of torch marches or racism or hate crimes, it is critical that we not lose sight of the issue that we began discussing in earnest two and a half years ago."
For much of the lecture, Comey encouraged people to have conversations with those holding different viewpoints, perhaps an allusion to the activists who nearly drowned him out in September. "My goal is to try to model, especially for students, how to have a conversation about really hard, emotional things," he said. "It's only by all of us adopting that attitude, the attitude that, 'Hey, you could be right and I could be wrong,' that we have the best chance of learning something in a deep away." He added, "We are in a dangerous place in this country right now, where we hate too quickly, where disagreement becomes anger too quickly."
Comey went on to speak about the need for better federal data on police use of force and for increased diversity in law enforcement. But he also revisited his controversial comments from 2015 and 2016 about how the filming of law enforcement by civilians has perhaps made police afraid to do their jobs, resulting in an increase in violent crime in many cities.
"I raised the possibility that some change in human behavior is contributing to the rise in violence, and oddly enough, by doing that, I managed to anger police unions and people on the left," he said about his previous comments. "I don't like the term 'Ferguson Effect,' and despite the fact that lots of media have reported that's my term, that is not my term, that is not a term I use. But I hope one of the things we can discuss over the next nine months [of the lecture series] is whether it's possible that people change their behavior—both cops and the community—in response to highly publicized events." He pointed out that people of color are largely the victims of the increase in crime.
The Howard student group HUResist, which organized the demonstration against Comey in September, said Wednesday on social media that campus police prevented them from attending the reception after the lecture. The group tweeted that Comey's remarks "eerily resemble the racist talking points of Donald Trump during his 2016 campaign."
Responding to accusations that the university prevented certain students from attending the event, a Howard spokesperson said in a statement to Buzzfeed, "Due to the popularity of Mr. Comey on campus, and space limitations, the lecture was organized to include a RSVP requirement from attendees. Seat confirmations were issued on a first-come, first-serve basis. We are livestreaming the event for those that cannot attend in person."
The lecture came as Comey faces renewed scrutiny not only from student activists, but also from members of Congress. On Tuesday, the Republican leaders of the House Judiciary Committee and the House Committee on Oversight and Government Reform announced a joint investigation into actions by the Department of Justice in 2016. Those include the FBI investigation into Hillary Clinton's use of a personal email system, while Comey was director. Also on Tuesday, Representative Devin Nunes, chairman of the House Intelligence Committee, said his panel and the House Oversight Committee will look into a Russian uranium deal that reportedly involved the FBI and Hillary and Bill Clinton.
The Senate Judiciary Committee is also examining Comey's past conduct. That committee has sought information about the former FBI director from people including Daniel Richman, the Columbia University professor to whom Comey has said he gave a memo about an encounter with Trump to pass along to a reporter. The White House has suggested that the Justice Department consider prosecuting Comey for "leaking" the memo.
Speaking about his plans aside from the lecture series, Comey said he expects to publish his book in the spring. Following its release, he said, he plans to travel the country and "speak about ethical leadership," the subject of the book.