Comey Interview: Impeaching Trump 'Would Let the American People Off the Hook'
Updated | President Donald Trump should not be impeached because it would "short-circuit" the Democratic system, former FBI Director James Comey said Sunday night in his first television interview since Trump fired him last May.
"I think impeaching and removing Donald Trump from office would let the American people off the hook and have something happen indirectly that I believe they're duty-bound to do directly," Comey said, according to a transcript of the interview. "People in this country need to stand up and go to the voting booth and vote their values."
The interview, which ABC aired as part of 20/20, came two days before the public release of Comey's book, A Higher Loyalty: Truth, Lies and Leadership. Details from the book have surfaced in recent days. In the book, Comey reportedly compares Trump to a mob boss and describes the president as "unethical, and untethered to truth and institutional values."
Related: Comey Had No 'Concerns' With Handling of Clinton Email Investigation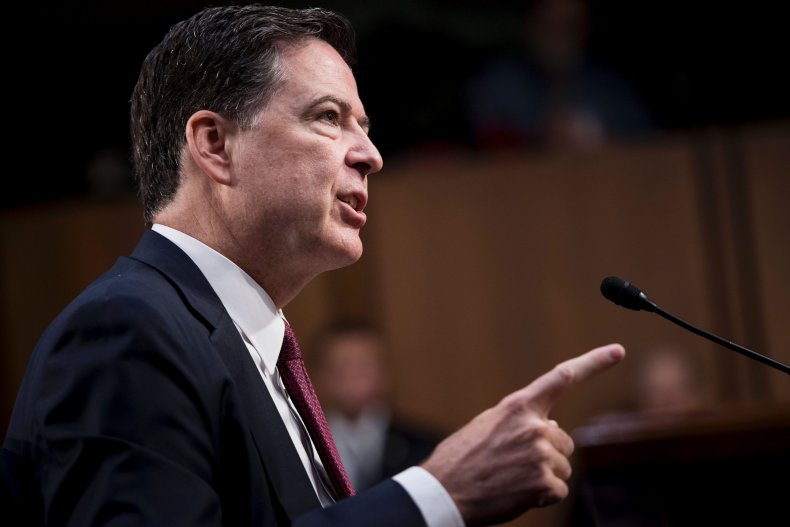 Trump reacted to those details, taking to Twitter to call the former director an "untruthful slimeball" and to say Comey "will go down as the WORST FBI Director in history, by far!"
During the ABC interview, Comey recalled meeting Trump for the first time. "He had impressively coiffed hair that looks to be all his," Comey said of his first impression. "It must take a lot of time in the morning. His tie was too long, as it always is. He looked slightly orange up close, with small light half-moons under his eyes, which I assume are from tanning goggles."
During that same first meeting, they discussed a dossier compiled by former British spy Christopher Steele, which contained some unverified claims. Comey said he was surprised that Trump steered the conversation toward public relations.
Comey said he wasn't sure about some of the more salacious claims in the dossier.
"I honestly never thought these words would come out of my mouth, but I don't know whether the current president of the United States was with prostitutes peeing on each other in Moscow in 2013," he said. "It's possible, but I don't know."
Comey also spoke about the moment he learned from the television that Trump fired him. "I did not expect to be fired," he said. "I thought, 'It's crazy to fire me.'" Comey flew home in the hours that followed. "I drank red wine from a paper coffee cup and just looked out at the lights of the country I love so much," he recalled.
Towards the end of the televised interview, Comey said "it's possible" that the Russians have dirt on Trump, and that Trump is "morally unfit to be president."
In a statement sent out as the televised interview was ending, Republican National Committee Chairwoman Ronna McDaniel said, "James Comey's publicity tour reaffirms that his true 'higher loyalty' is to himself. The only thing worse than Comey's history of misconduct is his willingness to say anything to sell books.
"He has no credibility, and President Trump was right to follow through on the bipartisan calls for him to be fired," she continued.
Prior to his interview with ABC News chief anchor George Stephanopoulos, Comey had made few public remarks since his firing. He has spoken multiple times at Howard University, where he is an endowed chairman of public policy. Last June, he testified before the Senate Intelligence Committee. He also made brief remarks to The New Yorker for an article about the president of Howard University. And he has had an increasingly frequent social media presence.
This article has been updated to include more information from James Comey's interview with ABC and a statement by Republican National Committee Chairwoman Ronna McDaniel.​