Former FBI Director James Comey spoke about his teenage job and his regrets about the 2016 presidential election as he took questions from the public for the first time since the release of his book.
At a Barnes and Noble bookstore in New York City on Wednesday night, following the release of A Higher Loyalty: Truth, Lies and Leadership, Comey also faced two hecklers who had to be removed by security.
Related: Meghan McCain Rips Comey on 'The View'
Speaking without the prompting of a congressional committee, George Stephanopoulos, Meghan McCain or another interviewer, the former FBI chief told the audience about why he wrote the book.
"What we face today is a situation where lying has become so normal that when I wake up in the morning and see the president of the United States has called for my imprisonment, I actually shrug," he said, dressed in a striped suit with paisley lining and a light blue button-down shirt. "And then I stop myself and say, 'Wait a minute, that shrug means you're becoming numb to something that is not ok, that is not normal.'"
But he continued to insist that the book is not about Donald Trump.
Comey spoke for around 20 minutes, including about his job as a grocery store employee at age 16, and learning good leadership qualities from his boss at the time.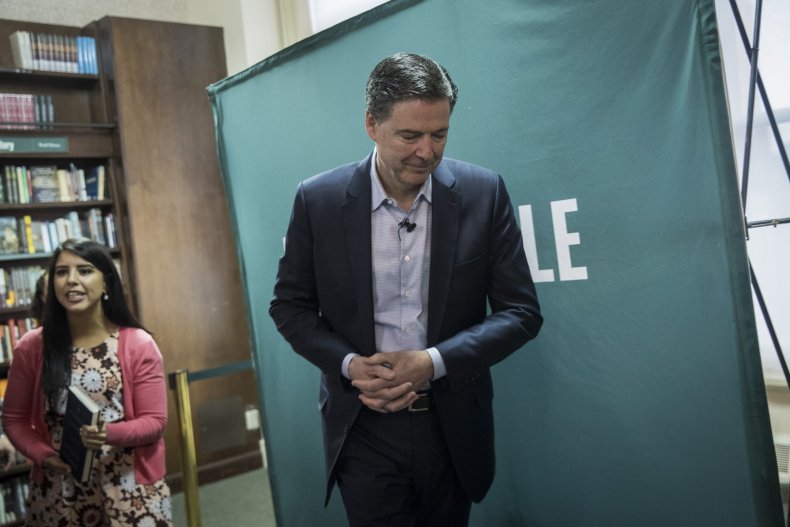 For an additional 20 minutes, Comey responded to questions that audience members had submitted on index cards.
Asked what he would have done differently in the 2016 election, he said, "I would rather have not been involved. Honestly, and I don't mean this to sound flip, I would rather Hillary Clinton never have used a personal email system. I'd rather Anthony Weiner never had a laptop."
Early into Comey's answering questions, a demonstrator stood up and began shouting that he should be prosecuted. Several security guards removed the heckler, Laura Loomer, a right-wing figure who describes herself as an investigative journalist. She live-streamed the incident.
Moments after Comey began again, another person, later identified as Sunsara Taylor, an advocate for what she describes on her Twitter account as "new communism," stood up, unfurled a banner and shouted about fascism. She, too, was removed.
The demonstrators didn't appear to rattle Comey, and the disruptions didn't last as long as the one at Howard University last September, when student activists shouted over the entirety of his presentation.
There were demonstrators outside too, all of whom appeared to support Trump. During the event they could be heard chanting "lock him up" outside.
"He's corrupt, he's a dirty cop, he's on the take with Clinton cash and he's a disgrace," said Diane Atkins, a frequent pro-Trump demonstrator, who said she was there on her own. "He belongs in jail along with crooked Hillary."
But the crowd inside was otherwise friendly towards Comey, applauding enthusiastically throughout the event. A line for signed bookplates formed early in the morning.
"I see good and bad in all people. I see good and bad in him," said Richard Wisniewski, a self-identified liberal from Staten Island, New York, who came early in the day to get a signed copy of the book and returned for the event. I'm happy to be here because he's part of history."