Comey Book: Mueller Supposedly Once Chose 'Leather Belt' Over Anesthesia During Surgery
Special Counsel Robert Mueller is a serious, intimidating person who, according to rumors, once turned down anesthesia during surgery, according to a new book by former FBI Director James Comey.
"Bob was not a jokester, and his severe demeanor intimidated most people," Comey writes about his predecessor at the bureau in A Higher Loyalty: Truth, Lies and Leadership, out Tuesday. "Word at the bureau was that he had knee surgery not long after 9/11 and declined anesthesia in favor of biting on a leather belt."
Related: Comey says impeaching Trump 'Would let the American people off the hook'
Mueller is now special counsel overseeing the investigation into Russian meddling in the 2016 election and possible coordination with the Trump campaign. He and Comey were colleagues when Mueller was FBI chief and Comey was deputy attorney general during the George W. Bush administration.
In the 2012 book The Threat Matrix: Inside Robert Mueller's FBI and the War on Global Terror, Garrett Graff wrote that Mueller had knee surgery earlier in life, before going to Vietnam as a Marine.
And in a 2008 profile of Mueller, Washingtonian published a similar anecdote about him. Between his Senate confirmation and starting as FBI director, the magazine reported, "Mueller quietly went into the hospital to be treated for prostate cancer. Aides joked that he took nearly four hours off for the operation and recovery; the truth is he was back at work within days."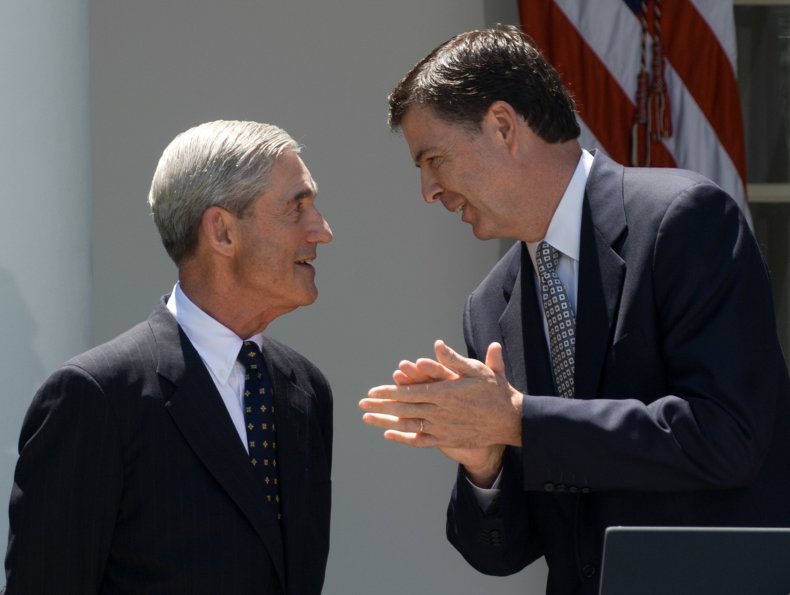 Comey's general description of Mueller is consistent with what other veterans of the bureau have said about their former boss, a decorated Vietnam War hero and the longest-serving FBI director since J. Edgar Hoover.
"There were no easy days with Mueller," Ron Hosko, president of the Law Enforcement Legal Defense Fund, a nonprofit, who was an assistant director in charge of the criminal investigative division under Mueller, told Newsweek in December. "He had an intensity that you would see of a prosecutor in court moving a case forward. He would be cross-examining you. You were the witness, and you were going to get cross-examined until he was satisfied."
In A Higher Loyalty, Comey also describes shadowing Mueller for a week before becoming his successor. "Bob, a former marine, was a bit old-school as director, not given to what he saw as touchy-feely stuff," Comey writes. "In the grueling days immediately after September 11, 2001, for example, his wife had prodded Bob to be sure his people were holding up under the stress. Early the next morning, or so I was told, he dutifully telephoned key members of his staff—whose offices were all within a ten-second walk of his—asking, 'How're you doing?' When each offered the perfunctory reply of 'Fine, sir,' he replied, 'Good,' and hung up."
Opponents of the special counsel probe have claimed that Mueller is conflicted because he has a "close friendship" with Comey, whose termination by Trump is said to be part of the investigation. People who know both men have told Newsweek that they are cordial but not close friends.