James Comey Says 'I Kind of Hope' Trump Isn't Impeached: 'The American People Would Be Let Off the Hook'
As House Speaker Nancy Pelosi finally announced a formal impeachment inquiry of President Donald Trump on Tuesday, former FBI Director James Comey was of a different opinion, saying he hoped in a way Trump wouldn't be impeached because "the American people would be let off the hook" from removing him in the 2020 election.
In an interview with KCRA, an NBC affiliate in Sacramento, Comey said that Trump's actions in special counsel Robert Mueller's report were "deeply concerning" but that Americans need to "take responsibility" at the ballot box in the upcoming presidential election.
"He definitely engaged in conduct that is laid out in the Mueller report that is deeply concerning, instances of obstruction of justice," Comey said. "But really, Congress should figure out whether that would trigger impeachment."
Comey continued: "As a citizen, I kind of hope not because I think the American people would be let off the hook if Donald Trump were impeached and removed from office. A lot of his supporters would think some sort of coup had taken place."
"We need an inflection point," the former FBI director concluded. "Impeachment would deprive us of that. We need to show what we stand for."
Comey's comments came to light just before Pelosi, who has long spoken against beginning impeachment proceedings against Trump, on Tuesday announced an impeachment inquiry of Trump. Pelosi apparently changed her mind after recent allegations that Trump pressured Ukrainian President Volodymyr Zelensky to investigate 2020 Democratic front runner Joe Biden and his son for corruption. The allegations stem from a whistleblower complaint that the Trump administration has not allowed Congress to see.
While the whistleblower complaint has seemingly changed some Democrats' minds about impeaching Trump, notably Pelosi's, it has apparently not swayed Comey.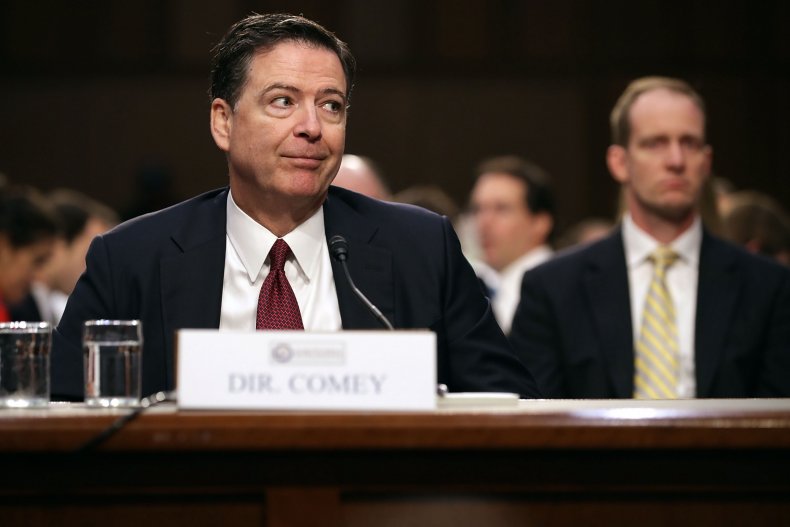 Comey said he hoped Trump would not be impeached because it would let citizens "off the hook," the exact same phrase he used in the new TV interview.
"I think impeaching and removing Donald Trump from office would let the American people off the hook and have something happen indirectly that I believe they're duty-bound to do directly," Comey told ABC's George Stephanopoulos back in 2018, a year before the Mueller report was released.
Comey added that "people in this country need to stand up and go to the voting booth and vote their values," while impeachment "in a way, would short-circuit that."
Trump fired Comey in May 2017, which led to Mueller's appointment as special counsel to lead the probe into Russian interference in the 2016 presidential election and possible collusion with the Trump campaign.