James Comey: I'd Still Have a Job If Hillary Clinton Had Won the Election
Former FBI director James Comey says he believes he would still be running the bureau if Hillary Clinton had won the 2016 presidential election.
Comey, who was fired by President Donald Trump in May 2017, refused to comment on whether he wished Clinton had won the election during an interview with Axios' Mike Allen, but said he would still be in a job if Clinton was in charge.
"I think I would still be the FBI director… Secretary Clinton is someone deeply enmeshed in the rule of law, respect for institutions, a lawyer," Comey said in response to a question about what he thought would have happened to him if Clinton had won the election.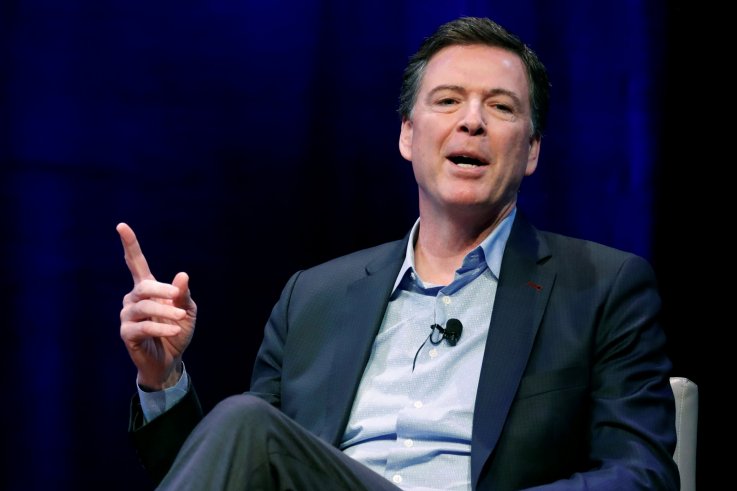 "And so given that background, I'm reasonably confident that even if she was unhappy with decisions the FBI made, she would not fire the FBI director as a result," he added.
Comey has been outspoken over his thoughts on Trump, writing in his recently released book A Higher Loyalty that he found the president was inappropriate in his interactions with the FBi chief.
In an interview with ABC's George Stephanopoulos on a special edition of 20/20 in April, the former FBI chief said he believed Trump was "morally unfit to be president" because he "treats women like they're pieces of meat" and "lies constantly about matters big and small."
And for his part, the president has certainly kicked back against Comey's comments, describing the former FBI director as "a slimeball" and lashing out at him in a series of tweets as well as an email to supporters.
"Unbelievably, James Comey states that Polls, where Crooked Hillary was leading, were a factor in the handling (stupidly) of the Clinton Email probe," Trump tweeted in April.
"In other words, he was making decisions based on the fact that he thought she was going to win, and he wanted a job. Slimeball! " the president added.
Trump was responding to an extract from Comey's book in which he muses that his suspicion that Hillary would win the election may have been a factor in his decision to inform Congress that the email probe had reopened just days before the election.
James Comey: I'd Still Have a Job If Hillary Clinton Had Won the Election | U.S.