Ex-FBI Director James Comey Says American Democracy Is Not Dying Because 'Center' Holds Us Together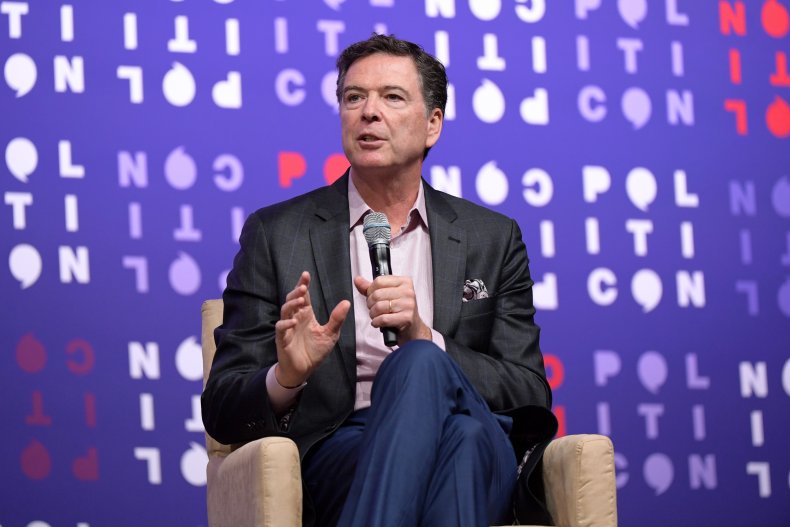 Former FBI Director James Comey authored a new op-ed Friday seeking to allay concerns about the divisions gripping society in the midst of a historic presidential impeachment trial.
In his article published in The Washington Post, Comey reflected on other divisive moments in America's past to conclude that the likely acquittal of President Donald Trump in the U.S. Senate will not lead to the downfall of democracy.
"I don't buy the stuff about the United States' democracy dying. Its death has been predicted regularly for two centuries," he wrote. "Yes, a lot of Americans vote for people of poor character who then don't act in their interest, but that has been true to varying degrees throughout our history."
Published just after a Democratic-led effort to call witnesses in the impeachment trial failed, Comey's op-ed referenced to previous incidents of social strife to illustrate why he believes invocations of political apocalypse are overblown.
For example, he recounted the short string of years in the 1960s when President John F. Kennedy, Senator Robert F. Kennedy, Martin Luther King Jr. and Malcom X were all assassinated.
Moreover, he invoked the Vietnam War protest movement as another example of social fabric riven by political dissent.
"There is a natural human tendency to think we live in the hardest times, that our challenges are uniquely difficult," Comey wrote. "As British historian Thomas Babington Macaulay said almost 200 years ago, 'We cannot absolutely prove that those are in error who tell us that society has reached a turning point — that we have seen our best days. But so said all before us, and with just as much apparent reason.'"
Ultimately, Comey concluded that the political "center" will hold America's fractious constituency together, calling it "our national ballast."
A vocal critic of the president, Comey held a precarious position in 2016 as the FBI's director when the agency was pursuing some of the most politically sensitive investigations in recent history: probes into potential Trump campaign ties to Russia and into Hillary Clinton's email server.
An independent inspector general's report into Comey's conduct found "extraordinary and subordinate" his decision to conceal from the Justice Department plans to announce the conclusion of the Clinton investigation.
Moreover, the report also found that Comey's decision to notify Congress about a potential development in the email probe was rooted in "ad hoc decision-making based on his personal views."
Trump fired Comey in May 2017, purportedly "because he wasn't doing a good job." However, two days after the firing, the president told NBC News anchor Lester Holt that he had "this Russia thing" on the mind when he dismissed Comey.
Comey's firing ultimately led to the appointment of a special counsel, Robert S. Mueller, and the entrenchment of the Russia investigation that has, in turn, led to the criminal prosecution of several Trump associates.