James Comey Rips Trump's Acting AG Matthew Whitaker as 'Not the Sharpest Knife in Our Drawer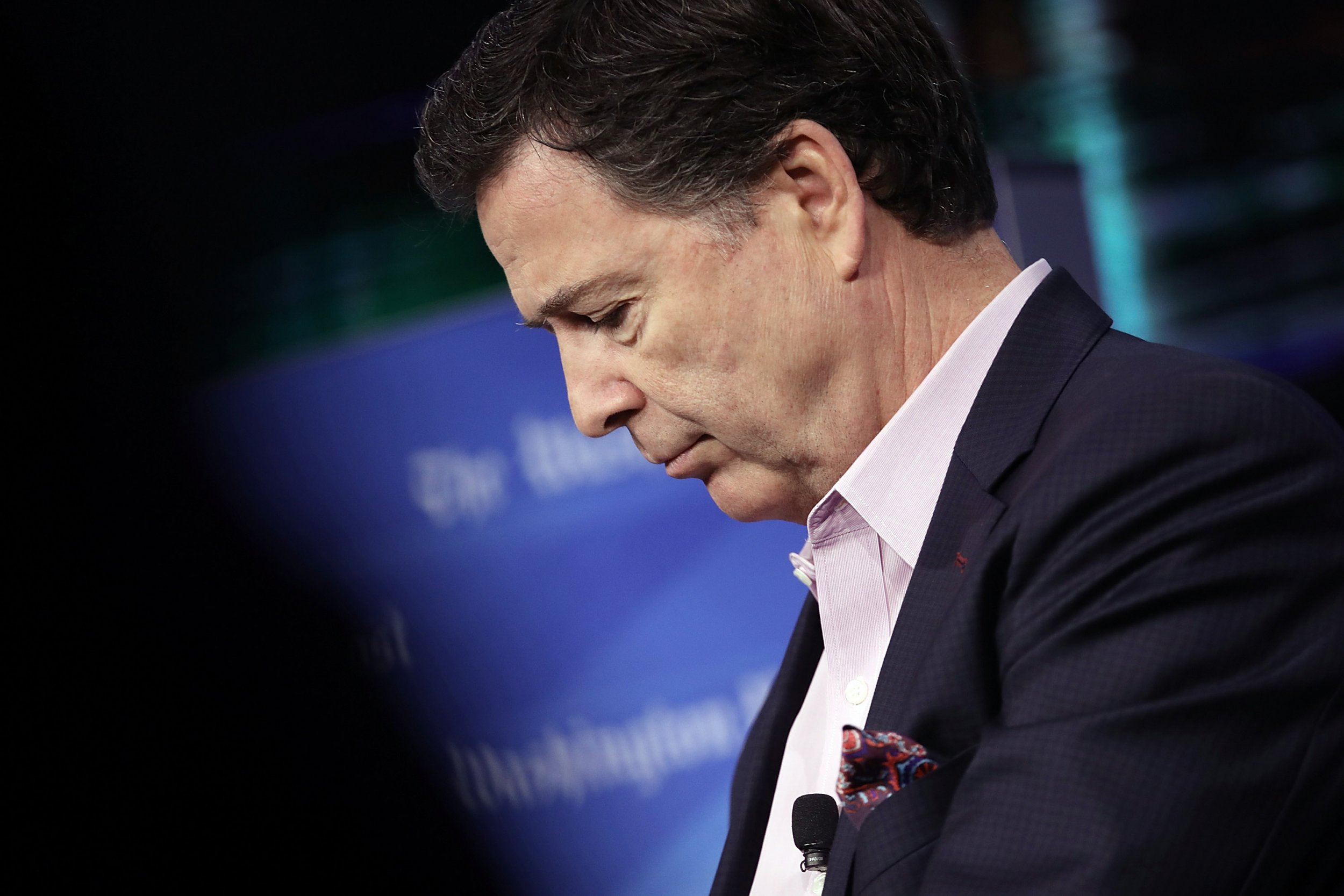 Acting Attorney General Matthew Whitaker might not be "the sharpest knife in our drawer" but he does likely understand he cannot interfere in the special counsel's investigation of Russia and the Trump campaign, former FBI Director James Comey said on Tuesday.
In a wide-ranging interview with Boston's public television station WGBH, Comey talked not only about President Donald Trump's temporary replacement for former Attorney General Jeff Sessions but also his recent subpoena to appear before the House Judiciary Committee.
On Whitaker, Comey seemed to question the top law enforcement officer's intelligence and experience for the job, but he also suggested that Whitaker understood the danger before him.
"He may not be the sharpest knife in our drawer, but he can see his future and knows that if he acted in an extralegal way, he would go down in history for the wrong reasons," Comey told WGBH. "I'm sure he doesn't want that."
Whitaker's appointment has been viewed as a Trump move to place a loyalist at the top of the Justice Department in an attempt to thwart special counsel Robert Mueller's investigation.
Whitaker has said publicly that Deputy Attorney General Rod Rosenstein should end Mueller's probe, and that investigating Trump's finances would be "going too far."
Comey also reiterated his stance on appearing before Congress again, calling for his scheduled December 3 hearing to be open to the public and not held behind closed doors.
Comey, who publicly said he was no longer a member of the Republican Party, challenged GOP members as to why they have continued their strong allegiance to Trump despite the president's actions in office. The former federal prosecutor was asked about a New York Times report that alleged Trump had ordered former White House counsel Don McGahn to prosecute Comey as well as ex-Democratic presidential candidate Hillary Clinton.
"I am a little bit numb to the president's threats and tweets because there is nothing there," Comey said. "Then I stop myself, because it's wrong for me or anybody else to become numb to the president of the United States announcing that a private citizen should be prosecuted."
Comedy added: "I say that slowly because I hope Republicans listen to it and realize that if a Democrat were president and did that, their heads would explode. So my question is, why are your heads not exploding now?"
Comey has publicly ridiculed and questioned Trump's work in office since he was dismissed as FBI chief in May 2017. Comey appeared before Congress last year to testify that Trump had asked him to "let go" of the FBI's investigation of former National Security Adviser Michael Flynn, and Comey also detailed what he called questionable interactions between himself and the president.
Trump has derided Comey as a "leaker" and a "liar," along with attacks on other former FBI officials, such as Peter Strzok and Lisa Page.