When Is the James Comey '20/20' Interview? Start Time, Network and Everything You Need to Know
Former FBI director James Comey will appear on ABC's 20/20 Sunday night at 10 p.m. Eastern Time in his first television interview since being fired by President Donald Trump last year.
In addition to watching the interview on television, it can be streamed with a cable subscription or viewed on Hulu with a subscription.
The interview, conducted by George Stephanopoulos, took place in Comey's home in Virginia last Monday, according to Axios. In a promo for the interview, Stephanopoulos asks Comey: "How strange is it for you to sit here and compare the president to a mob boss?"
Comey's interview is part of a tour to promote his forthcoming book A Higher Loyalty: Truth, Lies, and Leadership, which will be released Tuesday.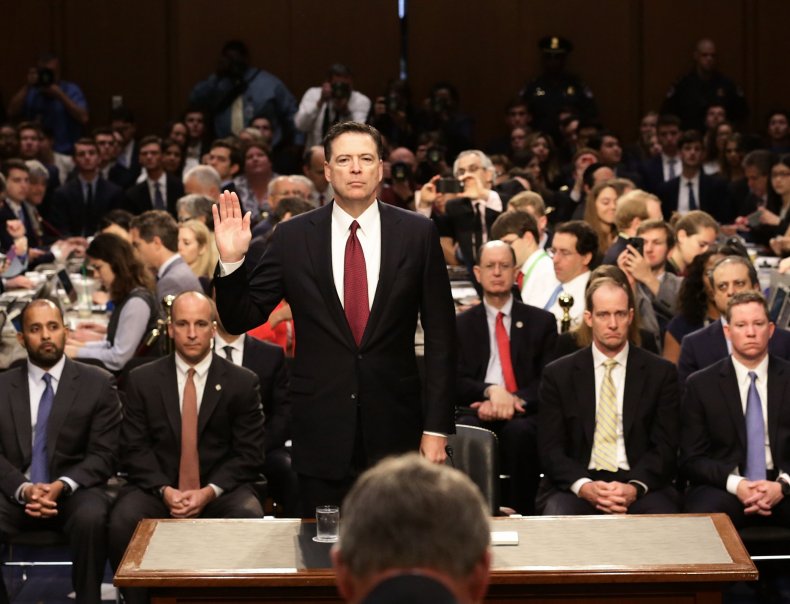 Comey has alleged that ahead of his dismissal, Trump asked the FBI director for his "loyalty," during a White House dinner.
"The president said, 'I need loyalty, I expect loyalty.' I didn't move, speak, or change my facial expression in any way during the awkward silence that followed. We simply looked at each other in silence," said Comey in a written testimony to Congress. "Near the end of our dinner, the President returned to the subject of my job….He then said, 'I need loyalty.' I replied, 'You will always get honesty from me.' He paused and then said, 'That's what I want, honest loyalty.' I paused, and then said, 'You will get that from me.'"
Trump denied that he asked him the question in an interview with Fox News. Trump did, however, tie the firing to a Russia probe that Comey was leading in a May interview with NBC's Lester Holt.
"And in fact when I decided to just do it, I said to myself, I said 'you know, this Russia thing with Trump and Russia is a made-up story, it's an excuse by the Democrats for having lost an election that they should have won,'" said the president.
Comey also claimed that Trump asked him to "see [his] way clear to letting" an investigation of former national security adviser Michael Flynn fall by the wayside. Flynn subsequently accepted a plea deal with investigators, pleading guilty to lying to the FBI about conversations he had with Russia's ambassador to the United States.
Just a week after Comey's firing, Deputy Attorney General Rod Rosenstein appointed special counsel Robert Mueller, himself a former FBI director, to oversee an investigation of the president about possible connections to Russia and any related issues such as obstruction of justice.