James Comey Goes His Whole Book Without Writing the Name of the Man Who Recommended His Firing
Former FBI director James Comey cites plenty of names and fully details his interactions with President Donald Trump and others that led to his abrupt and controversial dismissal in his new book, A Higher Loyalty.
But one key player in so many of the machinations involving the president, Russia, the special counsel and Trump's attacks on the FBI and Justice Department that Comey curiously omits in his tome is Deputy Attorney General Rod Rosenstein.
Rosenstein drafted the memo that Trump ultimately used to justify the firing of Comey in May 2017. Rosenstein specifically cited Comey's decision to announce that the FBI would not be seeking charges against Hillary Clinton over her use of a private email server while she was secretary of state.
In his book, Comey detailed the moments surrounding his firing. He had just seen on a television in the FBI's Los Angeles office that he'd been dismissed, but he had not heard from the White House or any of the top officials at the Justice Department.
"The FBI director travels with a communications team so he can be reached by the Justice Department or White House in seconds, any time of day or night. But nobody called. Not the attorney general. Not the deputy attorney general. Nobody. I actually had seen the attorney general the day before," Comey wrote.
He then talked about Rosenstein, but without mentioning his name, writing that the deputy attorney general had recently asked him for advice about how to do the job.
"Days earlier, I had met alone with the newly confirmed deputy attorney general at his request so he could ask my advice on how to do his job, which I held from 2003 to 2005," Comey wrote. "In late October, shortly before the election, the now-DAG [deputy attorney general] had been serving as the United States Attorney in Baltimore, and he invited me to speak to his entire staff about leadership and why I made the decisions I did in July about the Clinton email case. He praised me then as an inspirational leader."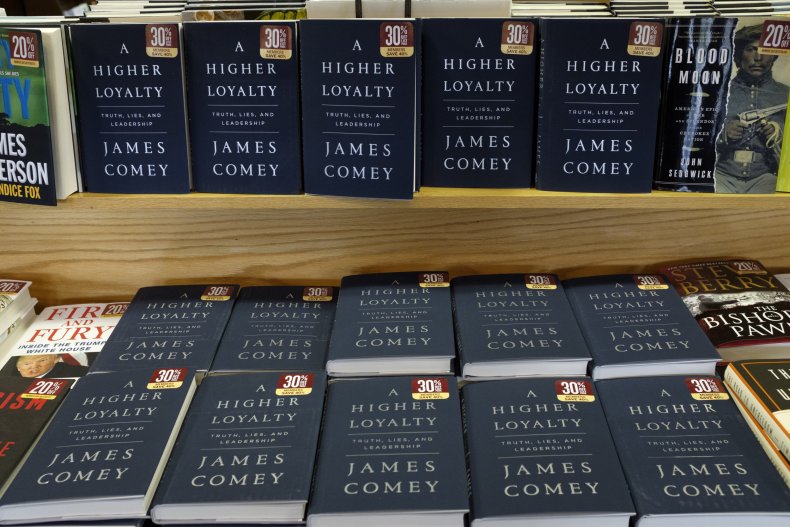 The section wraps up: "Now, he not only didn't call me, he had authored a memo to justify my firing, describing my conduct during 2016 as awful and unacceptable. That made absolutely no sense to me in light of our recent contacts."
Comey made his lack of confidence in Rosenstein known Thursday during an interview with CNN. He recalled Trump's threat of possible "tapes" of their conversations and how he thought under Rosenstein the Justice Department would not be "aggressive enough" in pursuing the alleged tapes.
"I thought that the department, as currently supervised, would not be aggressive enough to go ... get the tapes," Comey said.
He added that since Sessions had to recuse himself from any Russia investigation and again pointed to Rosenstein, but not by name.
"Well, he had recused himself and it was a new deputy attorney general, who I didn't have confidence in, given what I'd seen around my firing, and so I thought something has to be done," Comey said.