James Comey Praises Mueller Report, Says There Was "Enough Smoke" To Warrant Russia Investigation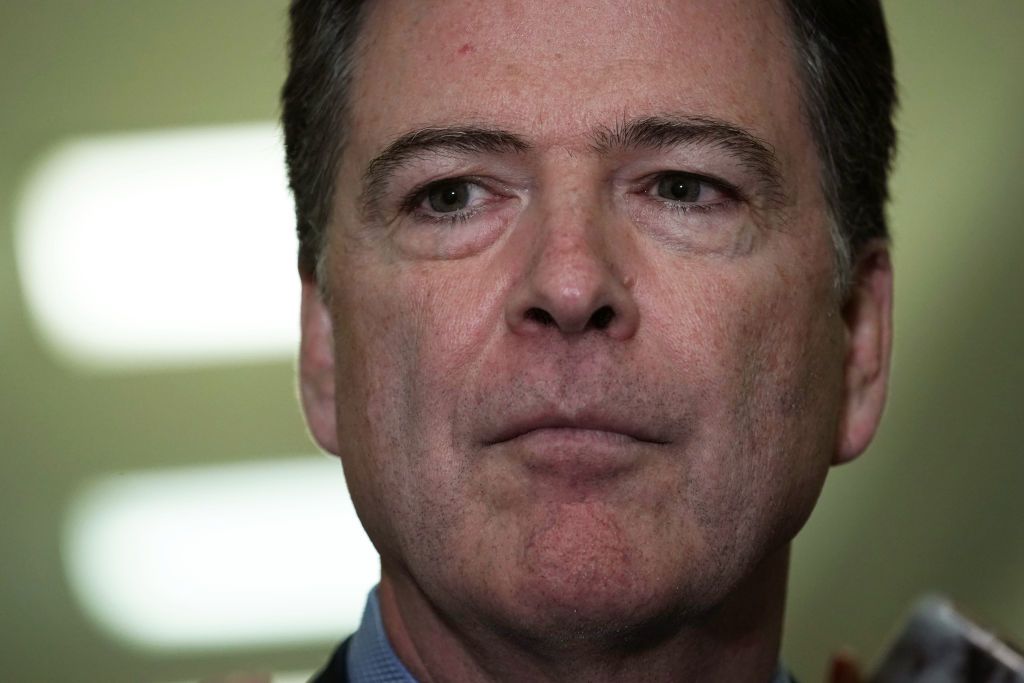 In a wide-ranging interview with NBC Nightly News host Lester Holt, former FBI Director James Comey spoke publicly since the completion Special Council Robert Mueller's investigation and the subsequent release of a summary of his findings from Attorney General William Barr.
During the interview, Comey said he didn't know what Mueller's investigation would reveal, but that he was pleased the investigation had been completed without interference. "I think it was good that he was allowed to finish the work and to establish that the whole Russia thing wasn't a hoax; that the Russians interference with the election in a huge way and that's really important," Comey said.
Comey added that the investigation also discovered that no Americans "conspired as part of [Russia's] effort" and "that should be good news no matter what party you are associated with."
Holt asked Comey if he ever doubted that there was enough evidence to warrant an investigation after President Donald Trump fired him.
"Oh, no. The investigation had to happen. It would have been irresponsible not to investigate," Comey said. "And we don't investigate, despite what the partisans say, to find a particular result. We investigate to find out what's true, and as best I can tell, it looks like Bob Mueller was allowed to do that, and that's a great thing."
Comey added he did not know if Trump was colluding with Russia, but that there "was enough smoke" to begin an investigation.
"Obviously there was overwhelming evidence the Russians were interfering in the election to hurt one candidate and to help the other. Whether Americans were conspiring with him, I didn't know, but we had to look at that," he said.
"I don't know what people are thinking saying we shouldn't have investigated," Comey said. "Remember where this started; in late July of the election year, we knew the Russians were engaged in a massive effort to hurt Hillary Clinton and help Donald Trump. And then we learn that a Trump campaign adviser had spoken to a Russian operative about the dirt they had on Hillary Clinton. Before any of us knew anything about it. How on Earth would the FBI leave that alone?"
Comey repeatedly called for the release of the full report, stressing that Americans require transparency in order to understand that the investigation was not about a political party.
"The foundation of the Department of Justice, which Bill Bar loves, and Bob Mueller loves, and I love is that people have faith and confidence that it's not part of a political tribe, and the only way to establish that and protect that bedrock of their confidence is to show them your work. So we have to see it here," Comey said.
Comey later stated he felt his firing could have been Trump attempting to obstruct justice.
"Then there was your firing. May 3, 2017, you go before the Senate Judiciary Committee. You talked about a lot of things....but you decline to answer questions about specifically about evidence of collusion at that point. A few days later you're fired," Holt told Comey before explaining his interview with Trump that occurred a few days later.
In the interview, Holt asked Trump why he decided to fire Comey. "When I decided to do it, I said to myself, 'you know, this Russia thing with Trump and Russia is a made up story,'" the president said at the time.
"What did you think when you heard that?" Holt asked Comey.
"I thought that's potentially obstruction of justice, and I hope somebody is going to look at that," Comey said. "Again, the president appears to be saying — I don't know what is in his head, which is why I can't reach the conclusion — but he appears to be saying 'I got rid of this guy to shut down an investigation that threatened me.'"