James Comey Attorney Argues Republicans Want to Take 'Shots at This Guy in a Dark Alley' With Closed-Door Deposition
An attorney representing former FBI Director James Comey told a federal judge in Washington, D.C., on Friday that forcing his client to provide a closed-door deposition to lawmakers in accordance with a Republican subpoena would be like taking "shots at this guy in a dark alley." The GOP-led House Judiciary Committee, attorney David Kelly argued, only wants to play politics and distort Comey's answers.
Comey filed suit Thursday to quash the congressional subpoena issued November 21 by the Committee for him to answer lawmakers' questions in a private session. That session would take place Monday, with staff and lawmakers from the House Judiciary and the House Oversight and Government Reform Committees able to ask questions.
Using their last bit of subpoena and investigatory power left, GOP lawmakers want Comey and former Obama-era Attorney General Loretta Lynch to answer questions about former Secretary of State Hillary Clinton's use of a private email server, the FBI's decision not to prosecute her and the investigation into 2016 Russian election meddling. Lynch was subpoenaed to answer questions in a closed-door session on Tuesday, the day after Comey.
No ruling was made Friday on the lawsuit and whether Comey should have to appear before the joint committee. U.S. District Court Judge Trevor McFadden gave Comey's legal team until 2 p.m. Sunday to reply to the House's response to the lawsuit. A final hearing is set for 10 a.m. on Monday, meaning the original subpoena for Comey to provide his deposition would have to be pushed back to Tuesday.
Kelly, one of three Comey defense attorneys present in court in lieu of Comey himself, argued that the House would have to issue a new subpoena should the date be moved.
At the heart of the issue is whether Comey should have to answer lawmakers' questions in a closed-door setting rather than one in the public eye. Comey and his defense team believe that, because of his prior public and private testimonies given to Congress, Republican lawmakers are attempting to play partisan games. Kelly told the judge they sought to quash the subpoena because it violated House rules, "harasses the witness," and had no "legitimate purpose," adding that it "wreaks of political theater."
"The subpoena, which calls for a closed, non-public deposition of Mr. Comey, exceeds a proper legislative purpose, is issued in violation of House rules, and unduly prejudices and harasses the witness," Comey's legal team argued in their lawsuit filed on Thursday.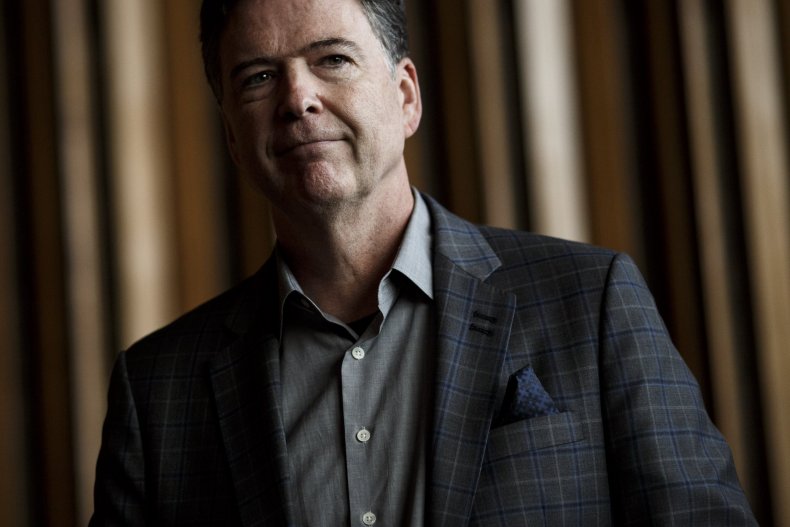 The Republican House leaders on the two committees, Trey Gowdy and Bob Goodlatte, and their general counsel have said it is within House rules to require a private deposition and that the subject matter is of importance to the country. The House's general legal counsel, Thomas Hungar, argued that a private session, compared to a public one, would move much more efficiently. Hungar said the quest for a private session was not because of any classified or sensitive law enforcement information.
The former FBI director previously said he would "resist a 'closed door'" testimony because he has seen enough of Republicans' "selective leaking and distortion."
Hungar told the judge that such a concern was not warranted because the closed-door deposition was not confidential and anyone, including Comey, could say publicly whatever they pleased about the contents of the meeting. Hungar assured Judge McFadden that the Judiciary Committee would provide a transcript of the private meeting within 24 hours of its conclusion.
Comey's legal team argued in court that select portions of the transcript would be "leaked" by GOP lawmakers "before the ink would be dry."
The former FBI director has repeatedly said he would, as he's done in the past on numerous occasions, answer questions publicly. Comey has objected to the closed-door deposition in order to prevent lawmakers from "using the pretext of a closed interview to peddle a distorted, partisan political narrative about the Clinton and Russian investigations through selective leaks," Comey's attorneys said in their suit.
His attorneys accused Republicans of peddling a "corrosive narrative" that Clinton "committed serious crimes and was given unwarranted leniency by an FBI and [Department of Justice] DOJ that were loyal to her and her party, and that Trump has, by contrast, been saddled with unwarranted scrutiny, for purely partisan political reasons, by that same FBI and DOJ."
Comey provided previous testimony to Congress, both in public and in closed-door sessions, twice in 2016 and three times in 2017.
GOP Congressman Bob Goodlatte of Virginia, the House Judiciary Committee chairman, called Comey's lawsuit challenging the subpoena a "baseless motion" on Twitter.
Comey was first asked to appear before the joint committee voluntarily but declined, resulting in the subpoena.