Fox News' Sarah Sanders, Jeanine Pirro Demand James Comey Indictment: 'Lucky He's Not Already in Prison'
Former White House Press Secretary Sarah Huckabee Sanders and Fox News host Jeanine Pirro both railed against former FBI Director James Comey on Saturday, urging the Justice Department to indict the "liar and leaker."
Pirro joined newly hired Fox News contributor Sanders in calling for Attorney General William Barr to exact "punishment" against Comey following the latest Inspector General report on his handling of the Christopher Steele dossier and the investigation into Donald Trump's presidential campaign. Despite the Fox News duo's repeated calls to indict Comey, the Justice Department has declined to bring charges against the former FBI director and the Inspector General found no evidence he leaked classified information in order to begin an investigation into the Trump campaign.
Sanders said Comey should feel "lucky he's not already in prison" and she has "total confidence" in Barr to bring charges against the former FBI director.
"This is the third IG report to come out and show that Comey was a liar and a leaker and he disgraced himself and did a total disservice to the FBI," Sanders told Pirro Saturday evening. "I think we're seeing more and more and more and continued reasons why the president was completely right in firing James Comey."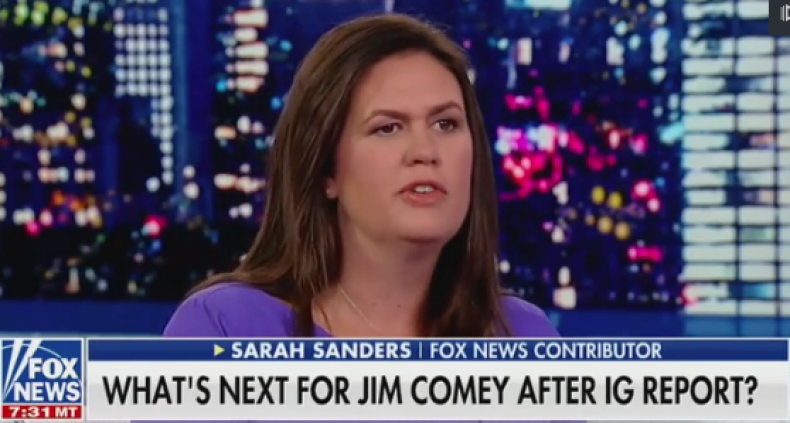 "He was unfit to lead the FBI and he didn't need to be there," she continued. "And I think the sad thing is if Democrats are honest with themselves, they all said that right up until the moment the president fired Jim Comey. They thought the same thing, only once the president made that move did they start to disagree with it."
Trump fired Comey in May 2017, with the administration reporting the reason behind the firing was his handling of the investigation into the emails of Trump's 2016 opponent, Hillary Clinton.
Sanders and Pirro both painted a picture of Comey and Democrat-led "bias against the president" that they believe would be remedied by holding Comey accountable.
"I believe in Bill Barr," Pirro said. "I talk about the fact that he's a slow locomotive. Nobody is going to get him off of the track. He's going to get there. But I haven't seen him do anything yet. Jim Comey has to be indicted for what he did. He defied the FISA court."
Huckabee Sanders concurred, "I think he's shown himself to be a real leader...I'm not going to get into what that exact punishment needs to look like but there certainly should be consequences and I think the American people want to see that happen."
Sanders and Pirro are just the most recent Fox News figures to attack Comey. In an opinion piece earlier this week, network legal analyst and contributor Gregg Jarrett whose headline named Comey "one of U.S. history's most notorious schemers."
"By his disgraceful conduct, fired FBI Director James Comey has managed to catapult himself to the top of the list of the most notorious schemers in modern American history. Move over Bernie Madoff," Jarrett wrote.