James Comey Says He Was 'Surprised' Robert Mueller Didn't Subpoena Donald Trump, Questions Lack Of Ruling On Obstruction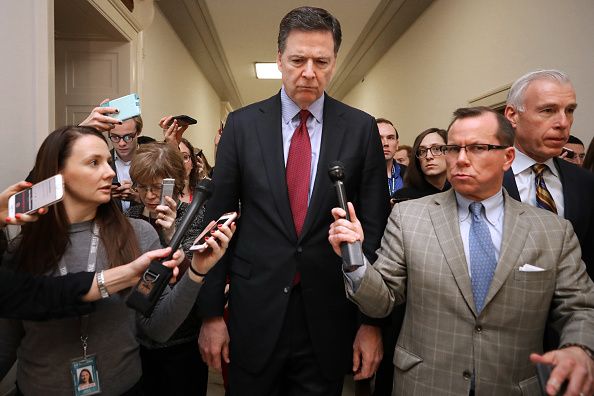 Former FBI Director James Comey has expressed his surprise that special counsel Robert Mueller concluded his investigation into Russia's interference in the 2016 presidential election, along with possible obstruction of justice charges, without questioning President Donald Trump.
"Do you ask yourself why Mueller did not subpoena President Trump?" Comey was asked during an interview with NBC Nightly News's Lester Holt.
"Yes, I do," Comey replied. "And I don't know the answer to that. I have the same question about how the attorney general could resolve the question, which he says in his letter turns upon the president's intent, without the president being asked what his intent is."
Mueller concluded his two-year investigation on March 22 and delivered a report of his findings to Attorney General William Barr. In turn, Barr released on March 24 a four-page summary of Mueller's report, which stated that "this report does not conclude that the president committed a crime, it does not exonerate him."
However, despite the investigation's interviews of 500 witnesses and over 28,000 subpoenas issued, Trump only had to submit written answers to Mueller's questions during the probe.
Last Friday, when the president briefly spoke to reporters before flying from Florida back to Washington, D.C., on Air Force One, he said Mueller's report had given him "complete and total exoneration."
Holt asked Comey how he interpreted the Barr letter, given Trump's comments on being exonerated.
"I don't know that I read the letter from the attorney general that way. I read him as saying the special counsel didn't find that the evidence established that there was any conspiracy between an American and the Russians," Comey said. "What other evidence there is, what evidence there might be that falls short of that standard, I have no idea."
"Establish is the word that you're homing in on there?" Holt asked.
"Correct. And so I don't know what the special counsel found, and I'm prepared—I hope everybody is—to wait and get the transparency that we need," Comey replied.
Comey added that he is confused about some of the findings noted in Barr's summary of the investigation, primarily the lack of evidence to charge Trump with obstruction of justice.
Comey posted a tweet on Sunday afternoon after Barr's summary was made public. The tweet, a photo of the former FBI director alone in the woods with the phrase "so many questions," quickly went viral.
"What are your questions?" Holt asked after referencing the tweet.
"They're all about the obstruction piece. Obviously I want, and I think the American people should want, transparency on the so-called conspiracy piece. But the obstruction piece confuses me. I think both Director Mueller and Attorney General Barr are entitled to the benefit of the doubt," Comey said.
However, Comey questioned why Mueller chose to forgo a ruling on the obstruction charges.
"The purpose of a special counsel is to make sure that the politicals—in this case, the attorney general—doesn't make the ultimate call on whether the subject of the investigation, the president of the United States, should be held criminally liable for activities that were under investigation," he said. "And so the idea that a special counsel wouldn't reach the question, and hand it to the political leadership, doesn't make sense. I'm not prejudging it; I'm just saying it doesn't make sense on its face."
He added, "It was certainly his charge, in general, to investigate fully and come, if he could, to conclusions. I don't know why he didn't here, and I don't know what combination of law and fact led him to that, which is why I'm going to wait and hear the explanation, which I hope will come."
Comey added that his confusion was in part due to the reasoning cited by Barr when he wrote that no crime was committed to warrant obstruction of justice charges.
"I don't think the AG said that was the justification, he cited it as a factor, and that's just not been my experience as a prosecutor for decades," Comey said.
"Every day in this country people are prosecuted for obstructing justice to avoid embarrassment, to avoid harm to their business, to avoid threats to their families where there isn't an underlying crime that they committed, and you wouldn't want it any other way," he continued. "Because if you had to always prove the underlying crime, you would create incentives to obstruct, because people get away with both if they successfully stop an investigation."