James Comey Says 'Small Lies Matter, Even About Yearbooks' Amid Kavanaugh Hearing
Former FBI Director James Comey appeared to hit out at statements made by Supreme Court nominee Brett Kavanaugh during the judge's Senate Judiciary Committee hearing, taking to Twitter to warn that even "small lies matter."
"Small lies matter, even about yearbooks," Comey said in a tweet.
He then said: "From the standard jury instruction: 'If a witness is shown knowingly to have testified falsely about any material matter, you have a right to distrust such witness' other testimony and you may reject all the testimony of that witness.'"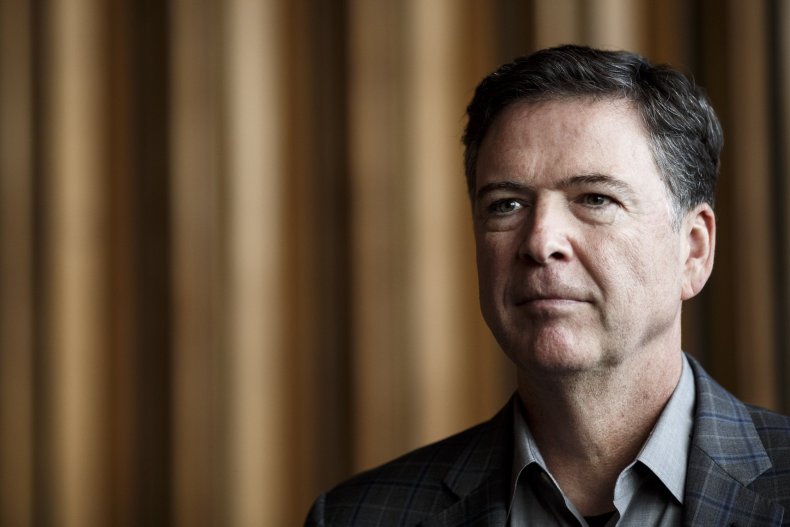 The principle Comey appeared to refer to was falsus in uno, falsus in omnibus, a legal principle that allows jurors to declare a witness as being false in everything if he makes one statement determined to be untrue.
Kavanaugh was explicitly reminded of that principle during Thursday's hearing, when Senator Richard Blumenthal (D-Conn.) questioned the Supreme Court nominee on statements he'd made in his high school yearbook.
Blumenthal asked Kavanaugh directly if he was familiar with falsus in uno, falsus in omnibus. Kavanaugh said that he was.
Then Blumenthal asked Kavanaugh about a comment he had written about a female friend, calling himself a "Renate alumnius."
The term appeared to refer to Renate Schroeder, who had attended a Catholic girls' school in close proximity to Kavanaugh's high school, Georgetown Preparatory School.
The New York Times had contacted Schroeder, who told the newspaper she wasn't aware what the term actually meant but acknowledged it could be interpreted to have a sexual connotation.
"I can't begin to comprehend what goes through the minds of 17-year-old boys who write such things, but the insinuation is horrible, hurtful and simply untrue," Schroeder told the Times.
"I pray their daughters are never treated this way," she said.
Read more: Kavanaugh hearing: National sexual assault hotline saw 147 percent surge in calls
Asked whether the term used in his yearbook was meant to refer to the judge's own alleged sexual exploits, Kavanaugh invoked Schroeder's statement, asserting: "She said she and I never had sexual interactions."
"Your question is based on a false premise and really does great harm to her," Kavanaugh said. "I don't know why you're bringing this up, frankly. Doing great harm to her by even bring her name up here.
"She's a great person. She's always been a great person," the judge said.
"We never had any sexual interaction. By bringing her name up, you're just dragging her through the mud," he added.
But Kavanaugh also offered an apology specifically for the line about being a "Renate Alumnius" in his opening statement for the hearing.
"As high school students, we sometimes did goofy or stupid things. I doubt we are alone in looking back at high school and cringing at some things," he said in his opening statement.
"For one thing, our yearbook was a disaster. I think some editors and students wanted the yearbook to be some combination of Animal House, Caddyshack and Fast Times at Ridgemont High, which were all recent movies at that time.
"One thing in particular we're sad about, one of our good, one of our good female friends who we would admire and went to dances with, had her name used on the yearbook page with the term 'alumnus,'" he said.
Kavanaugh blamed the media for the interpretation of term, saying, "That yearbook reference was clumsily intended to show affection and that she was one of us, but in this circus, the media has interpreted the term was related to sex. It was not related to sex, as the woman herself noted in the media on the record. She and I never had any sexual interaction at all.
"I'm so sorry to her for that yearbook reference. This may sound a bit trivial given all that we are here for, but one thing I want to try and make sure of in the future is my friendship with her; she was and is a great person," Kavanaugh asserted.
The Senate Judiciary Committee is voting on Kavanaugh's nomination on Friday.
If the judge's nomination is approved by the committee, it will then have to win the approval of the full Senate, which Republicans have narrow control of, with 51 seats to the Democrats' 49 seats.