Beyond Comey's Statement: What to Expect From the Senate Testimony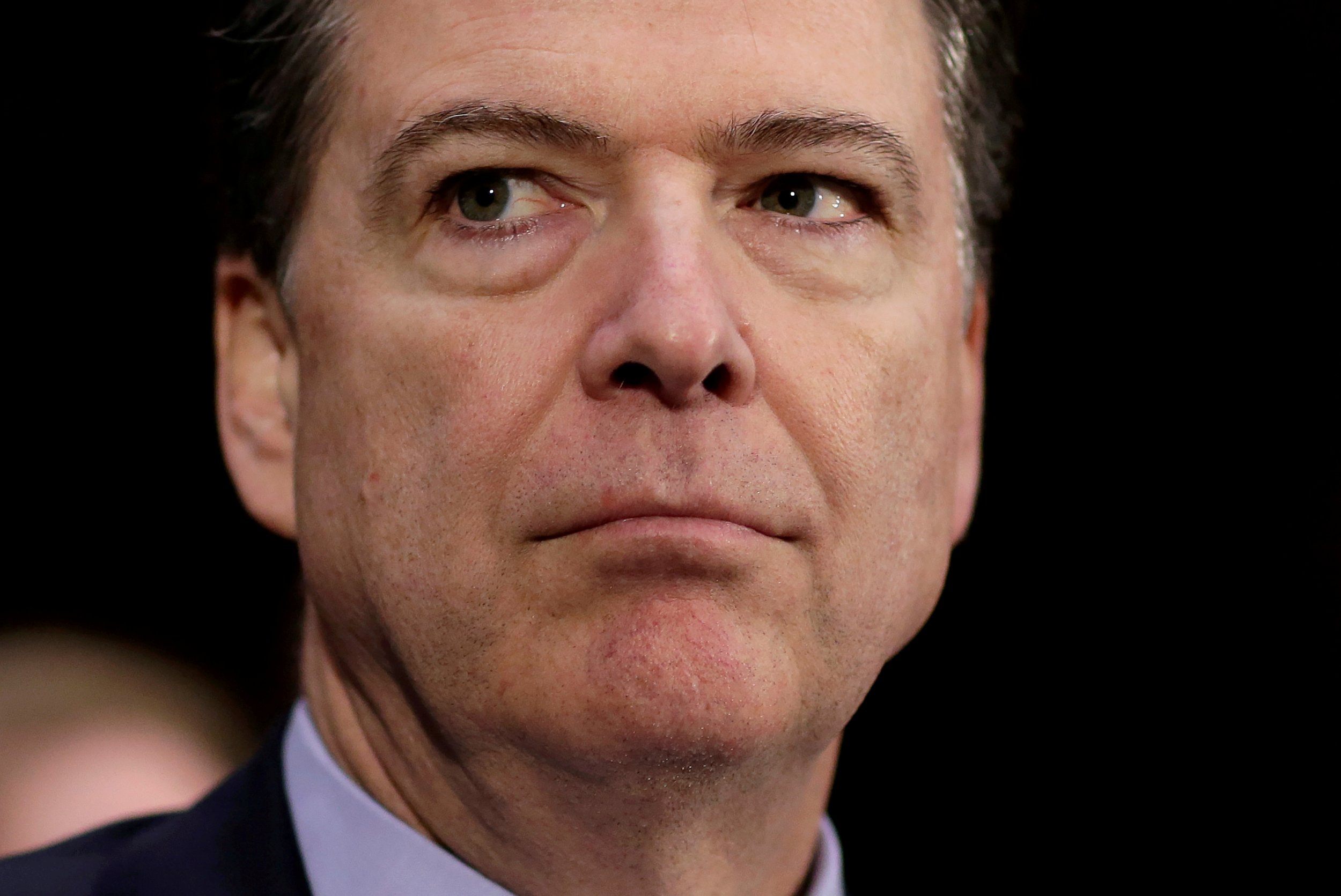 James Comey's testimony before a Senate committee on Thursday is shaping up to be must-see television and a political game changer. The former FBI director is known for making major disclosures at congressional hearings, and a preview of his remarks that the Senate Select Committee on Intelligence published in advance indicate he will speak about "concerning" interactions he had with President Donald Trump.
Comey's comments on Thursday will be his first in public since Trump fired him on May 9. The former FBI director has previously declined to comment in public testimony about the bureau's investigation into Russia's meddling in the 2016 presidential election and possible collusion with the Trump campaign, other than to confirm the existence of the probe. Given that hesitation, and the fact that he is now a private citizen, it is unlikely that Comey will answer many questions on Thursday related to the Russia matter.
But the preview of his remarks that the committee published Wednesday suggests his testimony will focus on his encounters with Trump. In that written statement, Comey confirmed reports that The New York Times published days after his firing, saying Trump had demanded his loyalty and asked him to stem the FBI's investigation into former national security adviser Michael Flynn, accounts the White House denied. Comey also wrote in the statement that the president asked him what they could do to "lift the cloud" that Trump felt the Russia investigation had created, and that Trump asked him multiple times to "get out" to the public that he was not under investigation. He also confirmed that on three occasions he told Trump the president was not under investigation, as Trump had said.
Related: Comey statement confirms loyalty pledge, Flynn request
The Senate committee will likely ask Comey about the four interactions between him and Trump that he did not detail in his statement, and it's possible those were confidential or lack significance. Besides questions about the interactions, the senators could ask Comey for his version of events surrounding his firing.
The Republican members of the committee will likely seek to flip the questions from possible wrongdoing by Trump to wrongdoing by Comey. Those senators could ask why Comey broke with bureau norms by informing Trump that he was not under investigation, and why Comey did not do more to report his concerns about the president. The Republican members might also question Comey about whether he helped leak any of the information in news reports.
The committee might also ask Comey to respond to reports from late May that he based his decisions in the FBI's investigation into Hillary Clinton's use of private email servers on bad Russian intelligence.
Having faced consequences for his previous major revelations—announcing the FBI would not be recommending charges in the Clinton investigation, telling the Senate Committee on the Judiciary that he felt "mildly nauseous" to think he impacted the 2016 election, revealing that the FBI is investigating Russia and Trump's associates—Comey might choose not to say much beyond his already-released remarks. He may not want to appear as a "showboat" or "grandstander," as Trump has claimed he is. The decision by United States intelligence officials on Wednesday to decline to confirm or deny news reports related to Trump before the same Senate panel might also discourage Comey from speaking up.
Comey might also choose his words carefully following his previous congressional testimony, on May 3, when he stated incorrectly that Huma Abedin, a top aide to Clinton, had made "a regular practice" of forwarding "hundreds of thousands" of emails from Clinton to her husband, Anthony Weiner. ProPublica reported the inaccuracy on May 8, the day before Trump fired him. The next day, before the firing, the FBI sent a letter to Congress saying investigators had identified only "a small number" of emails that Abedin forwarded to Weiner. The senators could bring up that mishap.
But a reticent Comey would be unusual, given that the former official is known for his interest in transparency and desire to end speculation. "To be called a 'nut job,' how would you feel?" says Frank Montoya Jr., the FBI's former head of national counterintelligence and a former special agent in charge of the its Seattle division, referring to a report by The New York Times that Trump used the term to describe Comey to Russian officials. "This is an opportunity to set a record straight."
Montoya says the statement released ahead of the hearing is classic Comey. "The way that statement is written is the way Jim Comey thinks," he says. "He really does see himself as the honest guy in the room."
Trump will likely respond to the testimony, probably on Twitter and through surrogates. After former Acting Attorney General Sally Yates and former Director of National Intelligence James Clapper testified before a congressional committee on May 8, the president tweeted his critiques. The president is scheduled to speak on Thursday at the Faith and Freedom Coalition's Road to Majority Conference at 12:35 p.m. Eastern Daylight Time.
The hearing takes place one day after Trump announced his intention to nominate Christopher Wray, a former Department of Justice official, to succeed Comey.
Beyond Comey's Statement: What to Expect From the Senate Testimony | U.S.