Is James Comey Telling the Truth About Trump? Statement Confirms Loyalty Pledge, Flynn Request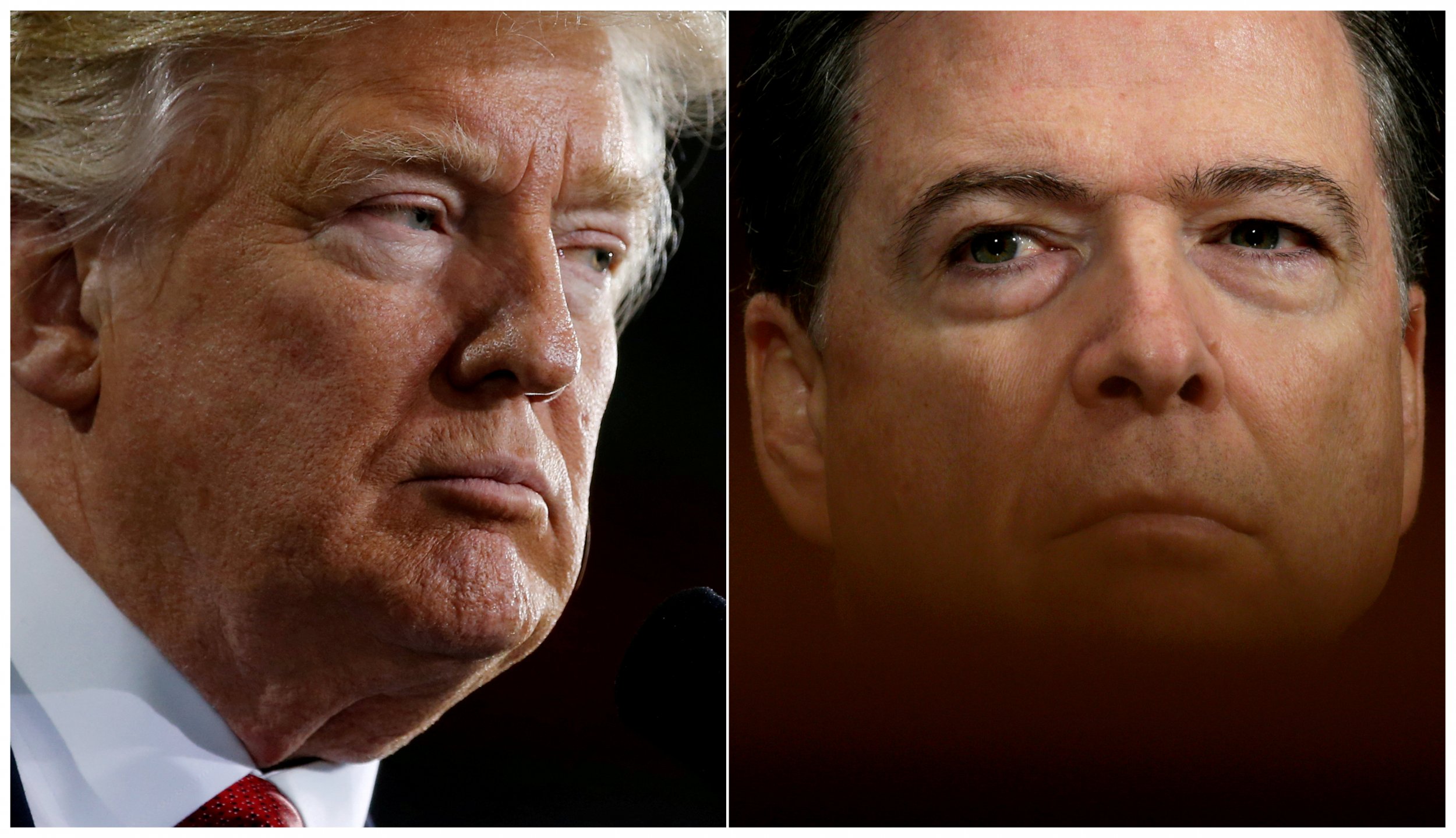 Updated | Former FBI Director James Comey has confirmed news reports that President Donald Trump demanded his loyalty and asked him to drop the bureau's investigation into former National Security Adviser Mike Flynn. The disclosures will likely lead to accusations that the president attempted to obstruct justice.
Comey confirmed the accounts in a written statement that the Senate Select Committee on Intelligence published online Wednesday, ahead of his Thursday appearance before the panel in an open hearing.
Related: Read Comey's prepared testimony
Trump fired Comey as FBI director on May 9. Two days later, The New York Times reported that during a dinner between Trump and the director, the president demanded loyalty. The White House denied the account. Days later, the Times reported that, according to a memo written by Comey, Trump had asked the director in February to shut down the bureau's investigation into Flynn, who had resigned a day earlier.
Comey's statement is the first time the former FBI director has laid out on the record how Trump demanded his loyalty. His description of his meetings with the president show Trump exerted intense pressure on the head of what is supposed to be an independent investigative agency. Comey also said that after he first spoke with President-elect Trump, on January 6 in Manhattan's Trump Tower, he felt "compelled" to document the conversation in a memo.
"To ensure accuracy, I began to type it on a laptop in an FBI vehicle outside Trump Tower the moment I walked out of the meeting," Comey wrote in the statement. He added that he did not feel the need to document his conversations with President Barack Obama, and that after that first instance with Trump, he continued writing memos each time he spoke with him.
On January 27, Trump called Comey around lunchtime and invited the director to dinner that evening in the White House's Green Room. Comey assumed other people would be present, but when he arrived, he found that the dinner was just the two of them seated at a small table in the center of the room, with two Navy stewards serving food and drinks, according to the statement.
"The President began by asking me whether I wanted to stay on as FBI Director, which I found strange because he had already told me twice in earlier conversations that he hoped I would stay, and I had assured him that I intended to," Comey wrote in the statement. He added that Trump told him many people wanted the job and he would understand if Comey wanted to resign, given the criticism the director had received the previous year.
"My instincts told me that the one-on-one setting, and the pretense that this was our first discussion about my position, meant the dinner was, at least in part, an effort to have me ask for my job and create some sort of patronage relationship," Comey wrote in the statement.
Comey told Trump he loved his work and intended to serve out his 10-year term. Because the situation made Comey uncomfortable, he added that he was not "reliable" in the way politicians use the word but that Trump could always count on him to tell the truth.
"A few moments later, the president said, 'I need loyalty, I expect loyalty,'" Comey said in the statement. "I didn't move, speak, or change my facial expression in any way during the awkward silence that followed. We simply looked at each other in silence."
Comey wrote that he tried to explain the importance of a Department of Justice and a FBI that were independent of the White House. But near the end of the dinner, Trump repeated, "I need loyalty."
"You will always get honesty from me," Comey replied, according to his statement. "That's what I want, honest loyalty," Trump responded after a pause. "You will get that from me," Comey said, explaining in the statement that he wouldn't push the matter further and that the term—"honest loyalty"—had helped end a very awkward conversation.
The White House has said that Comey's description of the dinner is not accurate. Deputy Press Secretary Sarah Huckabee Sanders has said that Trump would never ask the leader of a law enforcement agency for personal loyalty.
Comey's statement also describes how Trump called him on March 30 at the FBI and described the Russia probe as "a cloud" that was impairing his ability to lead. That call had not been previously reported. "He asked what we could do to 'lift the cloud,'" Comey wrote in the statement. Trump went on to say that if some of his associates had done something wrong, that would be good to find out, but he hadn't done anything wrong and he wanted Comey to publicize that the FBI wasn't investigating him, according to Comey.
Less than two weeks later, Trump called Comey again and asked what the director had done to "get out" that he wasn't personally under investigation, Comey wrote. Trump suggested he contact acting Deputy Attorney General Rod Rosenstein. "Because I have been very loyal to you, very loyal; we had that thing, you know," Trump told Comey, according to the statement.
Comey said he did not reply or ask what Trump meant by "that thing," but agreed with the president that the way to handle his concerns was to call Rosenstein. "He said that was what he would do, and the call ended. That was the last time I spoke with President Trump," Comey's statement ends.
In the statement, Comey also confirmed the account regarding Flynn. The incident happened during a meeting in the Oval Office on February 14, Comey wrote in the statement. At the end of the meeting, the president cleared the room except for Comey. "I want to talk about Mike Flynn," Trump told him, according to Comey's remarks. "The president began by saying Flynn hadn't done anything wrong in speaking with the Russians, but he had to let him go because he had misled the vice president," he wrote.
Moments later, the president told Comey, referring to Flynn, "He is a good guy and has been through a lot…. I hope you can see your way clear to letting this go, to letting Flynn go. He is a good guy. I hope you can let this go."
"I did not say I would 'let this go,'" Comey wrote. After the meeting, he said, he immediately prepared a memo about the conversation. "I had understood the president to be requesting that we drop any investigation of Flynn in connection with false statements about his conversations with the Russian ambassador in December," he wrote in his remarks. (That investigation is separate from the one into Russia's interference in the 2016 presidential election and possible collusion with the Trump campaign.) "It was very concerning," Comey said about Trump's request.
The details confirm the account in the Times, including the quotes that Comey recalled Trump saying. In response to the Times, the White House had denied the version of the events in the memo. "While the president has repeatedly expressed his view that General Flynn is a decent man who served and protected our country, the president has never asked Mr. Comey or anyone else to end any investigation, including any investigation involving General Flynn," the White House said. "The president has the utmost respect for our law enforcement agencies, and all investigations. This is not a truthful or accurate portrayal of the conversation between the president and Mr. Comey."
The revelations that Trump demanded loyalty and asked Comey to drop the Flynn investigation could not only expand the scopes of the FBI and congressional investigations into Russia's election tampering. They could also bring forward accusations of obstructions of justice.
"Each moment taken in isolation doesn't necessarily constitute obstruction of justice," Jens David Ohlin, a Cornell Law School professor, says by email. "But when you aggregate all of it together—demanding loyalty, trying to quash the Flynn investigation, firing Comey and then admitting on TV he did so because of the Russian investigation—it starts to look exactly like obstruction of justice, and certainly the type of corruption that historically has been considered impeachable."
Other analysts say the disclosures fall short of obstruction of justice. "This testimony does not suggest there's a cancer or even a canker sore on the presidency," says Jonathan Turley, a professor at the George Washington University Law School who served as counsel to several former U.S. attorneys general during the impeachment of President Bill Clinton.
"What it does indicate is grossly inappropriate conduct by the president. It represents conduct that is worthy of investigation. But turning to the criminal side, obstruction of justice is a crime," and this does not appear to rise to that level, Turley says. He adds, "It's not new for a president to want an investigation to end."
Demanding loyalty also does not rise to the level of obstruction of justice, according to Turley. "If President Trump wants to sound like Tony Soprano in the Oval Office, it is hardly a redeeming role for the president of the United States," he says. "What the president did is shockingly inappropriate, but the criminal code is not a book of manners."
Following the publication of the statement, John McCain, a member of the Senate Intelligence Committee, called the disclosures "disturbing," according to a report by Jim Heath, a journalist.
Representative Adam Schiff, the ranking member of the House Permanent Select Committee on Intelligence, which is also investigating the Russia matter, said in a statement, "Former FBI Director Comey's written testimony confirms a host of troubling allegations concerning the President's conduct."
Comey also revealed in his statement that he assured Trump that the president was not under investigation, as Trump had said. Before meeting with the president on January 6, Comey wrote, "I discussed with the FBI's leadership team whether I should be prepared to assure President-elect Trump that we were not investigating him personally," which he said was true. "We agreed I should do so if circumstances warranted. During our one-on-one meeting at Trump Tower, based on President-elect Trump's reaction to the briefing and without him directly asking the question, I offered that assurance." He again told Trump on two other occasions that he was not under investigation.
The confirmation of that assurance refutes reports by ABC News and CNN, citing sources familiar with Comey's thinking, that Comey planned to testify on Thursday that he had not granted the president such assurances.
Testifying before the Senate Intelligence Committee on Wednesday, U.S. intelligence officials said they were unaware of any attempts to obstruct justice. Asked whether Trump had asked him to persuade the FBI to back off from its investigation into the Russia matter, as The Washington Post has reported, National Security Agency Director Admiral Michael Rogers said, "In the three-plus years that I have been the director of the National Security Agency, to the best of my recollection, I have never been directed to do anything I believed to be illegal, immoral, unethical or inappropriate. And to the best of my recollection, during that same period of service, I do not recall ever feeling pressured to do so."
Another official testifying, Director of National Intelligence Dan Coats, told the panel, "What I'm not willing to do is share what I think is confidential information that ought to be protected in an open hearing." The Post has separately reported that Trump had asked him and Rogers to publicly deny the existence of evidence of collusion between Russia and the Trump campaign.
The former FBI director is known for making disclosures that confirm news accounts. In March, Comey revealed that the FBI is investigating Russia's election tampering and possible collusion with Trump associates, following months of speculation. In 2007, he told the Senate Committee on the Judiciary about an attempt by President George W. Bush's aides to override him as acting U.S. attorney general and convince Attorney General John Ashcroft to approve a domestic wiretapping program while he was hospitalized, confirming news reports.
In response to Comey's remarks, Marc Kasowitz, a lawyer for Trump, said in a statement, "The president is pleased that Mr. Comey has finally publicly confirmed his private reports that the president was not under investigation in any Russian probe. The president feels completely and totally vindicated. He is eager to continue to move forward with his agenda."
This article has been updated to specify that James Comey wrote in his statement that he told Donald Trump three times that he was not under investigation. It was later updated again to include a statement by Marc Kasowitz.