James Comey Suggests 'Greatest Punishment' for Trump Could Be to Keep Him Off TV
Former FBI director James Comey voiced his support for impeaching President Donald Trump a second time over the insurrection at the U.S. Capitol last week, but suggested that the "greatest punishment" could be to keep Trump off television moving forward.
Pro-Trump rioters descended on the nation's Capitol last Wednesday, storming the legislative building as Congress met to certify President-elect Joe Biden's win in the November election. Five people died in the attack. Prior to the assault, Trump spoke at a rally and told his supporters to "fight harder," while Republican Congressman Mo Brooks of Alabama asked attendees if they'd be willing to give their lives in support of Trump. The president's personal lawyer Rudy Giuliani told the crowd he wanted "trial by combat."
In the wake of the assault, some Republicans and many Democrats have called on Vice President Mike Pence to invoke the 25th Amendment to remove Trump from office. That appears unlikely to happen, and House Democrats are pushing forward with new Articles of Impeachment, which they plan to vote on Wednesday.
Comey, a former Republican who became an independent in 2016, was asked about the attack and his views during an interview with NBC News' Today on Tuesday.
"It's important that every last person who entered that Capitol be found and charged. They need to feel the force of the rule of law that—they need to feel the American peoples' will to make sure we're a country that doesn't accept attacks on our democracy," the former FBI director said.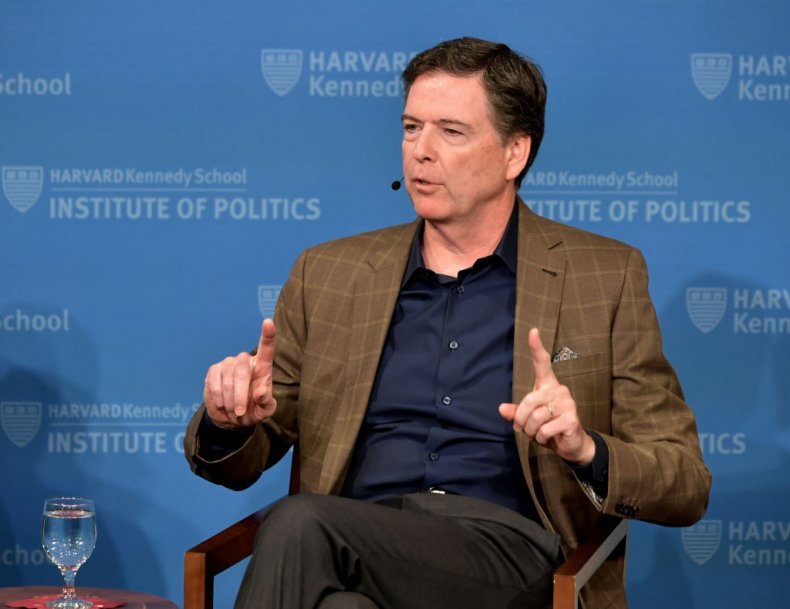 Comey went on to say that he believes Trump should be "sanctioned for his behavior," saying that "it's important that he be impeached." He also said local prosecutors should continue to investigate potential crimes committed by the president.
"I just don't think it's in the national interest for Donald Trump to be on our television screens every day for the next three or four years as part of the United States vs. Donald Trump in the District of Columbia," Comey cautioned. "I don't think that helps Joe Biden heal the nation. I don't think it helps us coax the millions of Americans who have been defrauded, who are caught in that fog of lies."
The former FBI director said he thinks it would "be better for this country if we move past a fallen and corrupt president, and turned off the television lights on him, which in some ways, would be the greatest punishment he could imagine."
Washington, D.C. Attorney General Karl Racine suggested on Monday that Trump, as well as others who spoke at the rally ahead of the Capitol assault, could face prosecution. However, the president would not be able to be charged until he leaves office on January 20.
"I know that I'm looking at a charge under the D.C. code of inciting violence, and that would apply where there is a clear recognition that one's incitement could lead to foreseeable violence," Racine told MSNBC.
Meanwhile, the House of Representatives appears poised to impeach Trump a second time this week—which would be a first in U.S. history. It's unclear whether the impeachment will pass with bipartisan support, but at least a few Republican representatives have signaled they may support it. Two Republican senators, Lisa Murkowski of Alaska and Pat Toomey of Pennsylvania, have called on Trump to resign.
"I think it is obvious that the President is no longer qualified to hold that office," Representative Peter Meijer, a newly elected Michigan Republican, told CNN on Monday. He said that he is "strongly considering" voting for impeachment.
Representative Adam Kinzinger, an Illinois Republican who has harshly criticized the president in the wake of the election over his baseless claims of voter fraud and the riot, suggested he'd support impeachment as well.
"I'll vote the right way, you know, if I'm presented with that," Kinzinger told ABC News' This Week on Sunday.
Newsweek reached out to the White House for comment but did not immediately receive a response.