James Comey Versus Donald Trump: Whom Do Americans Trust More?
A year ago this Wednesday, President Donald Trump fired FBI director James Comey. Originally citing Comey's handling of the Hillary Clinton email investigation, Trump's move shocked people on both ends of the political spectrum. Even Trump's former chief strategist said it was the biggest mistake in modern political history. Whether it was a mistake on such a scale remains unclear, but the situation was brought sharply back into focus in April, when the former director released his book on the subject, A Higher Loyalty.
As part of his response to the revelations penned by Comey, the president said in a tweet that he was an "untruthful slimeball." Comey responded to the accusation, saying: "What am I going to do? People have to make their own judgements about other people." According to a poll conducted on behalf of ABC and The Washington Post, the judgment of the U.S. public is that Comey is more believable than Trump. Forty-eight percent of respondents said they trusted Comey more than Trump, while 32 percent were of the opposite opinion.
Worth noting is the partisanship of the respondents: Twenty-five percent identified as Republican, 32 percent as Democrat and 35 percent as independent. With this factored in, the source stated, there was a sampling margin of error of 3.5 percentage points.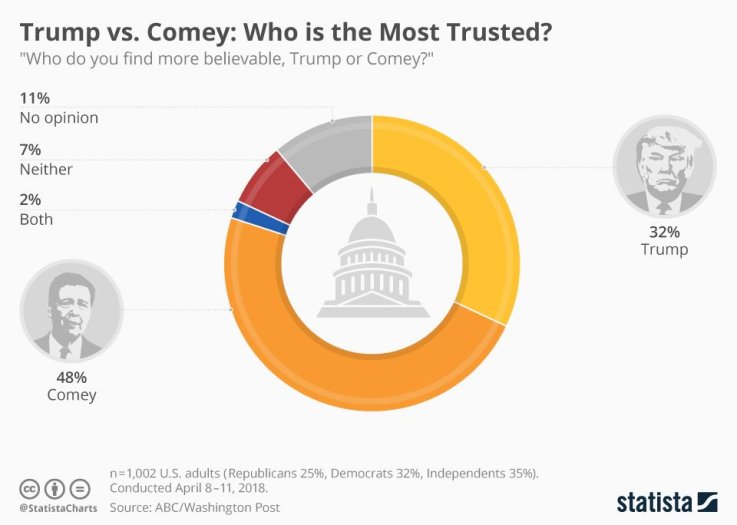 James Comey Versus Donald Trump: Whom Do Americans Trust More? | U.S.