James Corden Is in Another Musical And People Are Not Happy
James Corden has become a ubiquitous presence on our television screens over the past few years, as a late-night host and Carpool Karaoke mastermind.
But the British comedian has also carved out something of a niche in the world of musicals—and people are sick of it.
On Tuesday, Amazon Prime released the trailer for its upcoming musical adaptation of Cinderella, starring Camila Cabello as the eponymous princess.
The modern musical version of the beloved Disney classic features and all-star cast that includes Idina Menzel, Minnie Driver, Nicholas Galitzine, Billy Porter Pierce Brosnan—and James Corden.
Corden stars in the film as a mouse-turned-footman alongside fellow comedians James Acaster and Romesh Ranganathan.
When the trailer dropped yesterday the reaction was certainly mixed with Corden being at the center of a Twitter conversation about his casting.
Musical fans are complaining about the oversaturation of Corden in movies and musicals, with the Gavin and Stacey star having famously starred in the universally panned Cats in 2020 as well as Into the Woods, Trolls and The Prom.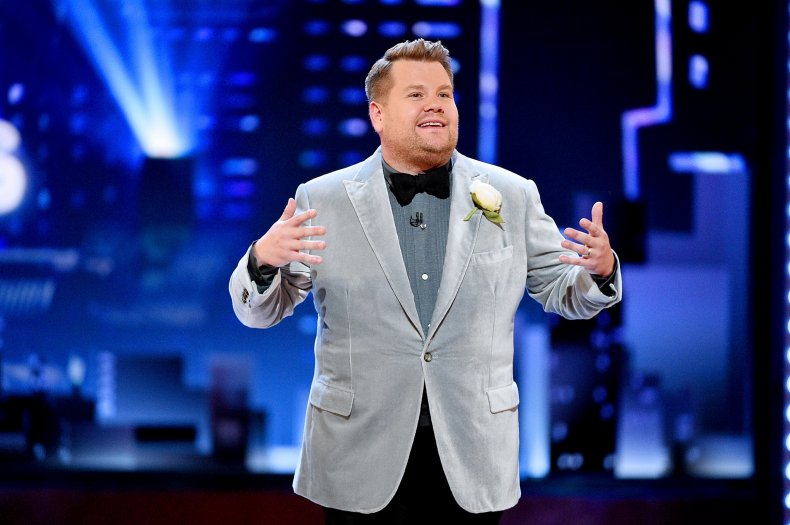 Corden's casting in Netflix's The Prom was controversial last year as many believed the actor was miscast in a gay role, sparking a conversation about whether it is appropriate for straight actors to play gay roles—especially when there are so many musical stars out there perfect for such a role.
"Somebody has to make a study about how james corden find his way into EVERY musical movie," one viral tweets reads, following the release of the new Cinderella trailer.
While another disgruntled person added: "if i had a nickel for every time james corden got cast as an anthropomorphic animal in a movie musical, i'd have two nickels. which isn't a lot, but it's weird that it's happened twice."
Corden played an anthropomorphic animal in both Cats and Peter Rabbit.
"What kind of blackmail does James Corden have on Hollywood that he keeps getting cast in acting roles," joked another person.
While another added: "there needs to be jumpscare warnings for james corden i can't escape him."
Journalist Sonia Poulton tweeted: "Stop putting James Corden in movies. We're all tired of wondering who has been bribed this time."
Another person said of the trailer: "This was going bad but then James Corden showed up and it then it got worse."
According to Amazon, this version of the classic is a "musically-driven bold new take on the traditional story you grew up with. Our heroine (Cabello) is an ambitious young woman, whose dreams are bigger than the world will allow, but with the help of her Fab G (Billy Porter), she is able to persevere and make her dreams come true."
Cinderella is set for release on Amazon Prime Video on September 3.