James Corden Upsets BTS Fans After Calling Army '15-Year-Olds'
James Corden has faced backlash from BTS fans—collectively known as the "ARMY" —following comments he made about the global K-pop stars being at the United Nations this week.
In a segment on Monday's The Late Late Show with James Corden, the television host described the band as "pretty unusual visitors" to the UN—whose appearance on September 20 was for the organization's SDG (Sustainable Development Goals) Moment event, as part of the 76th session of the UN General Assembly.
Corden said their visit marked the first time "15-year-old girls everywhere" were wishing they were UN Secretary-General António Guterres, who was also also at the event.
BTS, who were appointed in July by South Korean president Moon Jae-in as Special Presidential Envoy for Future Generations and Culture, spoke at the summit and also performed their song "Permission to Dance" at the UN headquarters.
In a video clip of the segment shared by Twitter user @bangtanboysnk, Corden said: "The United Nations General Assembly kicked off this morning in New York City and it started with some pretty unusual visitors—BTS were there..."
He later added: "Lots of people are saying 'Well why are BTS [at the UN], the world leaders have no choice but to take BTS seriously. At the end of the day, BTS has one of the largest armies on planet Earth. Historic moment—it actually marks the first time that 15-year-old girls everywhere found themselves wishing that they were [UN] Secretary-General António Guterres."
Alongside the clip, which has over 916,000 views at the time of reporting, the user wrote: "James Corden disrespecting BTS and ARMY, calling BTS's presence at the assembly 'unusual' and literally calling out ARMY for being 'a bunch of 15 y/o girls'. Another clout chaser I guess. Man... you can't trust anyone."
The post has over 23,000 likes at the time of reporting.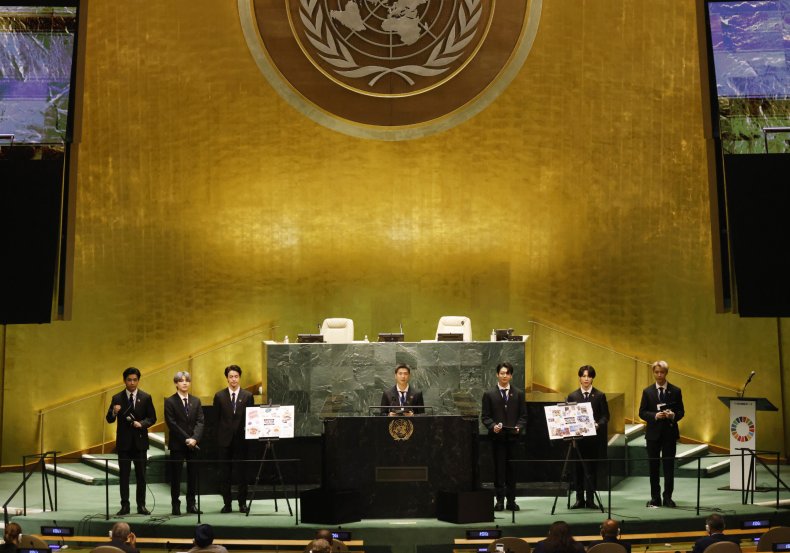 In a reply to the video, which was also shared by Twitter user @_misslovely, user @NeshiabelARMY tweeted: "What the...@JKCorden this is just such utter direspect. How could you undermine BTS contribution to UN and their influence on youth. How could you easily laugh and say we are just some 15 y.o girls. Guess im 15 now eh?? God this is just disappointing [sic]."
User @taekmyhandsnow added: "Didn't really expect James Corden to say some bs about BTS. How is he gonna talk about BTS performing & attending UNGA when he's literally demeaning them by calling their presence unusual and our fandom a bunch of 15 y/o girls? Smh I'm disappointed af..." The post has had over 6,700 likes since it was shared.
The same user included a link to a tweet from the show but that tweet appears to have been deleted. K-pop news website Allkpop also reported Wednesday that videos of Corden talking about BTS' UN appearance had been removed.
Newsweek has contacted the representatives for Corden for comment.
BTS' visit to the UN this week was not their first appearance. Back in September 2018, they also spoke at the 73rd session of the UN General Assembly in New York City, becoming the first-ever K-pop artists to address a UN session.
Their speech, delivered by BTS member RM, was made at the launch of "Generation Unlimited," a partnership with UNICEF (United Nations Children's Emergency Fund) "to get every young person into quality education, training or employment by 2030," UNICEF said in a statement at the time.
The K-pop band has partnered with UNICEF since 2017, joining UNICEF for the "LOVE MYSELF" campaign. The initiative aims to "stage campaigns against violence toward children and teens around the world, with the hope of making the world a better place through music."
In March 2021, the band renewed its pledge to support the campaign, which has raised at least $2.98 million globally so far, according to UNICEF.