James Corden To Change Offensive Segment After Thousands Sign Petition
James Corden has confirmed he will revise a controversial segment on his show after thousands signed a petition against it.
The recurring "Spill Your Guts or Fill Your Guts" game on The Late Late Show made headlines earlier this month after it was accused of cultural insensitivity and mocking certain types of Asian food.
The game consists of celebrity guests given the option of eating "gross" foods or answering a personal question. However, some of the foods included in one of the games are commonly eaten by millions of people every day, such as chicken feet and century eggs.
A TikTok user went viral went she complained about how some of the foods were being represented, particularly amid a time when anti-Asian racism is increasingly prevalent.
Kim Saira, who made the TikTok, also made a Change.org petition calling for the segment to be canceled which has amassed 45,000 signatures at the time of publishing.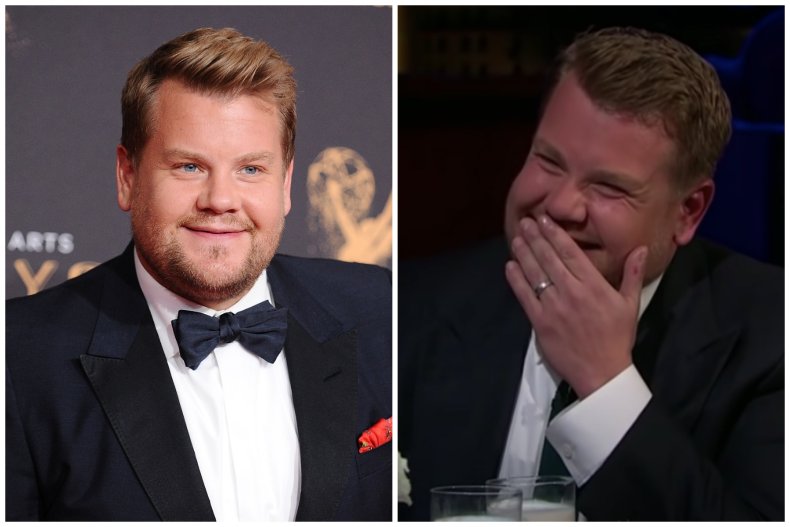 "Many of the foods that he presents to his guests are actually from different Asian cultures," Saira wrote in the petition. "He's presented foods such as balut, century old eggs, and chicken feet, and which are often regularly eaten by Asian people.
"During these segments, he's openly called these foods 'really disgusting,' and 'horrific.'"
She continued: "In the wake of the constant Asian hate crimes that have continuously been occurring, not only is this segment incredibly culturally offensive and insensitive, but it also encourages anti-Asian racism. So many Asian Americans are consistently bullied and mocked for their native foods, and this segment amplifies and encourages it."
Corden has since responded to the criticism and confirmed that while the segment will not be canceled, they will no longer present foods in a culturally insensitive manner.
"We heard that story, and the next time we do that bit we absolutely won't involve or use any of those foods," Corden said during an appearance on The Howard Stern Show.
"As you said at the start, our show is a show about joy and light and love, we don't want to make a show to upset anybody."
He added: "We completely understand. I don't know when we're gonna do that bit again, but when we do we absolutely won't use any of those foods. It's not for us to determine whether somebody's upset or hurt about something. All we can do is go, 'All right. We get it. We hear you. We won't do that.'"
The late-night host explained that the guests will be challenged with eating unhealthy foods and referenced Anna Wintour's appearance on the show.
"In the same way that when we played it with Anna Wintour, we gave her a pizza covered in cheeseburgers," he said.
However, Saira has expressed her disappointment that Corden did not issue an apology over calling certain foods disgusting.
"In my petition, I have specifically asked for James Corden to publicly apologize on his show, and the reason why I was really specific about that was because I think that it is imperative for his hundreds of thousands of viewers to understand the harm that mocking these foods, rooted in Asian cultures, has on Asian people who still eat them," she said per Today.