James Corden Defends 'Brave' Prince Harry, Reveals Kids Share Play Dates
British late night host James Corden has defended Prince Harry for moving away from royal life and revealed that his children have been on play dates with the royal's two children, Archie, 3, and Lilibet, 11 months, at their home in Montecito, California in a recent interview.
The host of CBS' The Late Late Show described himself as a "huge fan" of Harry and Meghan, calling the prince's decision to walk away from royal life "incredibly brave."
The comments made by Corden in an interview with U.K. tabloid, The Sun, come after the talk show host attended the royal wedding of Harry and Meghan in 2018.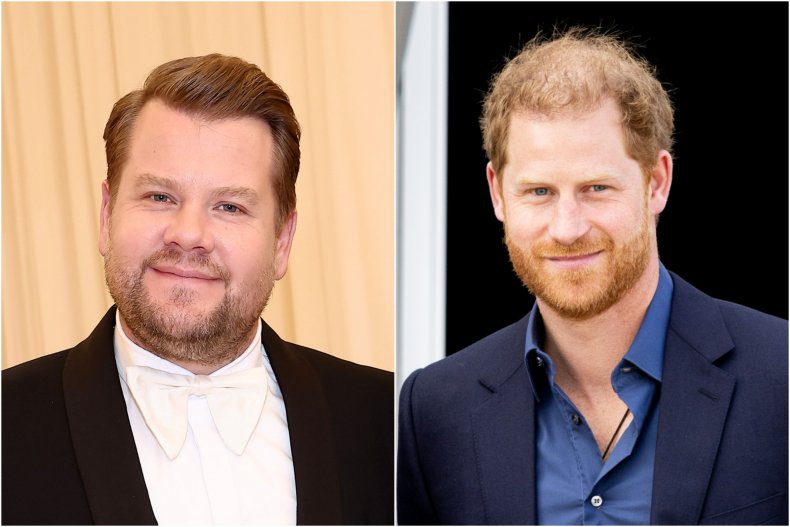 The couple famously stepped down as full-time working royals in March 2020 and went on to explain their decision, citing feeling unsupported by the royal family and household, as well as press intrusion as motivations in a 2021 interview with Oprah Winfrey.
When asked by The Sun if Corden, who lives close by to Harry and wife Meghan Markle in California, had been to their Montecito mansion, he responded "I have," adding that his children had been invited on a play date.
"It was a sort of play date scenario," he said. "Then we went out for dinner after, it was lovely."
After moving to California, Harry made an appearance in a filmed segment for Corden's The Late Late Show in February 2021. During his discussion with the host, Harry told Corden that it was the strain on his mental health and that of his family that provoked the royal exit.
"It was destroying my mental health. I was like, this is toxic," he said.
"So I did what any husband and father would do—I need to get my family out of here. But we never walked away—and as far as I'm concerned, what decisions are made on that side—I will never walk away."
The scoop for Corden, just weeks before the airing of the landmark Oprah interview, was seen as a result of the friendship that has developed between the two over the past decade.
Speaking to The Sun, Corden defended the royals who have come under intense public scrutiny since their marriage, saying: "I'm a huge fan of both of them. Obviously I know Harry better than I know Meghan but I think it's really hard to judge, or be judgmental.
"People process things and deal with things in different ways and that's OK, and it's all right to think whatever you think about somebody."
He continued: "I have a huge amount of respect and admiration for Harry, and anyone who has been around him and spent time with him would feel exactly the same way.
"I think he is a devoted and loving husband and father and I think what they have done is incredibly brave and I'll always be in their corner."
Corden was hosting The Late Late Show when he was invited to attend Harry and Meghan's wedding as a guest in May 2018 with his wife Julia.
Speaking of the royal event to The Sun, Corden recounted a joke that he pulled at the private reception hosted at Frogmore House at Windsor Castle on the evening of the wedding.
"I did make a joke, dress­­ed up as Henry VIII," he said. "And told everyone: 'George Clooney's here, so congratulations on your new Nespresso machine, guys!'" in reference to the Hollywood actor's lucrative endorsement deal with the coffee company.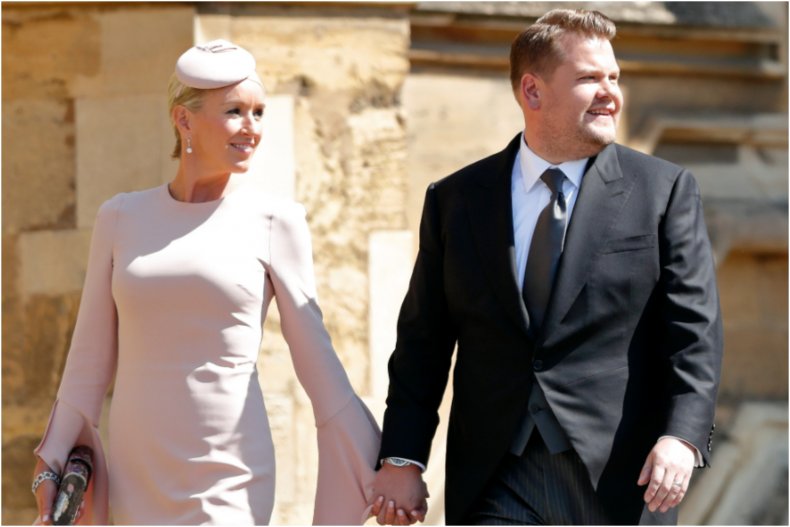 It was announced in April that Corden would leave The Late Late Show in 2023 after eight years which saw the show's famous "Carpool Karaoke" segment, featuring celebrities driving around Los Angeles with Corden singing, regularly go viral online.
This year marks Queen Elizabeth II's Platinum Jubilee, with Harry and Meghan confirming via a spokesperson to Newsweek earlier this month that the couple would be attending some of the celebrations with their children.
This will mark the first family visit the royal's will make to the U.K. since moving to America, and will be the first time that daughter Lilibet will be introduced to her great-grandmother, the queen, who she was named after—Lilibet being the 96-year-old monarch's childhood nickname.