James Corden's Restaurant Server 'Needs Therapy' After Spat, Says Manager
A staffer who served James Corden at Balthazar "needs therapy" after her encounter with the TV personality, the New York City restaurant's maître d'hôtel said in a recent interview.
The host of The Late Late Show With James Corden, 44, made headlines in October 2022 when restaurateur Keith McNally said that he had banned Corden from his SoHo eatery after multiple staff complaints.
In an Instagram post, McNally called fellow Briton Corden a "tiny Cretin of a man," adding that he was "the most abusive customer to my Balthazar servers since the restaurant opened 25 years ago. I don't often 86 a customer, [but] today I 86'd Corden. It did not make me laugh."
McNally went on to give two examples of alleged unpleasant behavior from Corden. Several hours after his initial post, McNally returned to Instagram to state that the ban had been lifted after Corden called him and "apologized profusely."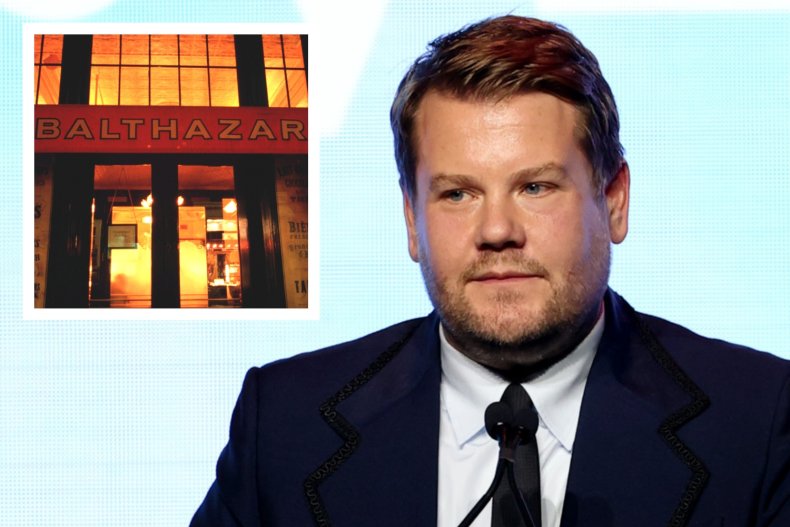 The fallout from the situation saw a number of people share allegations on Twitter of unpleasant encounters with the TV personality over the years.
Comedian Corden sought to tell his side of the story days after the restaurant allegations came to light—prompting further criticism from McNally.
Balthazar senior staffer Zouheir Louhaichy has spoken with Interview magazine about his experiences in running the enduringly popular eatery. Perhaps inevitably, he was questioned about Corden.
Interviewer Foster Kamer asked Louhaichy what it was like working at the establishment during the week of "the James Corden incident."
"Well, that was a brunch, and I don't work brunches, so I wasn't there," Louhaichy responded. "But I was dealing with people's reactions at the restaurant, people wanting to know more, the press, and so on.
"I could write a book of what I heard from people in just that week. And then the story kept going. James Corden saying, 'I never did anything wrong.' Are you kidding me? The poor server needs therapy now, and you tell me you didn't do anything? And she's one of the loveliest servers we have! It's unfortunate. We meet a lot of celebrities and the majority of them are nice people."
In his first Instagram post on the matter, McNally shared a manager's report from June, stating Corden showed a strand of hair that was in his food to an apologetic senior staffer. The report described Corden as being "extremely nasty" to the eatery's manager.
According to the report, Corden then allegedly demanded: "Get us another round of drinks this second. And also take care of all of our drinks so far." Corden, McNally claimed, also hinted at writing "nasty reviews" of the restaurant online.
A second manager's report from October 9 stated that Corden called over a server to complain about his wife's egg-yolk omelet. The dish was remade, but came back to the table with home fries, instead of the salad that was ordered.
"That's when James Corden began yelling like crazy to the server: 'You can't do your job! You can't do your job! Maybe I should go into the kitchen and cook the omelet myself!'" McNally wrote in his Instagram post.
According to McNally, the server apologized and brought the floor manager to Corden's table. The dish was returned again, after which "everything was fine. [The manager] gave them promo champagne glasses to smooth things out."
The manager said Corden was "pleasant to him but nasty to the server," per the report, which added that the restaurant staffer was "very shaken, but professional that she is, continued to finish her shift."
Days after the allegations against Corden came to light, the TV personality said on his late-night talk show that it was never his "intention" to upset staff at the eatery, adding that he would like to apologize in person, if given the opportunity.
He told the audience that he was dining with friends at one of his "absolute favorite restaurants" in New York City when his wife, Julia Carey, was served food "she was allergic to" after explaining her allergies.
The star said that, after the order was served incorrectly more than once, "in the heat of the moment, I made a sarcastic rude comment about cooking it myself."
"It is a comment I deeply regret," the talk-show host said. "I understand the difficulties of being a server. I worked shifts at restaurants for years."
Corden added: "I have such respect, and I value anyone that does such a job. And the team at that restaurant are so great. That's why I love it there."
He said that staffers at the restaurant brought out champagne "as an apology," and, as he believed he was in the right, he saw the matter as resolved.
"I've been walking around thinking that I hadn't done anything wrong, right? But the truth is, I made a rude comment, and it was wrong," Corden said. "It was an unnecessary comment. It was ungracious to the server."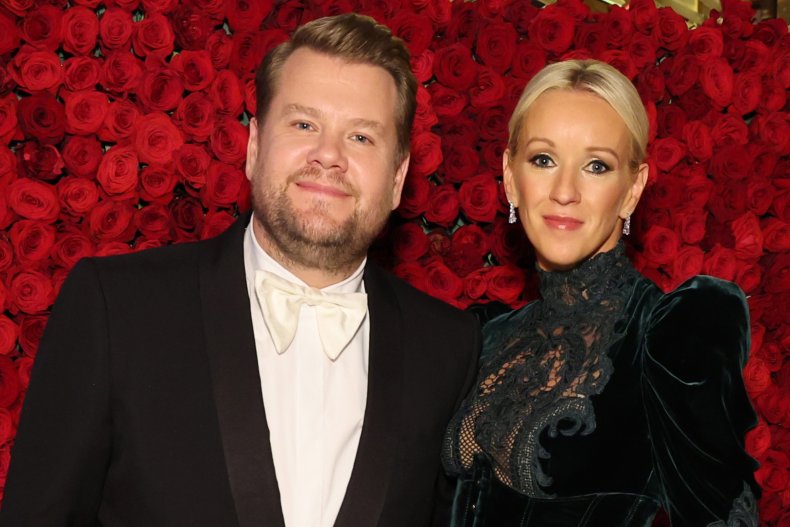 After McNally wrote that he had banned Corden from Balthazar, the comedian said that he "immediately" got the restaurateur's phone number to address the incident.
"We had a good talk. He appreciated the call. I was happy that we got to clear the air, and I felt like we dealt with it privately, you know?" Corden said. "But by this point, the story was out there, and people were upset."
He continued: "As I said to the owner that day... [if] I've ever upset anybody, ever, it was never my intention. It just wasn't. And I love that restaurant. I love the staff there. I hope I'm allowed in again one day. So when I'm back in New York, I can go there and apologize in person, which is something I will absolutely do."
Corden first addressed the Balthazar controversy in an interview with The New York Times, insisting that he had not "done anything wrong on any level."
"I feel so Zen about the whole thing. Because I think it's so silly," he said. "I just think it's beneath all of us. It's beneath you. It's certainly beneath your publication."
Newsweek has reached out to a representative of Corden for comment.