James Corden Sends Donald Trump 297 Copies of 'Philadelphia' to Educate Him on HIV and AIDS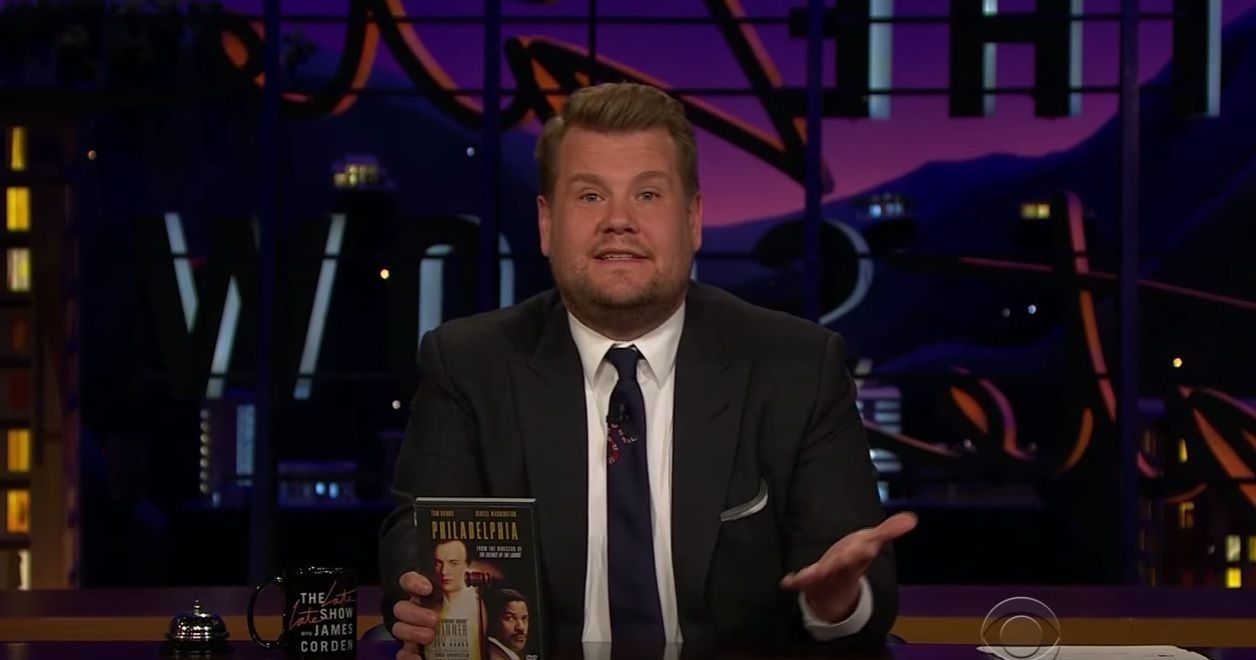 James Corden is doing his part to help President Donald Trump stay woke: The Late Late Show host sent 297 copies of the film Philadelphia to Trump to enlighten him on HIV and AIDS.
The British comedian's movie bombardment of Trump isn't just because Tom Hanks' Oscar-winning performance in the 1993 film is pretty spectacular. In fact, he's responding to the news that six of the 18 members of Trump's advisory council on HIV/AIDS quit their posts last week. They claimed that Trump simply does not care about the cause.
"Donald Trump doesn't care, but he should care, we all should care," Corden said on Tuesday's episode of his CBS late-night talker.
He proceeded to read out statistics about the disease, including that 1.1 million people live with HIV and AIDS, a stat backed up by the Center for Disease Control and Prevention.
"A lot of people don't know those statistics. HIV and AIDS still carries a stigma for a lot of people and they don't want to talk about it," said Corden. "And if they don't talk about it, it makes it easy to ignore."
Corden said that much of his own education about the condition came from Philadelphia, the 1993 movie about an attorney living with HIV who is fired from his job because of his illness. He then files a wrongful dismissal lawsuit against the company.
"It's the first time I'd seen anything about this disease on television. As I learned more, I started to care about it," said Corden.
The late-night talk show host determined that maybe Trump doesn't care "because he's never seen Philadelphia."
Corden's solution? To bombard Trump with copies of the movie at his Mar-a-Lago resort in Florida. The reason he didn't have them sent to the White House is because "he's never there, he's always playing golf."
"To make sure he gets it, to make sure he cares...today we've sent 297 copies of Philadelphia to Trump's Florida hotel," Corden said to cheers from his audience.
"That is the most we could buy," Corden said of the 297 DVDs. "We got 21 from Amazon, 210 from Barnes & Noble."
Corden ended the segment with a message to the president: "We hope that if Trump watches Philadelphia, he'll understand two things: One, Tom Hanks definitely deserved that Oscar, and No. 2, we hope that he'll realize that HIV and AIDS is something that you or any president of the United States, or any world leader for that matter, can never afford to ignore."
Will Philadelphia be Trump's next White House movie screening? Well, I wouldn't bet on it.