James Cromwell of 'Babe' Arrested at PETA Protest at Texas Animal Testing Lab
Actor James Cromwell was arrested Thursday during a People for the Ethical Treatment of Animals (PETA) protest on the Texas A&M campus.
Cromwell was arrested with an unidentified man around 1:35 p.m. during a Board of Regents meeting. He was charged with hindering proceedings by disorderly conduct, which is a class A misdemeanor.
Both men will be taken to the Brazos County Detention Center, reports KBTX.
"Texas A&M continues to torment golden retrievers and other dogs, even though decades of these experiments have not led to a cure for humans with muscular dystrophy," says Cromwell.
"It's time to let the dogs out, and my friends at PETA and I want them released to good homes where they can live out the rest of their lives in peace."
PETA activists gathered at the school's Memorial Student Center, which has become a routine meeting spot for PETA during Texas A&M events and meetings.
"Caging and hurting golden retrievers is unethical and bad science, and it needs to end now," said Cromwell in a statement released prior to the disruption. "I join PETA in asking that these dogs be released for adoption immediately and spared further misery."
After years of protests, pressure, and lawsuits by animal rights advocates, Texas A&M announced it would scale back its practice of breeding sick dogs for medical research, but that its efforts to find a cure for Duchenne Muscular Dystrophy will continue.
This research has been widely criticized by People for the Ethical Treatment of Animals, who applauded the news, but made clear its work will not end until the entire lab is shut down.
After obtaining hidden camera video taken inside the research lab where the dogs are housed in 2016, PETA launched an aggressive campaign against Texas A&M's research.
Research advocates say the children and families living with this disease have been given hope thanks to the work being done through the Texas A&M research lab. In 2017, the Food and Drug Administration approved the school's research for human clinical trials.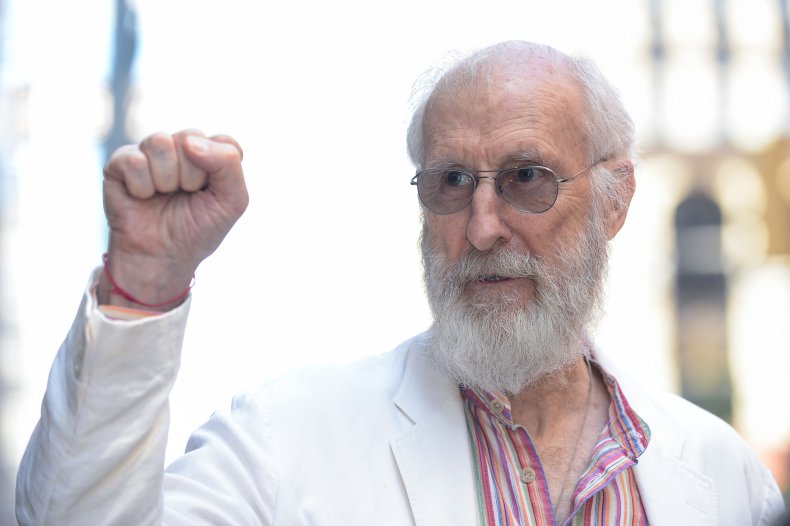 Cromwell, an Emmy winner and Academy Award nominee, is part of a long list of celebrities—including Paul McCartney, Richard Linklater, Bill Maher, Lily Tomlin, Ryan Tannehill, Casey Affleck, and Nikki Sixx—who've spoken out against Texas A&M University's dog laboratory.
This is not the first time Cromwell has been arrested at a protest. In July 2017, he was taken into custody with fellow PETA protesters after crashing SeaWorld's famous "Orca Encounter" whale show clad in a "SeaWorld Sucks" t-shirt while shouting into a megaphone.
He was also sentenced to a week in jail following his arrest during a power plant protest in New York in 2015, according to the Times-Herald Record. He spent three of those seven days in prison for refusing to pay the $375 fine for the incident.