James Dolan Would Consider Selling Knicks for 'Bona Fide Offer'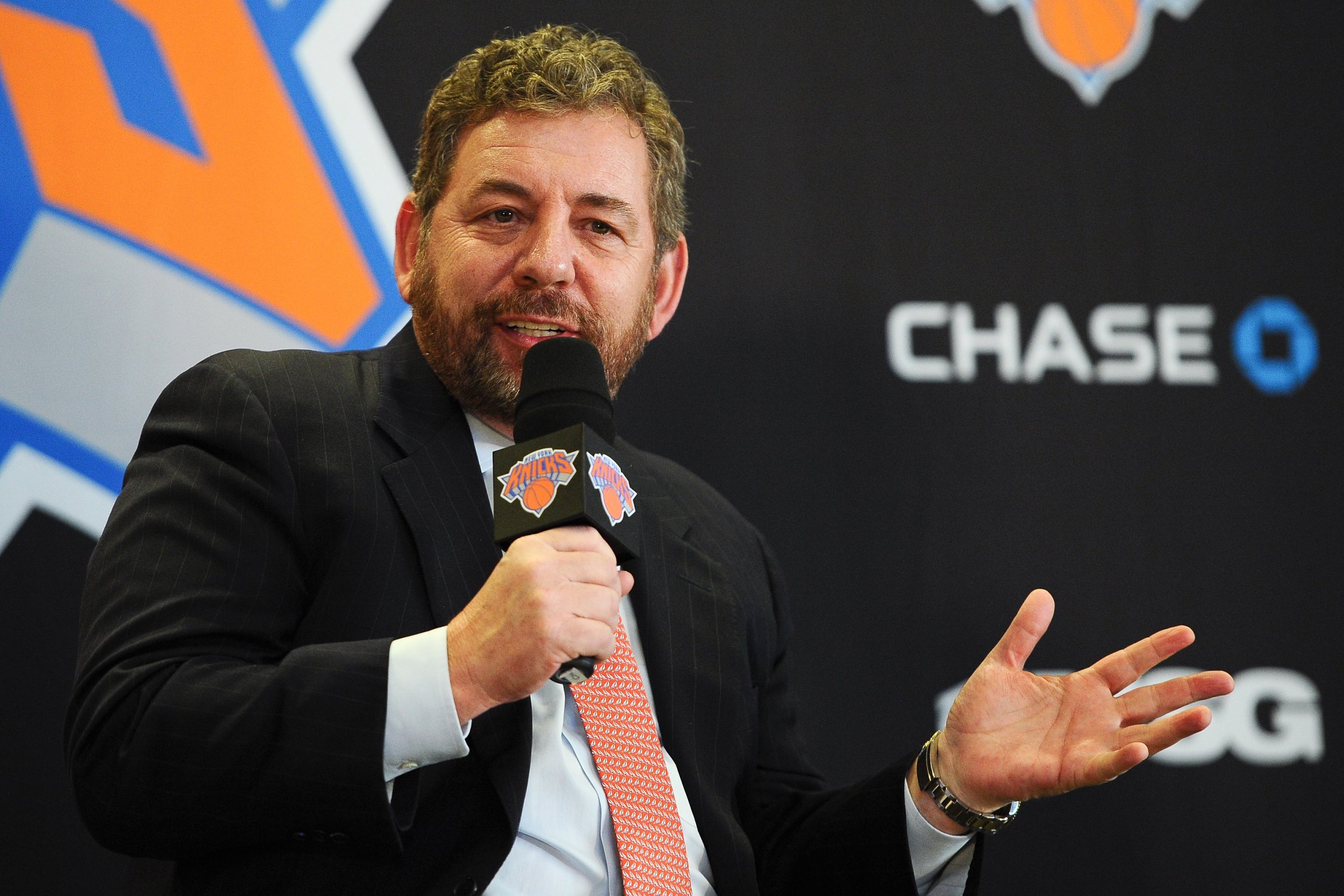 New York Knicks owner James Dolan said he would consider selling the team if presented with the right offer.
Dolan, the chairman of Madison Square Garden who also owns the New York Rangers and recently put the New York Liberty WNBA franchise up for sale, told ESPN's Ian O'Connor that there have been "feelers" of offers upward of $5 billion, but no one has presented a "bona fide offer" to purchase the Knicks.
"You hear numbers all the time," Dolan told ESPN when asked about selling the team in a feature released on Monday. "... I think people have sent feelers out, but never any that were pursued. Yeah, [the feelers are] around that number [$5 billion], but those things, it's like a stock price. It's only important if you're going to buy or sell."
The 63-year-old said he loves the Knicks and Rangers, but cannot rule out a potential sale as a "responsibility to your shareholders."
"You have a responsibility as the guy who runs the place to deliver on that for them, that's being open and transparent. And so in that position, I could never say that I wouldn't consider selling the Knicks. Now, my family is not in that position, and they are the majority shareholders. They hold the majority of the vote. ... As a majority owner, I don't want to sell, either. As the head of the public company, you can't say you can't sell, because then you're telling your shareholders that your own personal feelings about your assets are more important than their money. And they won't invest with you if you do that."
Dolan was promoted to chairman of Madison Square Garden in 1999, the last year the Knicks made an NBA Finals appearance. Since then, the franchise has gone through seven team presidents, 12 head coaches and just four seasons with a winning record, as well as a sexual assault lawsuit involving former head coach and president of basketball operations Isiah Thomas and former team executive Anucha Browne Sanders.
Dolan was also responsible for hiring former team president Phil Jackson, whose failed tenure yielded an 80-166 record and several terrible contracts to veteran players, including Joakim Noah, who the Knicks are still on the books to pay for the next four seasons after appearing in just 53 games during two seasons.
Still, the chairman believes Jackson, who won 11 NBA championships as a coach with the Chicago Bulls and Los Angeles Lakers, didn't work out in the front office because he couldn't convince players to buy into his triangle offense.
"I think he got 'yessed' a lot," Dolan said, "I think they'd be underneath their breath going, 'This is not a great idea,' and he got into conflict with some players over it. But I think he tried hard to get his system in. I just don't think he ever got it in."
Dolan hasn't controlled the day-to-day operation of the Knicks since hiring Jackson, telling ESPN: "I became convinced that I didn't think I could add anything to it."
According to ESPN, Dolan participated in a two-hour interview with O'Connor in which he discussed a wide range of topics including business, legal troubles, his relationship with Harvey Weinstein and 25 years of sobriety.