'Jim: The James Foley Story' Explores the Siren Song of the Front Line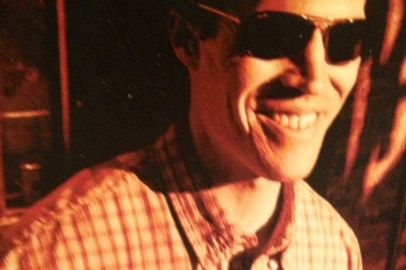 James Foley isn't the only journalist who was lured back, time and time again, to the front lines of conflict zones.
Correspondents who have covered recent wars in Syria and Libya, including American journalist Marie Colvin, Syrian journalist Ruqia Hassan, British photojournalist Tim Hetherington and dozens of others, died in order to tell stories. Foley's public execution at the hands of the Islamic State militant group (ISIS) in 2014 was particularly grisly, and the video was broadcast around the world.
A new documentary film, Jim: The James Foley Story, directed by Foley's childhood friend Brian Oakes, delves into his life before he became a journalist, the final months he spent in ISIS captivity with other Western hostages and the restless months in small-town New Hampshire in between. In-depth and often hard to watch interviews with Foley's family, friends and colleagues on the front lines paint a portrait of a man who cared deeply about telling the stories of those living through war, but who ultimately ignored the great, often fatal, risks of that pursuit.
Oakes, a first-time director who had known Foley since he was 7, began working on the film about three months after he was killed. Oakes says he felt a responsibility to tell Foley's story because "we had lived with what had happened and the image of Jim that everyone knows."
"That image of Jim was being used in a lot of different ways, be it political agendas or sensationalized articles," Oakes tells Newsweek. "He became this symbol for many different things, and for me, I became very protective of Jim."
Foley's gruesome death isn't shown in the documentary. Rather, there are photos and videos of him flashing a gap-toothed smile and rolling around on the floor with his baby nephew. One of Foley's three brothers (he also has a sister) calls him a "badass;" to a hometown buddy he's "my meat-head friend." Footage taken by journalists in conflict zones, including Syria and Libya—where Foley was captured in 2012 but later released—show the buildings and lives destroyed by the wars he covered.
The front line, Foley says in the film, was a "siren song."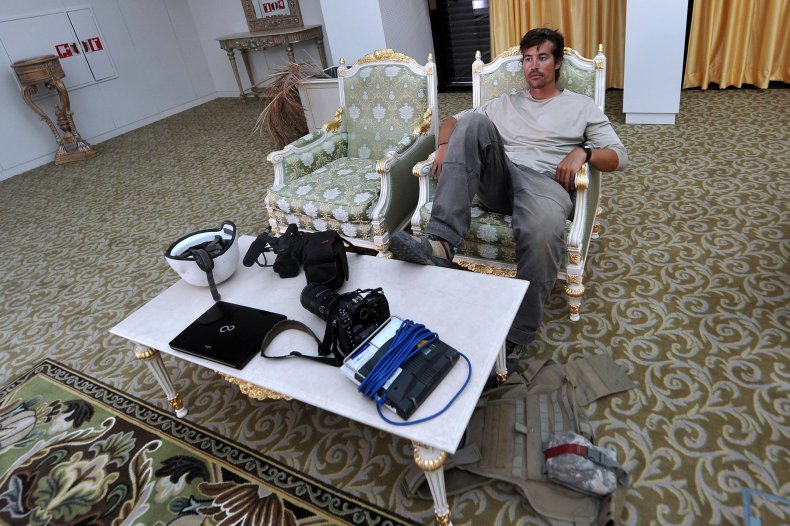 Some of the film's most devastating moments come during interviews with others who were held captive in an ISIS prison with Foley, including Danish photojournalist Daniel Rye Ottosen and French journalists Didier François and Pierre Torres. Through them, Foley is seen as being generous with his food and remarkably capable at dealing with the unthinkable situation they'd found themselves in. The prisoners—at one point there were 19 in the cell—passed the time with lectures, exercise and games of Risk, which were played using cardboard and olive seeds.
Ottosen recalls his and Foley's painful beatings by men they called "the Beatles" because of their English accents; one of them, Mohammed Emwazi, otherwise known as "Jihadi John," was recently confirmed dead by ISIS. John Cantlie, a British journalist who has appeared in a number of ISIS videos documenting life inside Iraqi and Syrian cities controlled by the group, was another fellow prisoner. His whereabouts are currently unknown.
"We're hopeful that this [film] will advance some of what Jim believed in," Diane Foley, James's mother, told Newsweek before the New York premiere of the film on Monday. "Jim was a very relatable, flawed human being like all of us, but he was very passionate about making a difference in the world." She adds that her son "was proud to be an American."
"He hit a home run," John Foley, the journalist's father, says of Oakes's film, which won the Audience Award at the Sundance Film Festival last month.
The Foleys say it was a difficult decision to allow a film to be made about their son, and they received offers from multiple filmmakers. Initially, Diane Foley says, she didn't want to be involved, but her son, Michael Foley, encouraged her because Oakes was "someone who loved Jim like we did, who was passionate about getting it right."
Sting and songwriter J. Ralph, who co-wrote the song "The Empty Chair" for the film's credits, also attended Monday's screening.
"I really watched the film carefully and listened to what his friends were saying and what his family were saying, what his fellow captors were saying, and I collated those impressions and put them into a song about them missing him," Sting says. "The symbol of the empty chair was a resonant one for me. They had a few Thanksgivings without him."
The film ends with a reading of Foley's final letter to his family, which was memorized and recited to his parents by Ottosen upon his release. Nicolas Hénin, another French journalist held with Foley for several months, was later reunited with his family but implies in the film that he will forever live with his imprisonment, in one way or another.
"I ended up being released, but he ended up free," Hénin says of Foley.
On Saturday, February 6, at 9 p.m., Jim: The James Foley Story will premiere on HBO.