Is James Foley's Death the End of Frontline Reporting?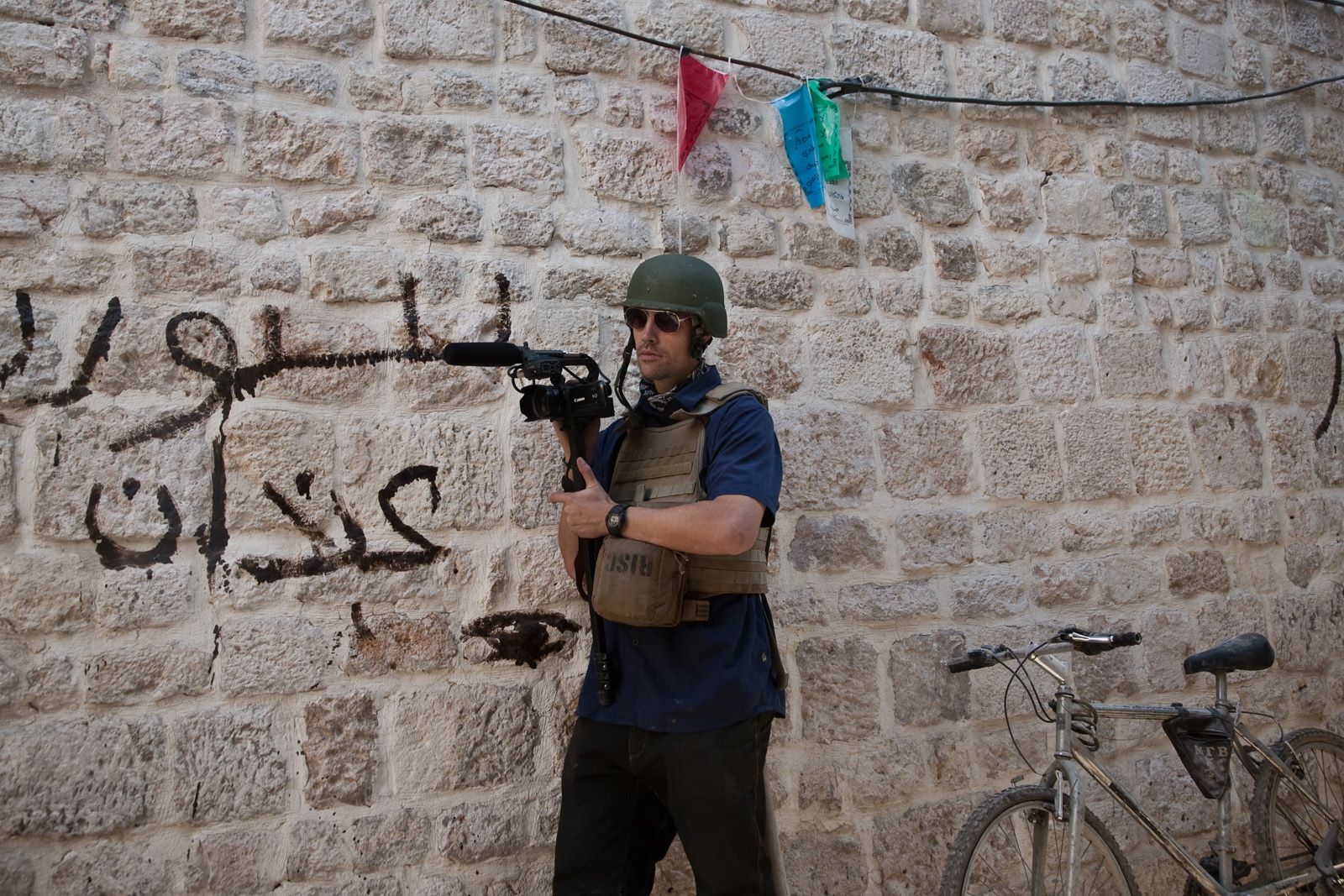 Like many families of those who simply disappear, James Foley's believed that one day their son, who had gone missing before Thanksgiving 2012 in Syria, would walk through the door.
Jim was smart. Jim was brave. Jim was a good guy. Because of these traits, his family and his closest friends held out hope and refused to believe he was really gone.
Nicole Tung, who had been with Foley just before he was kidnapped and returned several times alone to northern Syria to search for her friend, was not giving up hope. Sometimes, while working in Aleppo, she would disappear to meet with someone to try to find out if her friend was being held in certain prisons, if he was safe, if he was still alive.
President Barack Obama paid tribute to Foley at a press conference today, describing him as someone who "courageously told the story of his fellow human beings."
In times like these, journalists—particularly those who report war and conflict and are something of a little tribe—tend to grow even closer. Decisions are made not to report details which could hurt the search for missing reporter. Decisions are made not to watch the video which claimed to be Foley's last.
The day after the video was released was a dark day for journalists. Foley, who had been kidnapped before, was much loved and respected. His death, like the death of other reporters before him—such as the American Marie Colvin, who died from a bomb blast in Homs in February 2012; or the legendary Reuters war reporter Kurt Schork, who was murdered by Sierra Leonean rebels in 2000, resonated widely. It shakes the very core of what we do and what we believe.
On a private Facebook page for those of us who work and report inside Syria, S-Logistics, the tributes were swift and eloquent. Reporters blacked out their profile photos in solidarity with our slain colleague. But the real question many of us are wondering is: how do we continue to do this kind of work when barbarians like the Islamic State reward us with kidnappings, beheadings, imprisonment, rape?
The fact that Foley was killed in such a barbaric way makes it even harder to stomach. The same men are still holding Steve Sotloff, a funny and brave young journalist from Miami.
I last saw Sotloff somewhere in Syria in 2012 sitting in a dark room without electricity in the home of a Syrian commander who would soon be murdered.
We were all trying to work on our dying computers using our flashlights. It was a miserable time. There wasn't any food. It was freezing, and the sound of shelling was constant.
But despite the grim atmosphere, Sotloff was joking with a colleague—trying to get find out American football scores. Because what we do when we are in the worse situations. We have to tell jokes to stay sane. Clare Morgana Gillis—who had been kidnapped with Foley in Libya in 2011—talked about reading Keith Richards My Life while she was in captivity in Libya.
Sotloff is young and funny and irreverent. He lived in Benghazi, Libya—he actually lived there—one of the few freelance reporters who felt he had to stay there to do his job properly. He is a great storyteller, but he is also smart and committed.
A few days after he disappeared, I got some strange private messages from him on Facebook. They turned out to be from the friend he had been with who had found his computer. It was eerie. While Foley's abduction had gone public—his family had made that decision, believing it would help locate him—Sotloff's had been quiet. Some of us tried to find information about what happened to him, but it was as if he had simply disappeared off the face of the earth—which he had.
Now Sotloff's fate lies in the hands of ISIS, who threatened to behead him—depending on President Obama's "next move."
When I began reporting wars and conflict more than 20 years ago, my greatest fear was either being shot by a sniper or blown up by a mortar. But that was the war in Bosnia, when you had to gather at street corners and run at the same time as the rest of a pack of people, to try to fool snipers on the hills from aiming at your knees—or your heart. Or you prayed not to hear the whistle of a mortar shell—which meant you were already too late. If you heard it, it was too close.
No one taught you what to do when you entered a war zone. My first "teacher" was a gruff and rather unpleasant war photographer who was not happy to take along a novice. He told me, as we piled into a soft-skinned (non-armored) car in central Bosnia, poised to drive at breakneck speed into the besieged capital Sarajevo, what to do if we got "hit"; what to do if a mortar exploded near us; what to do at a checkpoint.
The journey took maybe an hour, but it was the worst hour of my life. When we finally "cleared" Sniper's Alley, as it was known, he gallantly dumped me—alone—in the dark and smelly lobby of the bombed-out Holiday Inn, which had no electricity and no water, and sped off to stay with Bosnian friends in another part of the city.
I learned how to navigate front lines very quickly. I learned to trade cigarettes for a bottle of water to wash or get through a day when you are trapped in a front line position so close to the enemy that you can see their flag. I learned things they don't teach at journalism school—how to convince commanders to take me on their trucks or their patrols, and how to survive inside a trench for days. Or, "how not to let the bombing drive you to the brink of madness," in the words of another fallen colleague of mine, Miguel de Moreno de Mora, who was killed in 2000.
By the time I got to Chechnya, that danger had moved to another level. There were still mortars and aerial bombardment, but kidnapping was becoming a business. I packed my duffel bag with the knowledge that a few months before me, Chechen rebels had beheaded a group of businessmen and put their heads on pikes at the entrance of the city. And I also knew no one was coming to save me if I got taken.
Before I left for Grozny in January 2000, I was called in for a meeting with the managing editor of my then-newspaper, The Times of London.
"We want you to know that if anything happens to you, the British government does not negotiate with terrorists," he said. They were not being unkind—they were being honest. But they were not comforting words to someone who was about to set out alone for possibly the most dangerous place on Earth.
I did not get kidnapped, but I witnessed the fall of Grozny and got trapped there for longer than I wanted. When I came out, my company sent me on a "Hostile Environment Course"—one of the first of those that are now obligatory for most frontline reporters—which taught me battleground first aid; how to identify different mines; how to behave in a kidnap situation; how to outsmart booby traps.
I learned how to navigate by stars and to stop the bleeding on a "sucking chest wound" if one of my colleagues got shot near their heart. But it was a little late for it.
By the time I took that course (I have now taken three), I could have been the instructor. Drunk Serb paramilitary soldiers had already taken me; I had been robbed at checkpoints; survived a bombing raid in which 17 people were killed; and lived through numerous Afghan ambushes, African coup d'etats, more fallen cities, more night raids.
By this point, sadly, I had begun to lose more and more of my colleagues. Each death felt as hollow, as gruesome and as pointless as the last. I would read their copy, or look at their photographs or films and wonder if our quest—to bear witness, to bring back first hand reporting of war—was worth it. But even after years of experience, nothing quite prepared me for the harshness of Syria. The Committee to Protect Journalists says Syria is "the most dangerous country in the world for journalists." According to the organization's most recent statistics, 69 journalists have been killed covering the Syrian conflict, many of them Syrian. More than 80 reporters have been kidnapped. Around 20 are currently missing, many of whom are believed to be held by the Islamic State.
I cannot go into too much detail about how reporters do work there, because the risk is still too great for those who continue, myself included.
But if you are not one of the lucky ones to get a visa to go to Damascus, you must cross the Turkish border illegally and rely on Syrian "rebels" who have now been basically overtaken by the Islamic State. These shadowy men are now your guides.
If you are unlucky enough not to have full-time security—as all the major TV networks and newspapers now do—you have to rely on your wits and your intuition or your contacts. But even that doesn't protect you. Last spring, my old Sarajevo office roommate, Didier Francois, was released after more than a year in captivity. Didier had more experience than any reporter I know—so there is no truth in the view that only neophytes get kidnapped.
Journalism has been called "the first draft of history." But how can a first draft be recorded when we are not allowed to do our job? Foley's work had concentrated on the civilian suffering, in places like Aleppo where the suffering is paramount. How can we tell the story if we are now the targets?
Foley's family said, when they learned of the news of the video, that they were never prouder of their son and their brother. But was it worth it? Kurt Schork's extraordinary reporting of the siege of Sarajevo means something to me—and he is buried in the center of the city he loved, along with the young fighters who defended Bosnia. But will it mean much to future generations? Was his death—and the death of all the other dead journalists whose names are inscribed at the Newseum—really worth it?
London's Frontline Club was founded by Vaughan Smith, a former BBC frontline journalist, as a place for us to gather and share information and stories. It was meant to be a kind of oasis for those of us who continue to do this work. Tonight, in London, journalists will assemble and lift a drink for Jim, and for Steve. For their bravery, their commitment.
But 20 years ago, when Vaughan and I worked together on a film in Sarajevo, our worst fear was getting our flak jackets stolen by rogue soldiers roaming the streets. (They did steal them, and Smith blamed me for being foolhardy.)
Now, we are not just losing flak jackets. My colleagues are living—and dying—to tell the story.