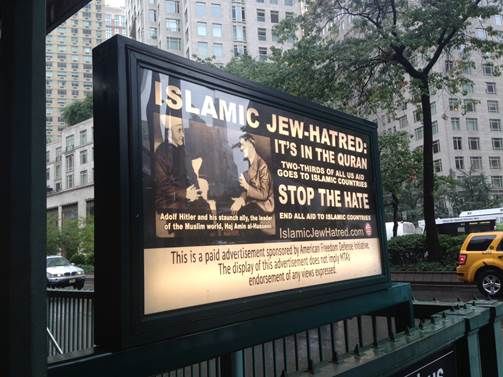 A controversial ad campaign launched in New York City this month and criticized by some as being anti-Muslim will no longer include an image of journalist James Foley in the moments before his beheading.
The image is being removed at the request of his family, whose lawyer wrote to blogger Pamela Geller's American Freedom Defense Initiative over the weekend protesting its use.
The $100,000 ad campaign includes six designs and is set to run on 100 New York City buses Monday and in two subway stations. The campaign attracted criticism from faith leaders, advocacy groups and politicians, including New York City Mayor Bill de Blasio, when it was announced earlier this month.
In an email letter dated September 27 and posted on Geller's blog, Diane and John Foley's attorney, J. Patrick Rowan at McGuireWoods LLP, asked on the Foleys' behalf that Geller withdraw the ad immediately and stop using the image in her advertising campaigns.
"The use of Mr. Foley's photo in your advertisement will cause profound distress to the Foley family," reads the letter. "They do not want to see this photo exploited to attract funding and attention to your group."
The Foleys believe the message behind the advertisement would have been antithetical to their son's views, according to the letter:
Having lived and reported from communities in which nearly everyone was of Muslim faith, [James Foley] had great respect for the religion and those who practiced it. The advertisement you are preparing to run seems to convey the message that ordinary practitioners of Islam are a dangerous threat. This message is entirely inconsistent with Mr. Foley's reporting and his beliefs.
Geller acquiesced, according to an email response letter sent Sunday to the Foleys by her lawyer, David Yerushalmi of the American Freedom Law Center, also posted on her blog. In a separate press release, the American Freedom Defense Initiative emphasized that she agreed only "out of compassion for Foley's parents, not because of a legal requirement to do so."
In the letter, Yerushalmi cited the First Amendment, which Foley as a journalist would surely have "understood and respected," he wrote. He also took issue with the claim that the ads imply "ordinary practitioners of Islam are a dangerous threat," and clarified that the ads were not connected to fund-raising efforts but rather to "exposing the truth about Islamic jihad."
However, "as a mother, and one who still feels the pain of the hideous murders of many in her extended family by the Nazis, and with friends in Israel brutally affected by Islamic terrorism as a constant of daily life," Yerushalmi's letter says, "Ms. Geller understands and feels intimately the pain your clients are suffering. Neither she nor AFDI wish to add to that pain, even if only tangentially."
Yerushalmi warned that though Geller has recalled the ads, a few might remain because of the size of the campaign and the late notice of the request just before they were scheduled to run Monday.
The original advertisement showed two images: on the left, an apparent picture of a British national suspected of fighting in Syria, Abdel Bary, pictured wearing a red tracksuit and recording in a sound booth. On the right, an image of James Foley kneeling next to his executioner, in what appears to be a screen grab from the video the Islamic State (commonly known as ISIS) released of Foley's beheading on August 19.
FBI Director James B. Comey said Thursday that American intelligence agencies have identified Foley's executioner but have not yet shared his name, according to The New York Times.

The ad has now been modified so that the image on the right shows a man Geller claims is Abdel Bary holding the severed head of a victim, whose face has been blurred out. "It didn't take but a minute to find scores of photos that would fit the ad," Geller wrote in a blog post Sunday.