James Franco Won't Try to Refute Sexual Misconduct Allegations Against Him: 'I'm Just Letting It Be'
James Franco again addressed allegations of sexual impropriety made against him after his big win at the Golden Globes on Wednesday's Late Night with Seth Meyers.
The actor explained to Meyers that though he feels accusations against him are "not accurate," he is choosing not to actively refute anyone's claims because it's important for women to be able to share their experiences publicly as Hollywood embraces the Time's Up campaign.
Franco elaborated on his comments a night earlier on Stephen Colbert's Late Show, on which he said he had "no idea what I did to Ally Sheedy," an actor who called him out on Twitter after his win for best actor in The Disaster Artist Sunday.
Franco told Colbert he once directed Sheedy in an off-Broadway play and thought they had a "great" relationship.
Asked if he'd reached out to Sheedy by Meyers, Franco responded: "It was so shocking. I don't know. I guess I'm just letting it be."
Other women came forward Sunday on Twitter accusing the actor-director of inappropriate behavior.
Franco explained that he did not want to refute any claims against him so as not to diminish the accounts of women who have been subject to decades of inequality and sexual misconduct in Hollywood.
Sunday's Golden Globes featured Hollywood women, including Meryl Streep and Jessica Chastain, wearing all black in support of the Time's Up movement, which was set up to eradicate the mistreatment of women.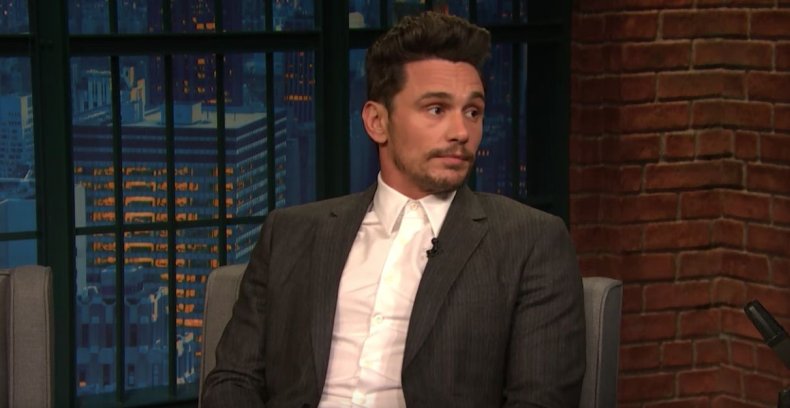 "That show we were [at]...I mean, it was so powerful," Franco said referring to the Globes, which Meyers hosted and which featured many empowering speeches by women including Oprah Winfrey addressing the Time's Up movement.
"There are stories that need to get out," said Franco.
"There are people that need to be heard. I have my own side of this story, but I believe in these people that have been underrepresented getting their stories out enough that I will hold back things that I could say just because I believe in it that much.
"If I have to take a knock because I'm not going to try and actively refute things, then I will because I believe in it that much."