James Holzhauer's 'Jeopardy!' Winnings So Far As Champion Inches Closer to Ken Jennings' Record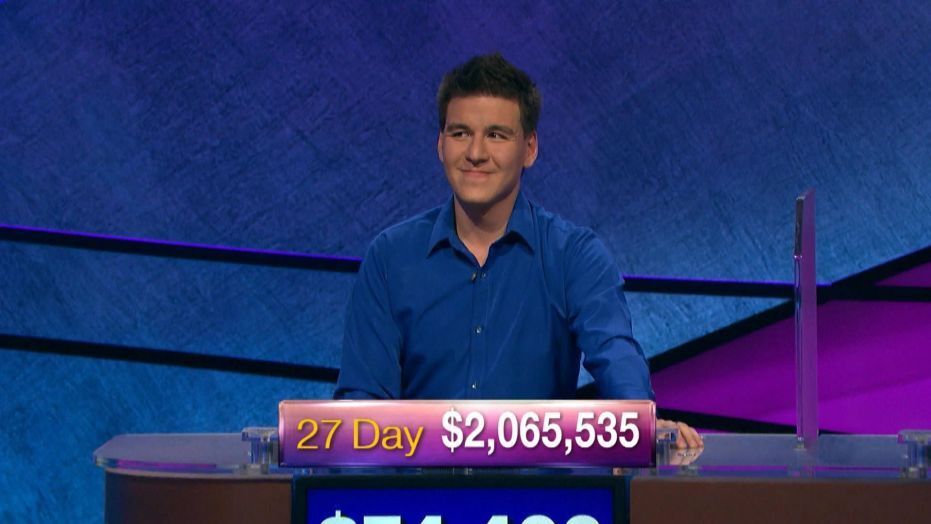 Jeopardy! champion James Holzhauer is practically unstoppable, becoming only the second contestant to earn $2 million.
After winning $74,400 on his 27th game Friday, Holzhauer brought his winnings to a total of $2,065,535.
Holzhauer was in the lead by $30,000 toward the end of Friday's show when they went into Final Jeopardy. He bet $35,000 out of his $39,400 and correctly answered, "What is Sun Valley?" to the clue: "Astronomy buffs visit Idaho for the USA's first dark-sky reserve—oddly, part of it is this resort area with a bright name."
But he almost got the question wrong. He smiled as the famous Jeopardy! music played and then revealed to host Alex Trebek the first thing he wrote was, "Las Vegas Strip," because, "I didn't think that was in Idaho." His final response, Sun Valley, is in Idaho.
If Holzhauer, 34, were to beat ultimate Jeopardy! champion Ken Jennings, he would have to surpass Jennings' record-setting win of $2,520,700 in 2004. It took Jennings 74 games to do so, but Holzhauer is up for the challenge. He has racked up his money much faster than Jennings, and it might not be long until he inches closer to Jennings' record. In fact, if he averages a win of $76,582 per game, he could potentially beat Jennings' record within in one week.
Part of Holzhauer's technique is the way he wagers his money. Aside from holding the No. 2 slot for most money won overall, he holds the top spot for most money won on a single game. On April 9, he raked in $131,127 in prize money.
"You can see as soon as I get control of the board in the first game, I'm going for the $1,000 clues whenever I have the opportunity," Holzhauer, a professional sports gambler from Las Vegas, told the New York Times on April 24. "There are big advantages to having a lot of chips early on in a poker tournament. You can make plays that other people can't."
So how did Holzhauer get so smart? The champ told the Washington Post it's from reading children's books as an adult. "You may be able to read an adult book about a boring subject without falling asleep, but I can't," Holzhauer told the Post on May 2. "For me, it was either read some children's books—designed to engage the reader—or go into Jeopardy! with giant gaps in my knowledge base." He added: "I couldn't make it through a chapter of an actual Dickens novel without falling asleep."
Part of his success in the game could also be attributed to his profession as a sports gambler as he's not afraid to wager large amounts of money. "When I started 14 years ago, the biggest edges were in baseball, and that's what I focused on," he told the Times. "But the market's really caught up with advanced statistics, and they take bigger bets on games like football and basketball, so I'm focusing more of my attention there. Hockey I've been trying to work on lately. You can find some inefficiencies in team totals (how many goals will be scored in a game) and the puck line (betting that a team will win by a certain margin)."
On Twitter, Holzhauer is interactive with his fans—and some of his trolls, too. Whether it's people saying they're more interested in Jeopardy! because of Holzhauer or that it's ruined because of him, the 34-year-old is there for all the comments. He even wove the controversial end of Game of Thrones in the conversation about his streak.
Don't miss Holzhauer when he returns to Jeopardy! on Monday.