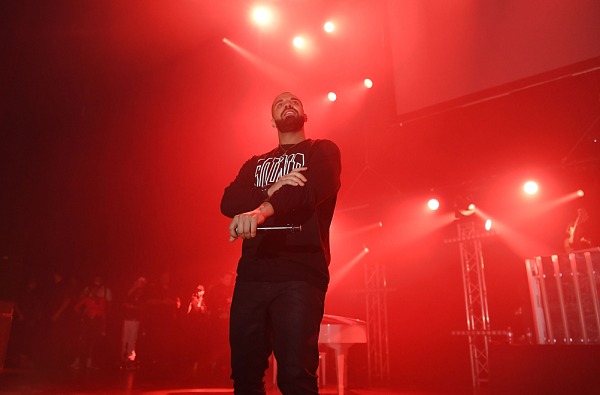 Fans hoping for Drake to respond to Pusha T's diss track, "The Story of Adidon," shouldn't hold their breath, because the Canadian rapper won't be retaliating. Over the weekend, the rappers' beef was laid to rest after Rap-a-Lot Records CEO James "J" Prince told Drake not to respond.
During an interview with Maryland's DTLR Radio on Saturday, Prince said he spoke with Drake and instructed him to let the rap dispute die. "I made an OG call to Drake this morning to tell him 'I don't want you to respond to this,'" he said.
"I call it a pigpen mentality. We gonna put this to bed because we can't get in the pigpen with pigs, because pigs turn into hogs, and then hogs get slaughtered. That's not his character. We ain't worked this hard to cheat ourselves over nothing," he continued.
A hip-hop veteran and boxing promoter from Houston, Prince established Rap-a-Lot back in 1987. He has worked with dozens of artists over the years and is responsible for launching the careers of rap heroes like Geto Boys, Z-Ro, Devin the Dude, Do or Die, Pimp C and Bun B of UGK—both of whom released solo albums under the label—and Big Mike.
Prince became one of Drake's longtime mentors after his son, Jas Prince, discovered the Toronto native on MySpace in 2006. Jas Prince introduced Drake to Lil Wayne and the Cash Money Records team, which eventually led to Drake signing with the music label.
According to J Prince, Pusha broke a code with his "disrespectful" track when he aired out Drake's dirty laundry that allegedly includes a secret son with ex-porn star Sophie B. The 53-year-old also felt Pusha took things too far when he rapped fiery lyrics referencing Drake's longtime friend and producer Noah "OVO 40" Shebib's battle with multiple sclerosis.
"I think this guy is being disrespectful," J Prince said in a separate interview with WPGC 95.5 on Friday. "My book is called The Art and Science of Respect, so it's hard for me to not say he's being disrespectful [...] It's one thing for me and you to be in a situation and it's another thing for you to take it out on my momma or my dad. So I have a problem."
Kanye West—the founder of G.O.O.D. Music record label of which Pusha serves as President—also canned the rappers' beef, writing on Twitter on Friday that "this is dead now."
When it comes to rap beef, J Prince is well versed. Back in May, he revealed he warned Diddy and Notorious B.I.G. there was a revenge hit on the rapper's head shortly before Biggie was killed in 1997. A TMZ report said J Prince didn't know who was plotting the Brooklyn rapper's murder, but he heard enough whispers on the streets and felt compelled to warn them. J Prince said he visited the men on the set of Biggie's "Hypnotize" music video in Los Angeles and told them of his concerns. Two weeks later, Biggie was killed.