James Lankford Shares Border Facility Video, Claims Pod Designed for 80 Holding Over 700
Senator James Lankford, one of several Republicans who made the trip to the U.S.-Mexico border this week, shared a video Friday of what he said were overcrowded pods at one Texas facility.
"Day two from the border—this is a pod that's designed to hold 80 people that's currently holding 709," Lankford posted to Twitter. The Oklahoma lawmaker said he was at a migrant processing center in Donna, Texas.
The Donna facility has been one focus of the migrant surge amid reports that it is overwhelmed with the number of unaccompanied minors crossing the southern border.
The Biden administration has been criticized for not giving journalists access to that site and others that have surpassed their capacity. White House press secretary Jen Psaki has cited concerns over privacy and the coronavirus pandemic when asked why reporters can't access certain border centers.
Lankford said Friday he understood "why the Biden team does not want cameras to be allowed at this location" as he described seeing children "piled in, had no room, they were taking turns lying down on the floor because there's no space for them to be able to be there."
President Joe Biden said during his first solo news conference on Thursday that there were discussions underway on how to provide journalists access to border facilities, but didn't give a timeline for when that would happen.
Senators Ted Cruz and John Cornyn of Texas led the delegation of 17 Republican senators on their trip to the border.
Cruz said Friday that the lawmakers had seen "overrun" detention facilities and witnessed migrant mothers and infants sleeping on the floor. He also claimed that his team had seen "cartel members" and human traffickers on the Mexican side of the Rio Grande river taunting U.S. border officials.
Lankford, Cruz and other conservative members of Congress have blamed the surge of migrants on new administration's immigration policies, many of which have been reversals of the measures put into place by former President Donald Trump—specifically Trump's policies to keep asylum-seekers in Mexico and complete construction of a border wall.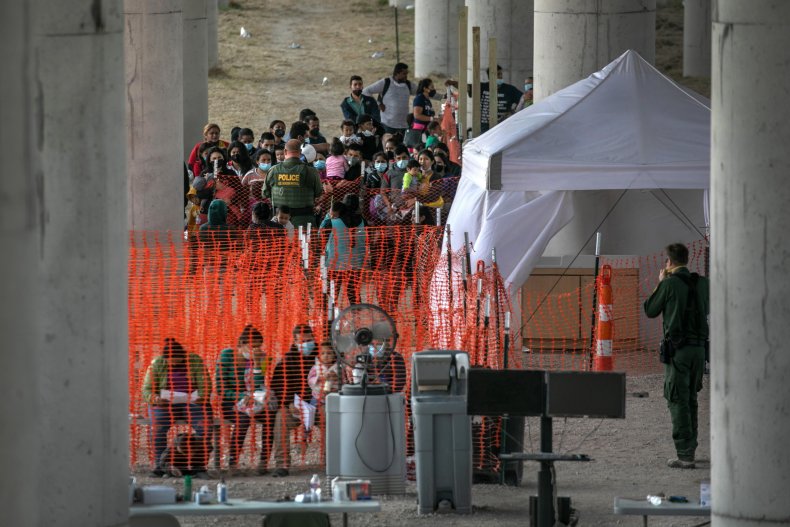 But Biden asserted Thursday that the increased number of border arrivals is not unprecedented. He said that he's seen a 28 percent increase in the children at the border under his administration, compared with 31 percent in 2019 under Trump.
The president also refuted claims that migrants are coming to the U.S. because he's a "nice guy" and that his administration is more lax than that of his predecessor.
"I'd like to think it's because I'm a nice guy, but it's not. It's because of what's happened every year," the president said.
Newsweek reached out to Customs and Border Patrol for comment on Lankford's videos and statements on the Donna facility but did not receive a response prior to publication.