James Lapine's 'Putting It Together' Paints a Fine Portrait of Stephen Sondheim and Co.
James Lapine chronicles the making of Sunday in the Park With George, his first collaboration with Broadway musical icon Stephen Sondheim, in his wonderful new book Putting It Together: How Stephen Sondheim and I Created Sunday in the Park With George (Farrar, Straus and Giroux, New York, $40). Interviews with most if not all the principals involved in the original production together with with commentary by Lapine show Sunday in the Park's growth from conception to the Pulitzer Prize announcements—with a brief stop at the Tony Awards.
Putting It Together works on many levels. Primarily it is the story of how one musical came about. But in talking to all the creatives, most of whom give detailed descriptions of their jobs in general and how they worked on this show, it is a primer on everything that goes into making a musical, from costuming to orchestrating. And interviewees speak in such a simple, precise way that one needn't know how to handle a needle, run a light board or know a G-cleft from a whole note to get a sense of their job responsibilities. We also get a sense of the past and present personal relationships of the principals.
Sondheim ends his 2010 book Finishing the Hat, a collection of his lyrics through 1981, complete with their backstory and critiques and commentaries on theatrical lyricists of the 20th century, with the line: "But then I met James Lapine." And he could very well have added, "and I was so happy for a time."
After meeting Lapine in 1982, Sondheim apparently did become very happy. They collaborated on several musicals, including Into the Woods, Passion and a revision of his glorious flop Merrily We Roll Along, which lasted only 16 performances but has since become a much-performed cult classic. Before those shows, however, came Sunday in the Park, which was done in a workshop production at off-Broadway's Playwright's Horizons. Working off-Broadway with Lapine was for the most part a welcome relief for Sondheim; it was "like Mickey [Rooney] and Judy [Garland] putting on a show." He was free of the pressures of commercial theater and the glare of hypercritical critics.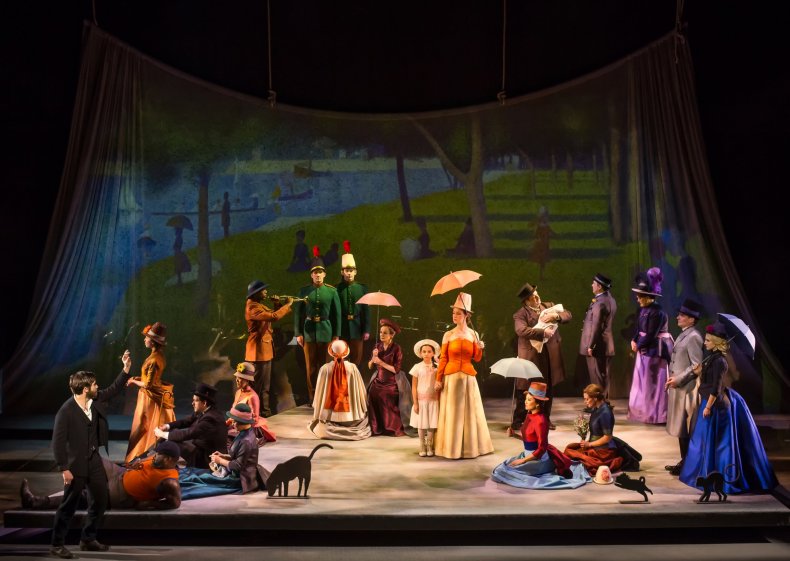 Lapine expertly adapted the Moss Hart rags-to-riches memoir Act One for the Broadway stage in 2015, and that experience seems to have served him well. Putting It Together has many similarities to Act One. In both, an accomplished but not famous theater person meets a Broadway icon, and begins a successful collaboration with him. On the way, they go through an insanely grueling tryout, with several speed bumps, a couple of detours and few red lights that get ignored.
Putting It Together, by James Lapine, tells the story of the making of Sunday in the Park With George, a Broadway musical, with music and lyrics by icon Stephen Sondheim.
Sondheim, who, even coming off a flop with Merrily, was still Broadway royalty, and Lapine while having had some success off-Broadway, most notably with the 1981 play Twelve Dreams, was relatively unknown outside the New York theater community. And if Sunday in the Park's success might seem inevitable in retrospect, Lapine is quick to disabuse the reader of that notion. Art isn't easy, after all.
The Playwright's production was a workshop, and it only had one act. There were rumors that it was always supposed to be one act. Not true. Lapine sets that straight early. This was always supposed to be two acts. There were false starts, pitfalls walkouts and even an argument or two. But Lapine and Sondheim soldiered on.
In Putting It Together, Sondheim is like a flight attendant in heavy turbulence, serious, concerned but relatively calm. He's been through worse—and recently. Lapine is the more overtly driven of the two. He is the book writer and director, and so Sunday in the Park seems more his baby. Like Moss Hart's Once in a Lifetime in Act One, Sunday in the Park is his shot at the big time; and if this show does not enable him to move his family from Brighton Beach to Park Avenue, it is nevertheless a life-changing event. He deals with a lot of strong personalities, and captains a sometimes teetering ship.
And while no two shows are alike in their construction, Putting It Together offers a general road map for the making of a musical. In this case, the business side is relatively orderly, but the creative side is not. In the beginning, middle and even toward the end, there is chaos. But as with many Sondheim shows, we see order created from chaos. Sondheim's love of puzzles is well-known in theater circles. (A visit to his Turtle Bay puzzle room is on many a bucket list.) And that carries over to his working method. Songs do not come in an orderly fashion; they come when he is ready, when they are ready, but they do come and in finely crafted pieces. And when Sondheim delivers the last two songs—"Lesson # 8" and "Children and Art"—the musical comes together, and people—most notably Mandy Patinkin—breathe easier.
There are many interviews here. In addition to Sondheim, most of the creatives have their say. Costumers, stage managers and other assorted techies share their specific points of view. And, of course, so do the actors: In addition to stars Patinkin and Bernadette Peters, people like Charles Kimbrough and Barbara Bryne, to name just a couple, share their memories, and insights. Often Lapine is just as surprised as we are at some of the things they say.
Lapine has documented Sondheim's work and life on film, in Six by Sondheim, which examines in detail the creation of six of his more famous songs. Along the way, we get a lot of biographical and personal information. Sondheim has done many interviews over the years, a lot of which were mined by Lapine for Six by Sondheim, but Putting It Together shows a more relaxed Sondheim. Their history allows Lapine to ask more personal questions, ones Sondheim has not heard a hundred times before. Reading these interviews, you often feel like you're eavesdropping on friends talking, which of course you are.
There isn't a lot of juicy gossip. Some amusing budget wrangling between Gerald Schoenfeld and Patricia Zipprodt, a less-than-warm reception from Arthur Laurents and a more-than-warm reception from Leonard Bernstein. It is a surprise to Lapine, however, that Paul Gemignani did not really get along with longtime Sondheim collaborator and master orchestrator Jonathan Tunick—who was unable to work on this show. Michael Starobin was the orchestrator. (Gemignani and Tunick did work together again quite successfully on Passion.)
One interesting note for hard-core fans, early on, in 1982, Lapine and Sondheim talk about movies, and the title that comes up is Luis Buñuel's Exterminating Angel, which ultimately became the idea—along with Discreet Charm of the Bourgeoisie—for a musical. The Buñuel musical was not—has not yet been?—realized, but there were unconfirmed reports that the songs that had been composed were great.
Putting It Together will be catnip (or dog treats for the allergic) for Sondheim fans, who will likely breeze through the 380-plus pages, and then go back from time to time to dip into it like a biblical text. If Act One and Craig Zadan's Sondheim & Company had produced an offspring, it would look very much like Putting It Together, and they would be proud parents. There are also plenty of insights to be had by the casual theater fan: This is a detailed look into theatrical art and business of a specific period, but most importantly it offers much insight into the greatest musical theater minds of the 20th century—and by extension ever.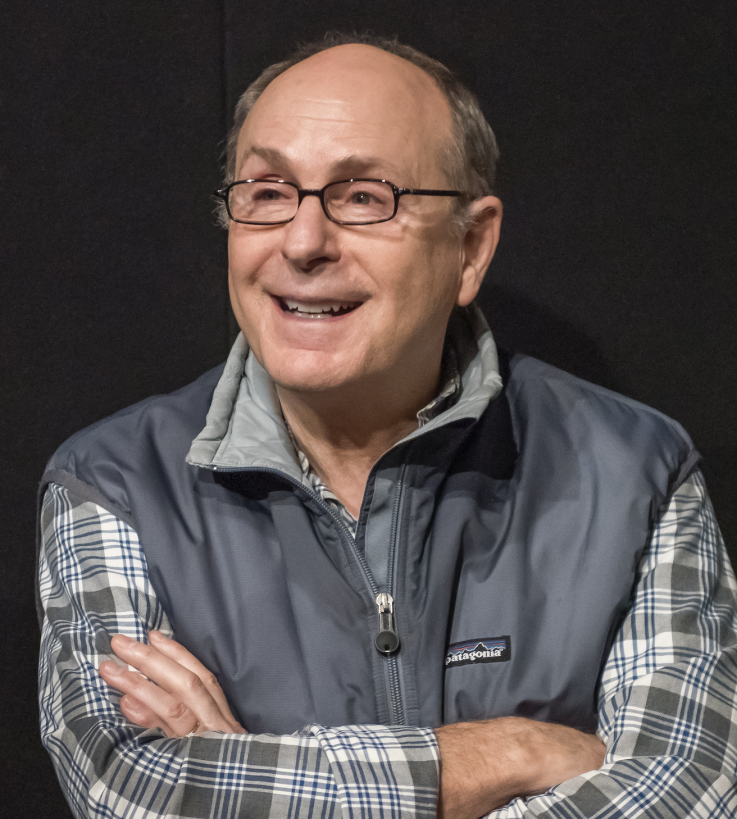 James Lapine, author of Putting It Together.
James Lapine
How to Watch the Live-Streamed Book Launch at New York's Town Hall
There will be a live-streamed book launch event, which will take place on August 3. Christine Baranski will moderate, and in addition to Lapine and Sondheim, guests will include Mandy Patinkin and Bernadette Peters. For more information and tickets go to TheTownHall.org/event/putting-it-together-an-evening-with-james-lapine-and-stephen-sondheim.