James Mattis Jokes About Trump's 'Overrated General' Comment: 'I'm The Meryl Streep of Generals'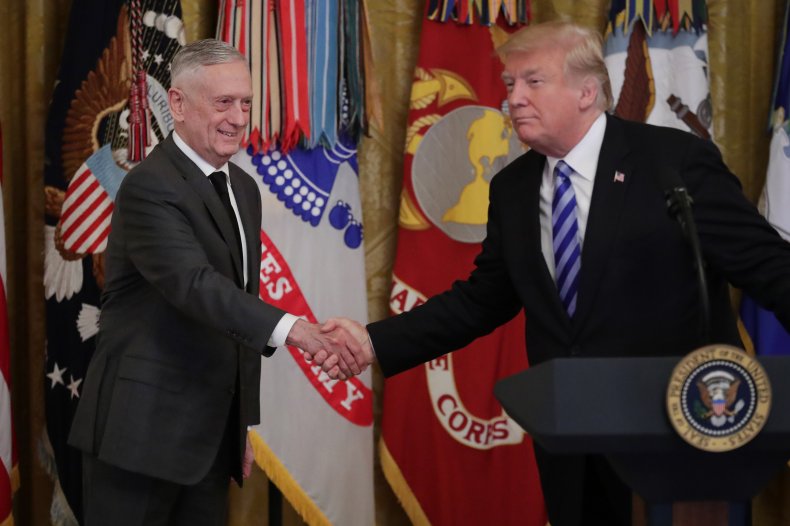 Former Secretary of Defense James Mattis has responded to criticism by President Donald Trump, by referring to himself as "the Meryl Streep of Generals."
During a keynote address at the 74th Annual Alfred E. Smith Memorial Foundation Dinner in New York Thursday, Mattis appeared to mock what House Speaker Nancy Pelosi had described as a "meltdown" by the president Wednesday. At a meeting in the White House, Trump claimed that Mattis was "the world's most overrated general."
"I'm not just an overrated general. I'm the most overrated general," said Mattis. "I'm honored to be considered that by Donald Trump because he also called Meryl Streep an overrated actress. So I guess I'm the Meryl Streep of generals, and frankly that sounds pretty good to me."
"You do have to admit that between me and Meryl, at least we've had some victories" continued Mattis. "I earned my spurs on the battlefield, Donald Trump earned his spurs in a letter from a doctor."
"I think the only person in the military that Mr. Trump doesn't think is overrated is... Colonel Sanders."
Mattis later referred to himself as his nickname, "Mad Dog," saying that he has "turned over a kinder, gentler leaf" and now likes to think of himself as "less of a mad dog and more of an emotional support animal."
Trump had previously insulted Streep in a series of tweets, after the actress had criticized him at the 2017 Golden Globe Awards, calling her a "Hillary flunky" and "one of the most over-rated actresses in Hollywood."
At the White House meeting on Wednesday, which was centered around the president's decision to pull troops out of Syria, Trump made the "overrated" insult while also chastising Mattis for being "not tough enough."
Pelosi described the president as "shaken" after the comments.
"I pray for the president all the time...I pray for the safety and that of his family," Pelosi told reporters after the meeting. "Now we have to pray for his health, because this was a very serious meltdown."
Mattis was nominated by Trump and sworn in as the 26th U.S. Secretary Defense in January 2017. He resigned the position last December after a series of policy disputes with the president. Trump would later claim that he had "essentially fired" the former Marine general.
Mattis has typically refrained from criticism of the president. Upon his resignation, he gave Trump a letter outlining his reasoning.
"Because you have the right to have a Secretary of Defense whose views are better aligned with yours on these and other subjects, I believe it is right for me to step down from my position," Mattis wrote. "I very much appreciate this opportunity to serve the nation and our men and women in uniform."